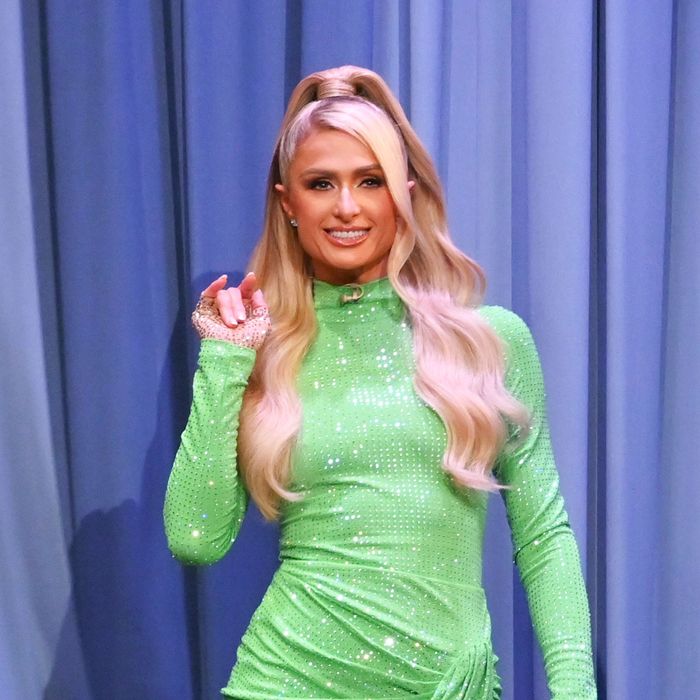 Photo: Nathan Congleton/NBCU Photo Bank via Getty Images
Never doubt that Paris Hilton will do whatever it takes to be there for her friends, even if it means canceling on the president of the United States. The "Stars Are Blind" singer opened up about her decision to cancel on President Biden to attend Britney Spears's wedding in a new interview, saying simply, "It's Britney, bitch."
Hilton first mentioned the scheduling conflict during an episode of her This Is Paris podcast the day after the wedding. "I was actually asked to DJ for the president and all the other presidents from around the world for the dinner, but this was more important to me," she said at the time. Apparently, Britney Spears and Sam Asghari's June 9 wedding was the same night as Biden's Summit of Americas dinner in Los Angeles, which I guess needed a DJ set by Hilton to really set the tone. Honestly, who wouldn't choose Britney over Biden?
On Wednesday, Hilton expanded on the bold move during an appearance on Jimmy Kimmel Live!, speaking to guest host Chelsea Handler. "It was the same night of Britney's wedding, and I was like, 'No, I'm not going to miss that,'" Hilton said, adding that the Summit of Americas dinner team offered to send a helicopter to taxi her back and forth between events. "I'm like, 'I'm not going to be the one, like, landing in and out of Britney's wedding in a helicopter.' C'mon!" Spears and Asghari were married in their home, so I doubt a helicopter would have gone unnoticed. It definitely would have changed the vibe. "I had to cancel on the president. Sorry," she said. "It's Britney, bitch!"
Hilton may have missed performing for Biden, Vice-President Kamala Harris, and leaders from around the world, but she was able to be there for her friend of 20 years. Not only that, but she also got to dance the night away with Spears (and her diamond thong), Madonna, Selena Gomez, Donatella Versace, Drew Barrymore, and Maria Menounos. Presidents come and go, but the princess of pop is forever.