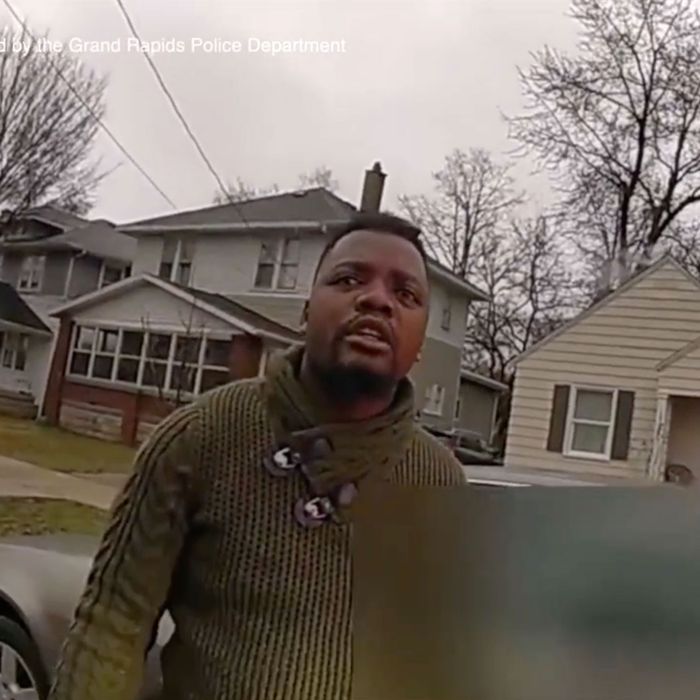 Patrick Lyoya
Photo: Grand Rapids Police Department
On April 4, a police officer in Grand Rapids, Michigan, shot and killed a Black man named Patrick Lyoya during a traffic stop, having pulled him over because of his vehicle's allegedly improper registration. On Thursday, the officer, Christopher Schurr, who is white, was charged with second-degree murder. Per the New York Times, Schurr's Taser and gun were the only weapons discovered at the crime scene, meaning 26-year-old Lyoya was unarmed. Video from the incident shows a man who seems confused by Schurr's abrupt and shouted orders, which quickly escalate into a physical altercation. Grand Rapids Police Department chief Eric Winstrom reportedly described the shooting as a "tragedy" and said he planned to "look into" it but did not offer further comment at the time.
At a press conference on April 13, Grand Rapids city manager Mark Washington released four videos offering different angles on the shooting. "When I saw the video, it was painful to watch, and I immediately asked, 'What caused this to happen?'" he said. "And 'What more could have been done to prevent this from occurring?'" Following an investigation and two months of protests, Schurr surrendered on Thursday and will likely be arraigned on Friday, according to a prosecutor in Kent County, Michigan. If convicted, he could face up to life in prison.
Below, everything we know about Lyoya and his death.
Who is Patrick Lyoya?
According to his father, Lyoya emigrated from the Democratic Republic of the Congo with his family in 2014. He was the eldest of six children and had two young kids of his own, ages 2 and 3. "We came from Africa, and I knew that here in America we came for peace; we came for protection. (But) there was no safety here for Patrick," Peter Lyoya told MLive through an interpreter, saying his son had a "big heart," worked hard, and should have "had a long life ahead of him." Peter criticized the police department's initial decision to keep Schurr's name private. (They eventually identified him three weeks later.) Peter said his son was having car trouble and had already pulled over when Schurr arrived on the scene, refuting the idea that Patrick failed to cooperate.
"Me personally, I want, first, justice to be done for Patrick," Peter told MLive. "I am the parent. What has happened to me because Patrick has been killed, I don't want another parent to go through what I went through."
What happened when police stopped him?
Lyoya died just after 8 a.m. on April 4, after an approximately two-and-a-half-minute scuffle with Schurr, who pulled him over. A passenger was riding with Lyoya at the time and filmed part of the incident that followed. Police said his plates weren't registered to his car and that a struggle ensued when he ran away from Schurr. During the course of their fight, the department said, Schurr shot Lyoya. But footage of the encounter tells a more complicated story.
What does footage of the stop show?
On April 13, the City of Grand Rapids released a series of four videos that, taken together, provide a complete timeline of the shooting. Footage from the cop car's camera shows a man — Lyoya — exiting his driver's-side door after he pulls over on a residential street; Schurr shouts at Lyoya to "Stay in the car" as he approaches. Their exchange isn't audible, though the pair appear to have had a discussion, and the situation escalates quickly: Lyoya closes the door and walks toward the vehicle's hood, at which point Schurr grabs at his arms in an attempt to pin them behind his back. Lyoya shrugs off Schurr, who chases him around the vehicle. Schurr wrestles Lyoya to the ground, then maneuvers him across the lawn. They exit the frame, and around the video's 32:24 mark, a pop sounds offscreen. A breathless Schurr can then be heard over the car's radio, informing the dispatcher of a shooting.
In body-cam footage, Lyoya appears confused as Schurr shouts at him to produce his driver's license, not seeming to understand the reason for the stop. Schurr asks him whether he speaks English, and Lyoya says that he does, asking, "What did I do wrong?" When Lyoya moves toward the front of the car, Schurr begins yelling at him and tries to physically restrain him, prompting Lyoya to run. Schurr then tackles him, forcing his face into the grass while screaming "Stop!" As the pair struggle, the scene becomes difficult to discern — the camera often pressed into Lyoya's sweater — but as Schurr commands Lyoya to "Stop resisting," Lyoya responds, "Okay." At this point, Schurr has him upright, hands behind his back. When the two men find themselves face-to-face, Schurr removes his Taser; Lyoya grabs it and shunts it away from his body, then falls onto the grass. That's where the body-worn camera goes dark — "deactivated," according to police.
Footage from an across-the-street neighbor's doorbell camera shows that, with Lyoya on the ground, Schurr climbed on top of him and shouted repeatedly at him to "Let go of the Taser." Video recorded by Lyoya's passenger rounds out the picture: Sprawled on top of Lyoya, Schurr shoots him in the head, seemingly while forcing him down by the neck.
What does Lyoya's autopsy say?
At a news conference on April 19, attorneys for the Lyoya family released the results of an independent autopsy conducted by former Detroit medical examiner Werner Spitz, a famous forensic pathologist who has consulted on a string of big cases, including the O.J. Simpson trial, the Jon Benet Ramsey investigation, and the assassinations of Martin Luther King Jr. and JFK. Spitz confirmed what looks clear from the video: That Lyoya died from a gunshot wound to the back of the head, "instantly ending what could have been a long and fruitful life," according to civil-rights attorney Ben Crump, who is working with Lyoya's family.
How have the city and police responded?
After the city made the videos public, Governor Gretchen Whitmer released a statement offering condolences to Lyoya's family and touting "a transparent, independent investigation of the shooting," asking for "appropriate action on charges" by the prosecutor's office. The Grand Rapids Police Officers Association defended Schurr, calling the case "tragic" and suggesting he had acted in self-defense. "We feel a thorough review of this entire situation will show that a police officer has the legal right to protect themselves and community in a volatile dangerous situation such as this," the Association said in a statement.
Crump released his own statement on the shooting. "The video clearly shows that this was an unnecessary, excessive, and fatal use of force against an unarmed Black man who was confused by the encounter and terrified for his life," it read. "We demand that the officer who killed Patrick not only be terminated for his use of excessive and fatal force, but be arrested and prosecuted for the violent killing of Patrick Lyoya."
How did Grand Rapids residents react to the shooting?
Protests followed the release of the videos, with crowds numbering in the hundreds gathered outside the Grand Rapids Police Department. Participants called on officials to "Name that killer cop" alongside another urgent demand: "Stop murdering us!"
According to the Times, activists addressed the City Commission on April 12, describing long-standing patterns of bias and brutality by the local police department that leave many residents of color feeling unsafe. And indeed, a study released in 2017 suggested local police were twice as likely to stop Black drivers than they were non-Black drivers. Across the country — even with escalating pressure on law-enforcement agencies to evaluate and address the systemic, ingrained racism that often drives fatal force — it is still true that police kill Black people at about twice the rate they do white people, often for infractions as minor as improper registration.
Will Schurr be convicted?
It's rare for American police officers to face criminal charges for on-duty killings. Even now that Schurr has been charged with second-degree murder, it's unclear whether he'll be convicted: Cases are notoriously difficult to prove in court, especially when officers claim to have acted out of fear for their own lives. Still, Christopher Becker, the prosecutor who charged Schurr, remains optimistic: "Obviously I wouldn't charge it if I didn't think I could prove it," he said on Thursday, adding, "This death was not justified or excused, for example, by self-defense." Ven Johnson, a lawyer for the Lyoya family, spoke to their relief over the prosecutor's decision. "What this family hopes for is that more sooner than later — like now, today — that police officers understand that what they got away with in the past, they can't get away with anymore," Johnson said.
This article has been updated.