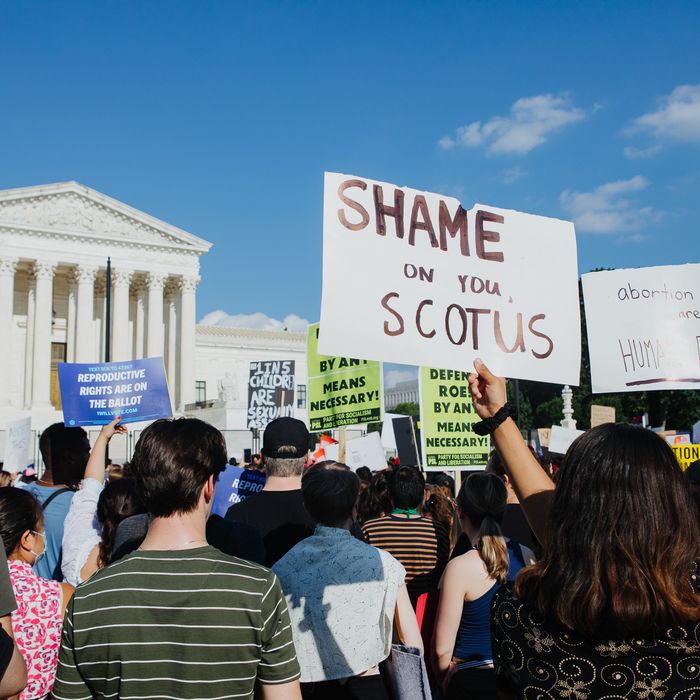 Photo: Michelle Gustafson
Yesterday, the Supreme Court overturned Roe v. Wade in a devastating decision that will rob millions of people — many of them already among the country's most vulnerable — of their bodily autonomy, right to health care, and well-being. The news came as a shock, but certainly not as a surprise. And so, as soon as the ruling was announced and the blow we'd been bracing for landed, protests erupted across the country. Naturally, much of the action has been concentrated in Washington, D.C., where pro-choice and anti-abortion protesters were already butting heads outside the Supreme Court by noon. Others from out of state quickly mobilized to join the crowds later that day.
At 12:30 p.m., President Biden urged peaceful protesting as a horde of snipers and riot squads marched in. At one point, a group of House Democrats placidly sang "God Bless America" on the steps of the Capitol while screaming protesters could be heard down the street. There were tears, signs pledging to "aid and abet abortion," and even a one-man protest atop the Frederick Douglas Memorial Bridge. Civilian protesters were joined by a handful of state representatives, including Ted Lieu, Maxine Waters, Grace Meng, Nydia Velazquez, Yvette Clark, and Alexandria Ocasio-Cortez, who told a Huffington Post reporter in the crowd, "Right now, elections are not enough. We need to show up everywhere."
Photographer Michelle Gustafson was there to document the scene and speak with participants.