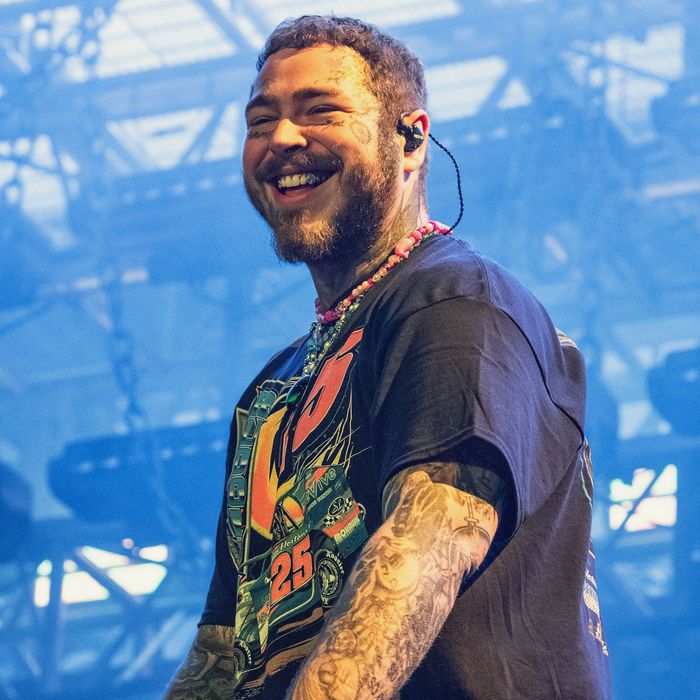 Photo: Amy Harris/Invision/AP/Shutterstock
Post Malone has been giving off goofy dad energy for years. There's just something really wholesome about his toothy grin and tattooed face. And now that energy has somewhere to go. Malone announced he's officially a dad now, just a month after confirming that he and his girlfriend (now fiancée?) were expecting.
Malone has been keeping his current relationship out of the spotlight — his partner hasn't appeared with him on red carpets or on social media, and her name hasn't been released to the public. But, during his appearance on The Howard Stern Show, he let slip that he is now engaged and that he had "kissed" his "baby girl" before heading to the studio. Malone was careful not to reveal much else, like his child's name or birthday, saying, "I want to let her make her own decisions."
The rapper confirmed he was expecting his first child with his partner in May. "I'm excited for this next chapter in my life," he told TMZ. "I'm the happiest I've ever been." He added that he was focused on taking care of himself and those around him. "Time to take care of my body and my family and friends, and spread as much love as we can every day."
It's unclear whether or not Malone plans to take his newborn baby girl on the road. On Monday, the singer announced plans to go on tour with his new album, Twelve Carat Toothache, in the fall.
Psst! The Cut and New York Magazine are conducting a survey about dating. We want to know all about your swipes, IRL hookups, bad dates, and everything in between. Interested? Click here.