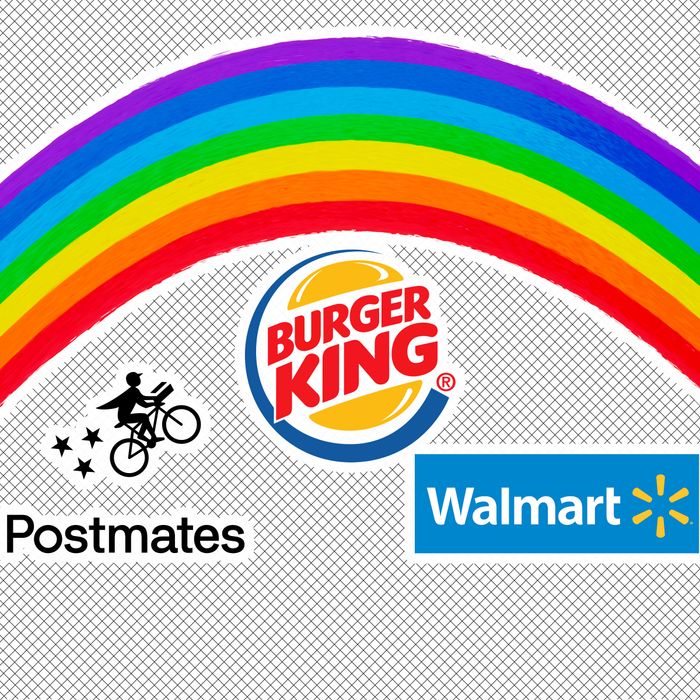 Photo-Illustration: by The Cut; Photos: Getty Images
The American Girl dolls are coming out, the cupcakes are rainbow, and the cringe factor is high, which can only mean one thing: Brands are once again celebrating Pride Month. This June, many companies are honoring the grand tradition of pandering to the LGBTQ+ community. In the past, Pride Month marketing has yielded treasures like the bisexual Ikea couch and Chipotle's ¿Homo Estás? burrito. This year, like clockwork, the celebration of visibility and equality has delivered a handful of superbly misguided campaigns.
Walmart, never one to shy away from bald-faced attempts to capitalize on celebrations of marginalized communities, followed up their widely criticized "Juneteenth Ice Cream" with another series of very loud and embarrassing merch, which includes rainbow crochet tops and T-shirts emblazoned with slogans like "Lez is More" and "Homosexualien."
Then there's Burger King, whose Austrian marketing team somehow came to the conclusion that Pride month means they should serve Whoppers with two bottom buns or two top buns — instead of the usual heterosexual buns, I guess? Displaying slightly more awareness of what the words "top" and "bottom" mean to the LGBTQ+ community is Postmates, one of several food-delivery services profiting off of struggling restaurants and underpaid gig workers. They recently announced that, in partnership with an anal surgeon and a TikTok comedian, they are rolling out a "Bottom-Friendly Menu" that offers users a selection of foods apparently suitable to eat prior to having anal sex. They also took it upon themselves to make a commercial starring a trio of anthropomorphized peach-butts and an eggplant wearing a studded leather thong. The result is harrowing. See for yourself:
If you're wondering whether that one peach is wearing a nose ring or a butt-crack ring, same. Anyway, Postmates announced at the end of the commercial that "a donation was made" to the Okra Project, a grassroots mutual-aid group supporting Black trans, nonbinary, and gender-nonconforming people, in honor of Pride. I suppose the sexy eggplant would approve.
Psst! The Cut and New York Magazine are conducting a survey about dating. We want to know all about your swipes, IRL hookups, bad dates, and everything in between. Interested? Click here.