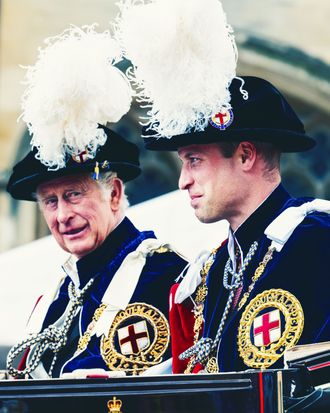 Photo: Pool/Samir Hussein/WireImage
There might be another royal-family shake-up on the horizon. On Monday, Prince Andrew abruptly pulled out of the Order of the Garter procession, a public event that was attended by other senior members of the family including Prince William, Kate Middleton, and Prince Charles. And reports claim his absence was a direct result of a campaign from William and Charles, who apparently refused to be photographed with him.
The idea of Andrew stepping back from a public event is not, in itself, big news. The disgraced royal has already been stripped of most of his roles and his HRH title because of his public association with Jeffrey Epstein and allegations he raped an underage girl. In February, he settled a case with his accuser, Virginia Giuffre, for an undisclosed amount, and, though he's appeared at a few major events — including Prince Philip's memorial in March — he's been mostly out of the spotlight. It seems as though that's not about to change anytime soon.
After missing the Queen's Platinum Jubilee thanksgiving service because of a conveniently timed case of COVID-19, Andrew was expected to make his public comeback at the Order of the Garter. His name was even printed in the original program, as reported by ITV. But reports began to emerge early Monday that Andrew would actually not be at any public events and would instead be attending a private lunch with the queen and other guests. Reports about why were mixed. Newsweek claimed a source close to Prince Andrew told the outlet he had made "a personal decision" not to attend the public event. The Daily Beast cited a source who claimed it was a "family decision." Rumors suggest it was more of an ultimatum.
The details are unclear, but reports suggest Prince Charles and Prince William took a stand against the queen, telling her Andrew shouldn't attend. The Daily Mail claims Prince William even threatened to pull out of the event entirely if Andrew was allowed to attend, while the Daily Beast reports that Charles strongly requested Andrew not be present.
According to The Daily Telegraph, the disgraced prince had been lobbying his mother to give him back his titles and, potentially, let him back into the royal family's good graces. Understandably, the actual members of the royal family seem less interested in having Andrew around. At least not in public.
Psst! The Cut and New York Magazine are conducting a survey about dating. We want to know all about your swipes, IRL hookups, bad dates, and everything in between. Interested? Click here.