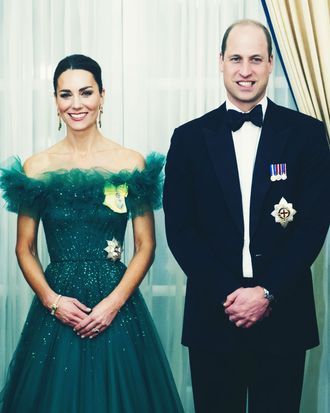 Photo: Samir Hussein/Samir Hussein/WireImage
The future king and queen of England, Kate Middleton and Prince William, unveiled their first official portrait as a couple on Thursday, and it is just as glam and awkward as you'd imagine.
Painted by Jamie Coreth, the new portrait features the Duke and Duchess of Cambridge dressed in their formal best, gazing off into the distance. Coreth reportedly took inspiration from the couple's 2020 visit to the Guinness Storehouse in Ireland, when Middleton wore a shimmering green dress and William wore a navy suit. In the painting, Coreth traded in the navy for a black suit and also switched up Middleton's shoes, putting her in Carrie Bradshaw–approved Manolo Blahniks. "I wanted to show Their Royal Highnesses in a manner where they appeared both relaxed and approachable, as well as elegant and dignified," Coreth said. Because nothing screams "approachable and elegant" more than the shoes Carrie wore to marry Big in Sex and the City.
As is his way, Prince William appears more uncomfortable than anything else. The way he's looking off into the distance makes him seem like he's distracted, busy thinking about whether or not to invite his brother, Prince Harry, to the Queen's birthday party. Their eye lines are also a bit mismatched — like two people posing for photos on a red carpet who aren't looking at the same camera. The awkwardness is kind of perfect for the duo, who have never been particularly celebrated for their PDA, even if it does make me uncomfortable to look at for too long.
The portrait will hang in the University of Cambridge's Fitzwilliam Museum for three years, per USA Today, and is set to travel to the National Portrait Gallery in London in 2023 before traveling to other galleries in Cambridgeshire.