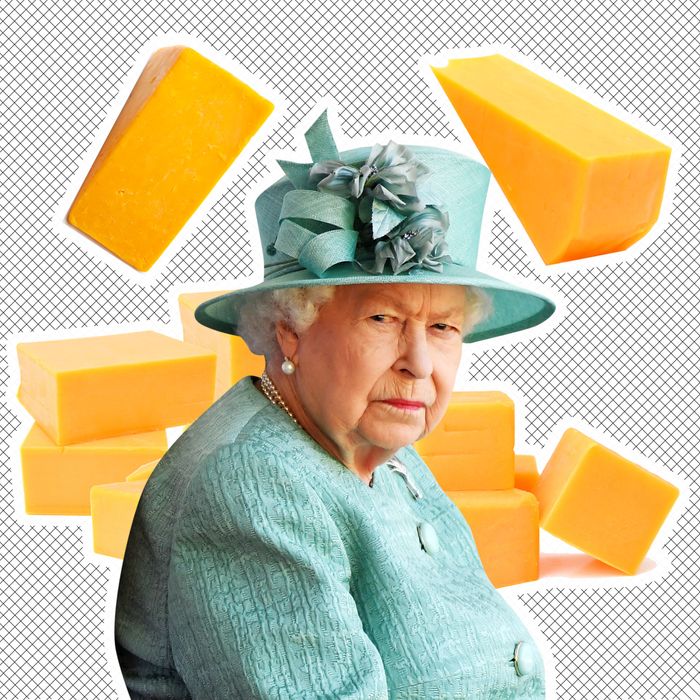 It's over for these hos.
Photo-Illustration: by The Cut; Photos: Getty Images
Royal cheese-beef alert: Rumor has it the queen is alive and weighing punishments for the maker of a certain British cheddar, formerly her "favourite" of them all. The queen is reportedly so mad that she may even strip Davidstow cheddar — by Dairy Crest — of its most special privilege: the right to display the royal coat of arms on its packaging. I know this will seem like an extreme step to you, but then Dairy Crest seriously fucked up.
According to The Guardian, Dairy Crest (which also makes Cathedral City cheese and Country Life butter, did you know?) spent years treating Cornwall's River Inny as its chemical dumpster, pumping it full of "liquid waste, suspended solids, and 'biochemical sludge'" that turned the water thick and black and killed its trout and salmon. Residents also complained to the paper about the "'horrendous' eggy smells" that have assaulted them since the dumping began in 2016. For all this havoc, Dairy Crest received a £1.5 million fine from the government last week, but the worst and final insult may be the queen's to mete out. The Guardian reports that the palace may remove Davidstow's royal warrant over the slurry scandal. In The Guardian's estimation, "this move would probably be painful" for the queen, "because Davidstow is understood" to be her preferred ched. Still, it is nonnegotiable that "cheesemakers to the Queen must keep up with environmental standards." That is, apparently, a critical part of being a cheese-maker to the queen. You can't do the job, you can't wear the arms, you know? Plus, and I am just spitballing here, I would guess that Charles, Duke of Cornwall and future king of England and die-hard Plant Guy, is none too happy about this breach.
For its part, Dairy Crest says it is very sorry, and "would like to express its sincere apologies to those who have been affected" by the reportedly hellish stench and the noxious seepage. "Considerable work has been undertaken to rectify the historic issues to which the prosecution related," its statement read. Maybe so, but will it be enough?