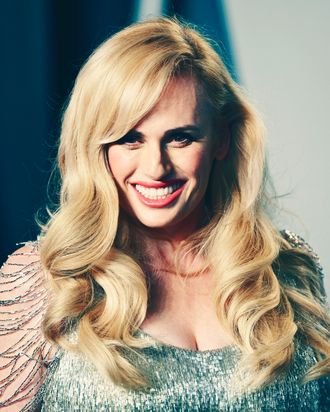 Photo: Karwai Tang/Getty Images
Last week, Rebel Wilson made her latest romance Instagram official with a post that doubled as a coming out for the comedic actor. "I thought I was searching for a Disney prince … but maybe what I really needed all this time was a Disney Princess," she wrote alongside a photo of herself and her new boo, Ramona Agruma. She added a couple heart emoji, a rainbow, and the hashtag #LoveIsLove.
The post was the first time Wilson had explicitly confirmed her relationship with Agruma, founder of the sustainable loungewear brand Lemon Ve Limon, but she hadn't exactly been hiding it either. In March, Wilson and Agruma appeared at the Vanity Fair Oscars party together. And in the past few months, Agruma has appeared frequently on Wilson's Instagram, starting in January. Per Wilson's posts, it appears that the duo celebrated Valentine's Day together, Wilson's birthday in March, and the success of her Netflix movie Senior Year in May. They even met Dionne Warwick together at an event in April.
The actor previously spoke about her relationship in an interview with People, revealing that after striking out on dating apps, she met her current partner the old-fashioned way: a setup. "We spoke on the phone for weeks before meeting," she told the magazine in May. "It was a bit old-school in that sense — very romantic." At the time, she called the relationship "really healthy."
After months of keeping her relationship private, why did Wilson confirm her relationship publicly now? It turns out, it might not have been completely by choice. Just a few days after Wilson's announcement, The Sydney Morning Herald published a column by Andrew Hornery claiming that the outlet had been planning on breaking the news of Wilson's relationship with Agruma. According to Hornery, the paper reached out to Wilson for comment on Thursday morning, giving her a two-day window to respond before publishing. "Big mistake," he said, accusing the actor of choosing to "gazump" the story by announcing the news herself — as is her right.
You might think that it is entirely up to Wilson whether or not she reveals who she is or is not dating, especially as it relates to her sexuality. Hornery apparently disagrees. "Her choice to ignore our discreet, genuine, and honest queries was, in our view, underwhelming," he wrote in part. The journalist later argued that it was "unlikely" that Wilson "would have experienced the sort of discrimination let alone homophobia — subconscious or overt — that sadly still affects so many gay, lesbian, and non-hetero people."
Wilson seemed to confirm that it hadn't been her choice to come out when she responded to a post by journalist Kate Doak, who called out the column on Twitter. The actor thanked Doak for her support, admitting, "It was a very hard situation but trying to handle it with grace."
Fans, journalists, and even one of the paper's own anonymous staffers have criticized the Herald for its conduct, accusing the paper of essentially threatening to out Wilson without her consent. Editor Bevan Shields responded to the backlash Sunday, claiming that their celebrity news column reached out to Wilson and "would have asked the same questions had Wilson's new partner been a man." He maintained that Hornery's subsequent column was meant to give readers "insights into our interaction with Wilson and her PR team."
Following the backlash, Hornery penned another column on Monday, apologizing for his handling of the story. "It is not the Herald's business to 'out' people," he wrote. "As a gay man I'm well aware of how deeply discrimination hurts. The last thing I would ever want to do is inflict that pain on someone else." He acknowledged that the paper had "mishandled steps in our approach," particularly by including the column's weekly deadline in its e-mail to Wilson's PR team, which he admitted could be "seen as a threat." "The tone of my column on Saturday was also off," he said. "I allowed my disappointment to cast a shadow over the piece. That was not fair and I apologize."
The Herald has removed Hornery's initial column and replaced it with his apology.
This post has been updated.
Psst! The Cut and New York Magazine are conducting a survey about dating. We want to know all about your swipes, IRL hookups, bad dates, and everything in between. Interested? Click here.