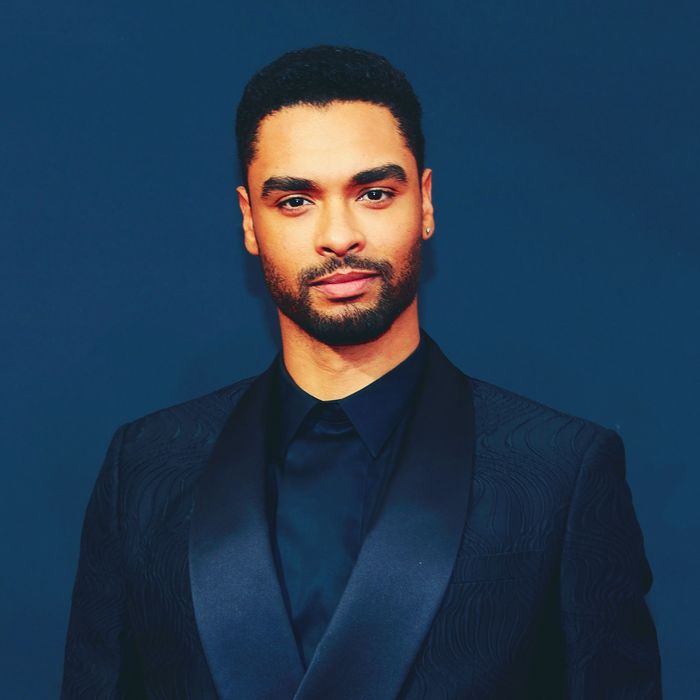 Photo: Rich Fury/Getty Images
If you've ever stepped foot in the high-drama world of Shondaland, you know Regé-Jean Page as the Duke of Hastings, the smoldering, Heathcliff-esque romantic hero whose absence from the latest season of Bridgerton is still a sore spot for salty fans — e.g., Dionne Warwick, who tweeted at him upon hearing the news of his departure: "You CANNOT leave me like that!"
Sure, Page left us like that, and it generally seems like he's pivoting away from being the stuff of your high-school-Brit-lit-anti-hero dreams: A burgeoning action star, he's starring alongside Ryan Gosling and Chris Evans in the upcoming action thriller The Gray Man and in a film adaptation of Dungeons and Dragons. But if you miss his face, you're in luck. The 34-year-old British-born actor is the new face of Armani Code Parfum. Marked by its signature woodsy aromatics and aromatic top notes, the scent is an homage to the evolving contours of masculinity, and more importantly, it's the closest you'll get to Page in a bottle. Zooming on a cloudy turned sunny afternoon in Los Angeles (Page enjoys the brief cloudiness, calling it a "relief to an Englishman — you miss a little bit of gloom, it's in your soul, you know?"), Page and I discussed what it's like to front a luxury cologne, the endless curiosity of acting, and what question he hates to be asked in interviews.
What are your favorite scents?  
I'm not really a scent nerd, but the scents I'm drawn to tend to have an element of freshness to them. If it kind of evokes something of the outdoors, that gets me. These are kind of the notes I'm drawn to in the Code fragrance: the floral notes of iris, the more up-front strong notes of bergamot. It's right up my alley, so it was a bit of a natural marriage there.
If you were to bottle your personal scent, what would it smell like? 
I think I'd avoid doing that? No one wants the personal. That's the scent you get straight after working out. You do everything but bottle that. You take a shower.
What is it like being the new face of Armani Code? It sounds luxurious. I see you on IG, with your Armani suits. 
The best thing about good fashion is that it maintains you as the headline act. It just makes you more of yourself.
Suits aside, how do you like to dress? 
The short answer is practically, but practical can mean glamorous. It can support how confident I want to feel, or how comfortable and relaxed I want to feel. I dress for the occasion, but the occasion is a flexible concept.
How does a good cologne change the way you carry yourself?
It's the opening salve of a conversation with whoever meets you. It's your first expressive offering to them, and they learn what they receive from you, whether that's strength or softness or sophistication and complexity. It's all about not just how you feel, but what you're offering to people you meet and how that opens up a conversation between the two of you.
You said you're not a scent nerd, but I'm curious: What do you like to smell on other people? Let's say, perhaps, you were in a crowded subway car. 
Honestly, if I'm on a subway car with a bunch of people, you win if I don't smell you. But if I have to, I think the most important thing is we got a two-spritz rule in my house. Keep it subtle. Whatever I smell on you, I want to get a hint of it and lean in, rather than get a whole bunch of it and lean out.
What thrills you about being an actor? 
The sense of curiosity is what really gets me about my job. You get to learn stuff — that's my favorite perk. Whether it's other performers' characters or the research phase, every moment you go through the world as an actor is a learning opportunity. You observe things, and then go, What's interesting about that person? What's interesting about their experience or the way they carry themselves and how can I share that in my work somehow — how can I represent that? Also, all the reading you do while researching, whether it's for period pieces or fantastical stuff. And there's always more. I find that very exciting. Not only do I get to feed myself; I get to share outward. It's hugely gratifying.
What's your dream role, if you have one in mind right now? 
I don't, but that's the luxury of my job: My dream role is something that I can't even imagine yet. If something surprises me and excites me in a way that's unexpected and creative and I hadn't even considered the possibility, that's what I'm going to do.
What question do you not want to be asked anymore? If I asked you one, that's fine, you can tell me. 
"What is your dream role?"
Noted. 
I tend to harp on about how curiosity is the basis of what I do, and so there's never any harm in asking a question. It's more about me needing to continue discovering new answers to questions, and I think that's a good thing to keep pushing myself on.
That sounds difficult. All I have to do is ask the questions. Anyway — tell me your favorite way to unwind.
Sleep. It's as simple as that. The best way to unwind is stop, close your eyes, recenter, reset.
It's a classic. 
It's an underrated activity. If you are rested, you will be recovered, you will look better, you will smell better, you will treat people better. Get some sleep.
Well, I'm sold. So what's next for you? 
A whole bunch of stuff. I'm doing a whole bunch with Armani at the moment. We have The Gray Man coming out in just under a month, which is exciting, and it's easily the biggest action movie I've ever seen. We went to a screening at Netflix, and it literally physically shook me. That excites the hell out of me. Then I have Dungeons and Dragons coming out, which is loads of fun and very humorous. And then a lot of stuff I'm not allowed to talk about. But I'm generally excited. The future is bright.
Psst! The Cut and New York Magazine are conducting a survey about dating. We want to know all about your swipes, IRL hookups, bad dates, and everything in between. Interested? Click here.