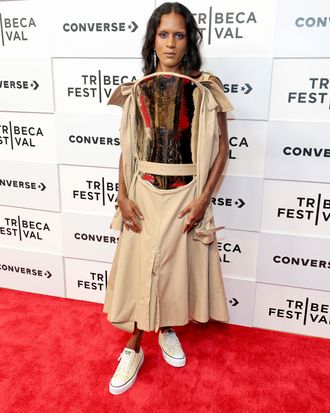 Photo: Cindy Ord/Getty Images for Converse
Last night at the Tribeca Film Festival, Richie Shazam, model, photographer, and now director, debuted her first short film, Savitree. The film explores a young Shazam's journey to her femme trans identity and how she met her found family — actress Julia Fox and stylist Briana Andalore — along the way. The film showed to a packed room at Spring Studios followed by a standing ovation and Q&A with Fox.
In the film, Shazam narrates her journey to her found family through voice-over, from her childhood spent caring for her ailing mother, who died when she was in high school, to meeting Fox at an after-hours party and stylist Andalore in Union Square and finding safety and a home with them. It's filled with shimmery metaphors (only Shazam could make the subway sound like a cosmic teleportation system to queer liberation) and footage from her childhood and early days with Fox and Andalore.
"For me, the most revelatory part of it was looking at images of myself as a child," she said onstage. "And making peace with that young boy and loving him."
Her partner, Ben Draghi, a musician and videographer who worked alongside Shazam on this film, plays a major role in virtually all of her creative projects. You'd think that kind of intimacy can get overwhelming, but Shazam swears by it. "A big part of our sisterhood is creating things together," she says of Draghi and her other family members.
Congratulations on your directorial debut! The film, sponsored by Converse, is about found family. Can you tell me about your own found family?
I think of that term Friendsgiving that people use all the time. It implies that you have a family you're gonna go to for real Thanksgiving. I didn't have that. All I had was my found family. We're so like-minded; we align on the same values, but also we're always there putting a smile on each other's faces, building each other up. Obviously we fight, we yell, we argue, we pop off. But the love is unconditional.
My found family was so essential in the creation of this film, bringing all of the parts together — it's about found family and made by found family. One of my best friends, Cara, was the producer, and my other best friend, Briana, was the costume designer. We're born and raised New Yorkers. This is what we're destined to do.
You appeared in the Cut alongside a few of those family members. What's the energy like on set when you all work together?
We're all very strong personalities. When we're cooking it up together, anything could happen. We have this synergy that allows us to take a lot of risks. That shoot was really special because we'd just celebrated our birthdays being Aquariuses, and we were just, like, being the icons and superstars that we are. We're all doing our own thing, but collectively we're even stronger.
You also work creatively with your partner, Ben. What's that like?
Ben was the creative director on the film. He helped me write, direct, create the musical score — he was my right hand through this whole journey. He also works very closely with my friends, so we're a creative unit. Anything I do, his hands are involved in the creation of it. Work has always been so essential to my identity, and being able to do that with someone I love and care about — I don't take that for granted.
How would you describe your style?
Eclectic, spontaneous … it's a roller coaster.
How does a going-out 'fit come together?
My clothes need to be in my face because I'm super visual. They can't be stowed away in a closet. So I have racks in my house, and I sift through the racks to find something I haven't worn or want to play with. Going out is like a reprieve, and I wanna feel sexy. I love showcasing my body. Last night, I wore a bodysuit and this tall silver boot. I was giving lady of the night, power stomper. I was on a mission.
Going out should be an escape from reality. The most beautiful moments I've had with Ben and my family are when we're getting ready. When we're all just kikiing, chilling in the house, blasting the music, putting our makeup on. Those moments are iconic. We're in our little safe haven just feeling the bliss of being with one another. It's authentic and special. I've always loved those moments of getting ready with my friends. Try on this, try on that! Change your shoes! Wear these earrings! Oh my God, how do you feel? We can't leave if you don't feel good! That kind of thing.
What's the last thing you added to your wardrobe?
I went to this amazing vintage store in L.A. and bought all of these incredible vintage Levi cutoffs that fit like a dream. I was like, These are gonna be my look for the summer. You can wear them day and night, and they're very mutable. I also just wanna showcase my legs. I'm very inspired by wearing next to nothing. That's my vibe for the summer. Like, skin is the look. Either I wear a thot dress, or I wear these cutoffs.
Psst! The Cut and New York Magazine are conducting a survey about dating. We want to know all about your swipes, IRL hookups, bad dates, and everything in between. Interested? Click here.