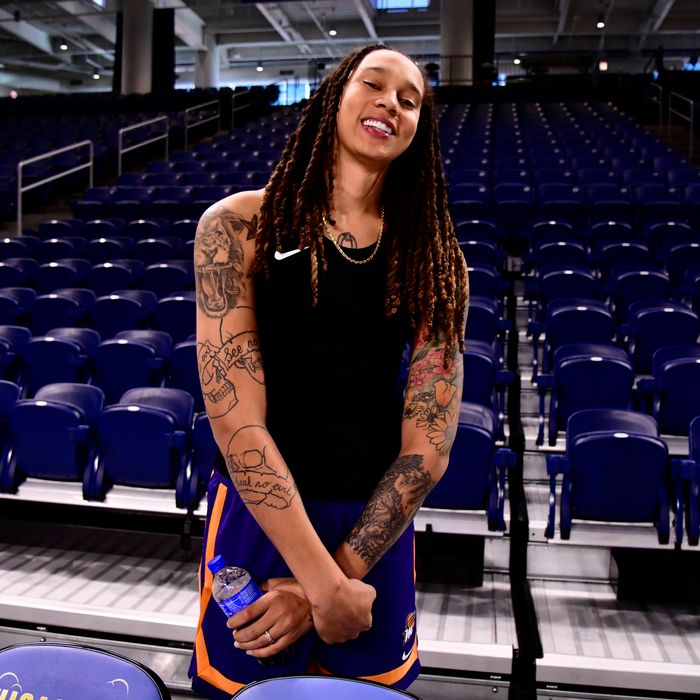 Photo: Barry Gossage/NBAE via Getty Images
As tensions between the U.S. and Russia continue to rise amid Russia's invasion of Ukraine, an American WNBA star has been detained in Russia for months. Brittney Griner, the two-time Olympic gold medalist who plays for the Phoenix Mercury in the WNBA and for Russia's UMMC Ekaterinburg during the off-season, was reportedly arrested on drug charges in February after Customs found vape cartridges in her luggage at the airport. U.S. officials met with Griner last month, and while a spokesperson from the U.S. Embassy in Moscow said she was in "good condition," it remains unclear when she'll be released. Now, a Russian court has extended Griner's pretrial detention until July 2.
Russia first announced the news March 6, telling the world it had an American basketball player in custody. The player was later identified as Griner, and footage allegedly showing her stop at Customs was released. According to the New York Times, Russian law enforcement is saying Griner was found with vape cartridges containing hashish oil and is reportedly opening a criminal case against her on drug-smuggling charges, which carry a jail sentence of up to ten years.
After Russia announced Griner's arrest, her agent, Lindsay Kagawa Colas, told ESPN they were "in close contact with her, her legal representation in Russia, her family, her teams, and the WNBA and NBA." Colas's statement continued, "As this is an ongoing legal matter, we are not able to comment further on the specifics of her case, but can confirm that as we work to get her home, her mental and physical health remain our primary concern." Griner's wife, Cherelle Griner, also released a statement on Instagram thanking fans for their "prayers and support" and asking for privacy. Meanwhile, the WNBA released a statement offering Griner its "full support" and noting, "Our main priority is her swift and safe return to the United States." Phoenix Mercury and USA Basketball released similar statements.
Griner's arrest in Russia is especially troubling given her high-profile status as an American athlete and her identity as an LGBTQ+ Black woman. Russian president Vladimir Putin has taken an active stance against LGBTQ+ rights, having declared in 2020 that he would never legalize same-sex marriage in the country.
U.S. secretary of State Antony Blinken acknowledged Griner's arrest during a March 6 press conference, saying, "Whenever an American is detained anywhere in the world, we of course stand ready to provide every possible assistance. And that includes in Russia."
In March, a Russian state news agency reported that a Moscow court had extended Griner's detention through May 19, cutting into the start of the WNBA season. While coordinated efforts to secure Griner's freedom have remained private, a spokesperson for the U.S. State Department claims the department has been "doing everything we can" to support Griner and work toward her safe release. On March 23, consular officials reportedly visited Griner in the cell she shares with two Russian inmates. At a press conference following the visit, U.S. Embassy spokesperson Jennifer Palmer reiterated that the embassy was doing everything it could to see to Griner's release and to ensure she is "treated fairly throughout this ordeal." While government officials are choosing to work quietly on Griner's case for fear that overpublicizing it will adversely affect her detention, many of Griner's supporters are outraged that the government isn't waging a louder campaign for her freedom.
On April 28, the Biden administration announced that Trevor Reed — a U.S. Marine veteran who has been detained in Russia since 2019 — was released as part of a prisoner swap between Russia and the U.S., renewing scrutiny of Griner's case.
On May 13, Griner's lawyer told the Associated Press that Russian authorities had again extended her pretrial detention by one month, which he believed could mean Griner's case would soon go to trial. Speaking to her welfare, Griner's lawyer told the AP that her legal team "did not receive any complaints about the detention conditions from our client." Griner's lawyer did not comment on her latest pretrial detention extension; per the Times, it's typical for Russian courts to repeatedly extend detention until trial. The news comes one day after the U.S. State Department briefed Griner's teammates on her situation, with head coach Vanessa Nygaard saying, "She's our teammate, she's an American, and we want her back home."