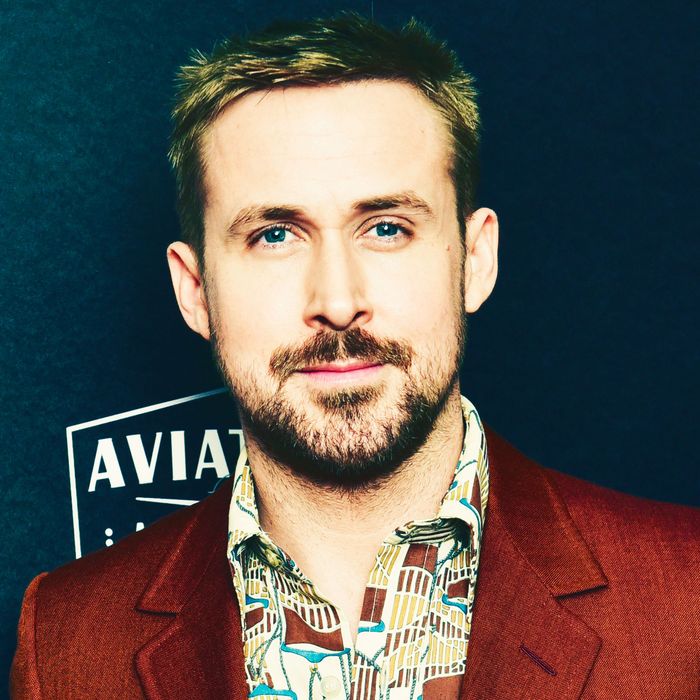 Photo: Rodin Eckenroth/Getty Images
Blond hair? Check. Six-pack abs? Check. Spray tan? Check. Fuckboy energy? Double check. This is Ryan Gosling as Ken in the Barbie movie. At least that's what he's giving in the first official photo of the actor in character, which will have you either running for the hills or fantasizing about spending the night at his Malibu Dreamhouse.
A few months ago, Warner Bros. dropped the first official look at Margot Robbie's Barbie, so it's only right for the studio to follow up with Barbie's male counterpart, Ken. But while Robbie's Barbie looks like a regular human, Gosling's Ken is definitely giving off a more "life in plastic" vibe. With bleached hair, perfectly contoured muscles, and an expression that says "Hey, girl," Gosling looks like someone wished on a star to have their Ken doll come to life. Even his arms look like they don't bend past 90 degrees. Terrifying, though still not quite as haunting as Pete Davidson's genital-free Ken for Paper magazine.
Gosling's version of the character has clearly evolved past the preppy varsity-sweater look of the O.G. Ken dolls, trading business attire for light-wash, low-rise jeans, a matching denim vest (no shirt), and personalized underwear. The whole look is a haunting combo of 'N Sync circa 2000 with a dash of Justin Bieber's 2015 Calvin Klein ads and a Kardashian spray tan thrown in. But it's also … kinda hot?
There's still a lot we don't know about the Barbie movie, co-written by Noah Baumbach and Greta Gerwig and directed by Gerwig, but I think it's safe to assume, based on looks alone, that Gosling's Ken will not be a hero. He won't even be the only Ken. Rumor has it Simu Liu will be playing another version. Liu hasn't confirmed his role, but he has let slip that whatever he's doing, it required many dance rehearsals and waxing his entire body, per Variety. The movie isn't a musical, but perhaps Liu's rehearsals mean we'll get to see the return of Gosling's iconic childhood dance moves or maybe a repeat of his Mickey Mouse Club days.
Barbie is set for release in July 2023 and will also star America Ferrera, Kate McKinnon, Issa Rae, Alexandra Shipp, Michael Cera, Kingsley Ben-Adir, Scott Evans, and Ritu Arya.
Psst! The Cut and New York Magazine are conducting a survey about dating. We want to know all about your swipes, IRL hookups, bad dates, and everything in between. Interested? Click here.