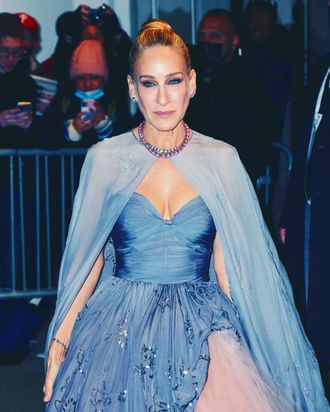 And Just Like That … wrapped its first season in February, but the drama surrounding the Sex and the City reboot somehow continues to unfold. Most recently, Sarah Jessica Parker took her appearance on The Hollywood Reporter's Awards Chatter podcast as yet another opportunity to discuss some decades-old beef with Kim Cattrall, who did not reprise her role as Samantha in the reboot.
Since the final season of Sex and the City, rumors have swirled about a feud between Parker and Cattrall, which both of them have denied. After two Sex and the City movies, the plans for a third installment fell through, largely because, as Cattrall publicly said, she didn't want to return to the franchise. Her former castmates felt different, and tabloids claimed Cattrall had made unreasonable contract demands that prevented the movie from moving forward. Cattrall's conspicuous absence in And Just Like That … fueled more speculation on what happened behind the scenes, and last month, she suggested in an interview with Variety that she's pretty relieved not to have been involved. "The series is basically the third movie," she observed. "That's how creative it was."
In the June 2 podcast episode, Parker weighed in on Cattrall's departure from the SATC universe, saying that it was the studio's fault — not Cattrall's — that the third movie was called off. "The studio … didn't feel comfortable meeting where she wanted to meet," Parker said, stressing that "every actor has a right to ask for things" and it was "not my business." "Were we disappointed? Sure," she said. "But it happens."
Parker adamantly denied that she contributed to any kind of feud with Cattrall. "I've never uttered fighting words in my life about anybody that I've worked with," she said. "There has been no public dispute or spat or conversations or allegations made by me. Actually, there has been one person talking. And I'm not going to tell her not to."
Despite her assertion that it's "very hard" to talk about the situation, Parker has not exactly been silent on the matter. In 2018, she called Cattrall's accusations that the SATC team had been unkind to her "enormously painful" and, in a separate interview, said she was "just heartbroken" about what had happened. Soon after, she joked that Ellen DeGeneres should play Samantha in the next iteration of SATC. Toward the end of AJLT's first-season run, she and her castmates started discussing Samantha-gate in interviews, mostly sticking to the party line that they never wanted or expected Cattrall to join the reboot. "She made it clear that it wasn't something she wanted to pursue," Parker reiterated to THR, claiming that "it did not occur to us" to reach out. "That's not slamming her, that's just learning." She said the cast and crew "felt comfortable moving on without her."
Apparently, though, no one feels comfortable moving on from talking about this whole debacle. Maybe we could have a moment's peace before the second season hits?