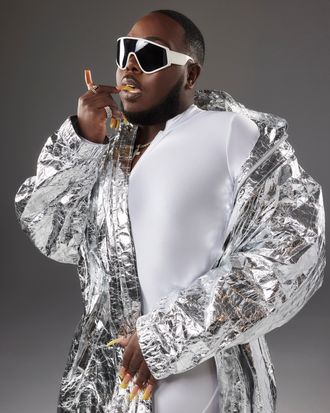 It's always Pride Month for Saucy Santana, but since the beginning of June, he has been booked and busy. In the past 30 days, he's performed at Terminal 5 with Madonna, a party for Coach, and festivals including WeHo Pride and New York City's Summer Jam. On top of everything, he released a new single, "Booty," which uses the music from a Chi-Lites track, which you might recognize from Beyoncé's 2003 hit "Crazy in Love."
It's not the first time he's taken inspiration from the classics. Santana made it big last year with his hit "Material Girl," a play on Madonna's original "Material Girl." We got to hang out earlier this year and caught up recently to talk about going viral on TikTok and more.
Beyoncé samples are famously hard to get, but since this is an interpretation of a Chi-Lites song that Beyoncé used as well, I'm sure it was easier. What made you want to use that one?
As soon as I heard the beat — you know I'm a '90s baby. I was like, Oh, this is a gag. This is the one.
Your song "Material Girl" blew up on TikTok, and you seem to have a formula to do so. Did you choose this track thinking it would go viral?
I do what feels like me. I feel like people are trained now to make TikTok music, but I feel the same way I just go viral by myself; I don't do things to intentionally try. I just go viral by being me. Likem the other day, I was packing for the airport before I made the video at seven o'clock in the morning with one take. By the time I took my flight and got off the plane, I was like, What is going on? I just played my song and literally did Santana and it just said, Boom. It went viral that same day.
Growing up, what was the first song that had you twerking and dancing?
I grew up in Connecticut. My cousin used to babysit me, and she only dated Jamaican men. You know Jamaican music is whining, popping, and dancing. I started dancing real early. But being up north in Connecticut and then moving down south to Florida, it's two different ways of dancing. Up north, it was popping and whining. When I moved down south, we danced like strippers. I just remember being around my cousin and she was always pop, lock, and dropping, and I wanted to do it, too.
What are three things every material girl should have in their bag at all times?
Some coins, of course, because I'm never depending on no man. I keep some lip gloss. I love my Fenty Beauty gloss by Rihanna. I also keep a little portable fan on me because I'm always hot. I also keep my shades in my purse just in case I want to act like I don't see someone. Then when they hit you up after, you can be like, "Oh, girl, I didn't even see you — I had these shades on."
What are you into style-wise now?
My favorite brand right now is Balenciaga. I'm really into baggy and sporty clothes lately and not always wanting to wear tight clothes all the time. I love how sporty but still fashionable Balenciaga is. For manicures, I love a nude set. Regardless of what I have on my nails, they have to be nude, and they have to be long because you can't have short nails asking a man for money.