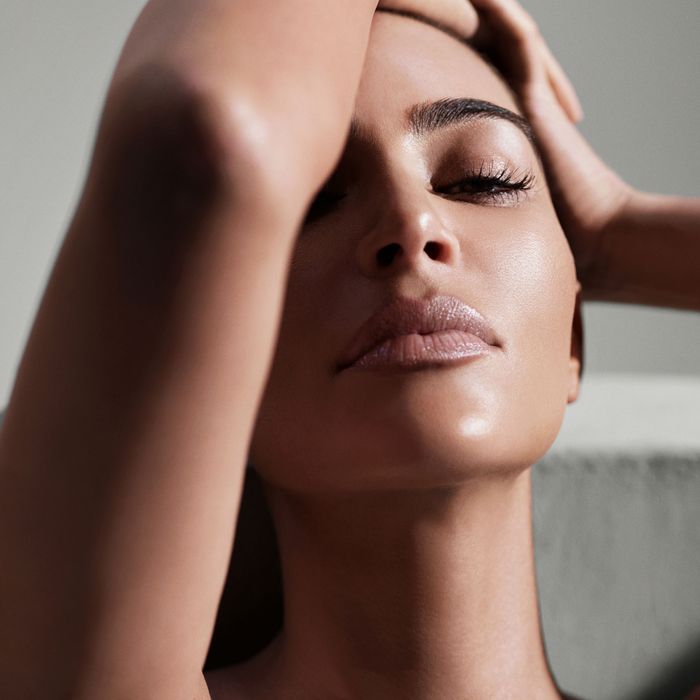 Last summer when Kim Kardashian said she was closing KKW Beauty and planning to come back with new formulas and sustainable packaging, fans wondered what was next. Almost a year later, she announced the launch of a skin-care line called SKKN (a name that was met with criticism because a Black-owned, Brooklyn-based skin-care studio, SKKN+, has been using it since 2018). Yesterday, the day finally came: SKKN, which was formulated with skin-care vet Joanna Czech, also Kardashian's longtime aesthetician, officially launched.
In honor of the brand launching, I wiped my entire skin-care regimen (except for my tried-and-true daily sunscreen, because the collection does not include an SPF) for a week and tried the products. Disclaimer: A week isn't enough time to see long-term results. But given that I try about ten to 12 skin-care products a month and know my skin well, I judged the products on texture, smell, and immediate changes to my skin, such as redness, differences in complexion, and irritation.
First things first: What is it?
It is a nine-step skin-care collection that includes a cleanser, toner, exfoliator, face cream, eye cream, hyaluronic-acid serum, vitamin C8 serum, oil drops, and a night oil. According to the website, Kardashian's psoriasis diagnosis was the catalyst for the line.
The packaging and font was created by Willo Perron and Brian Roettinger of Perron-Roettinger, a relationship Kanye West bought to Kim. It's minimal and almost architectural, but appealing for a shelfie. It's "grounded in an ethos of sustainability," according to the website, and refills are sold online.
Is SKKN worth the coins?
Some products are. As someone who tries a lot of expensive skin-care products and believes in investing in the right ones, I'm a bit biased. But here is my review of what is worth it and what will steal your money.
Which SKKN products are worth the price?
The night oil, $95, is pricey but worth it. In fact, it is really worth it. I usually don't use oils because I have combination-to-oily skin and am prone to breakouts. Still, this is my favorite product from the entire collection. It is formulated with 14 oils, including sweet almond, grapeseed, and argan, but it hasn't caused me to break out. In fact, the light texture sold me quick: I woke up the very next day with a noticeably smoother complexion. So if you want to splurge on just one product from the collection, this is the one for you.
The cleanser, $43, is not worth the price, in my opinion. While it successfully removed all my makeup with little to no residue, and the creamy texture — which lightly foams when mixed with water — kept my skin hydrated, it offered nothing more than CeraVe or Cetaphil, which are a fraction of the price. Overall, if you have a go-to cleanser that's working well, stick to that.
The toner, $45, is worth it … if you are into toners. Personally, I don't use a toner and instead opt for an essence, because like Hailey Bieber, I like to look like a glazed donut. For a light exfoliation, it did the job to smooth my skin texture. It's developed with AHAs and fruit enzymes and has 6 percent witch-hazel water, which could be problematic for some and great news to others.
The exfoliator, $55, will work for you … if you like a rough exfoliation. As someone who has over-exfoliated plenty of times, I prefer a gentler one. I would caution against over-doing it and ruining your skin barrier. 
The moisturizer, $85, is worth it. I've used creams that are triple this price, and this one is just as great. It's a very lightweight texture that melts into the skin almost instantly and leaves it smooth and hydrated without feeling heavy or sticky. I credit the squalane for that.
Similar to the face cream, the eye cream, $75, is lightweight and moisturizing. While I may not have to worry about firmness at my age, the nourishment it gave was definitely 10/10. I loved the texture of the eye cream so much that I used it as a full face cream before the gym for a few days. My skin felt great.
This hyaluronic serum, $95, is a splurge, but it's worth it for keeping the skin's moisture intact. Hyaluronic serums are intended to plump the skin, and this one is made mostly with rosa centifolia water, known for its soothing properties. While it's fragrance free, there's a hint of rose scent, so that might deter people who, like me, don't like rose. The initial application is a bit sticky, but it feels nice once it settles in.
I need more testing time to truly say if this vitamin C serum, $90, is worth it. But the texture wasn't sticky, it didn't smell like bacon (which some vitamin C serums do), and it left my complexion bright and glowy.
Again, I need more time to see if these oil drops, $95, help with hyperpigmentation, as they say they do. I have hyperpigmentation and am constantly looking for products that help. What I did see was an immediate glow, and it didn't feel too oily on my skin. But I might stick with the Topicals Faded cream, an OG hyperpigmentation product, for now.
What is the internet saying about SKKN?
TikTok has accused Kardashian of "greenwashing," meaning that she is touting the products as more "sustainable" than they really are. The website says they are made with "eco-friendly" materials, but it doesn't give full information on the material of the actual bottles so we can't fact-check. All the bottles are refillable, though, meaning you don't have to buy a whole new one when you run out. The refillables, which are cheaper, are made with recycled materials and delivered inside compostable kraft bags, according to the brand's website.
People are also upset at the prices: "Kim Kardashian has lost her DAMN mind with these "SKKN" by Kim product prices. The Complete Collection is $575," one tweet read. A handful of influencers and celebrities received the collection, but no one who has tried it has given full reviews yet.
What's the SKKN verdict?
Overall, I am someone who loves the ritual and luxury of a beauty routine, so if you have a whopping $575 for the entire collection and want to try it yourself, why not! The products are lightweight; deliver lots of hydration and trés chic. If not, (which, same) I'd splurge on the night oil and/or moisturizer and stick with your normal hero products instead.