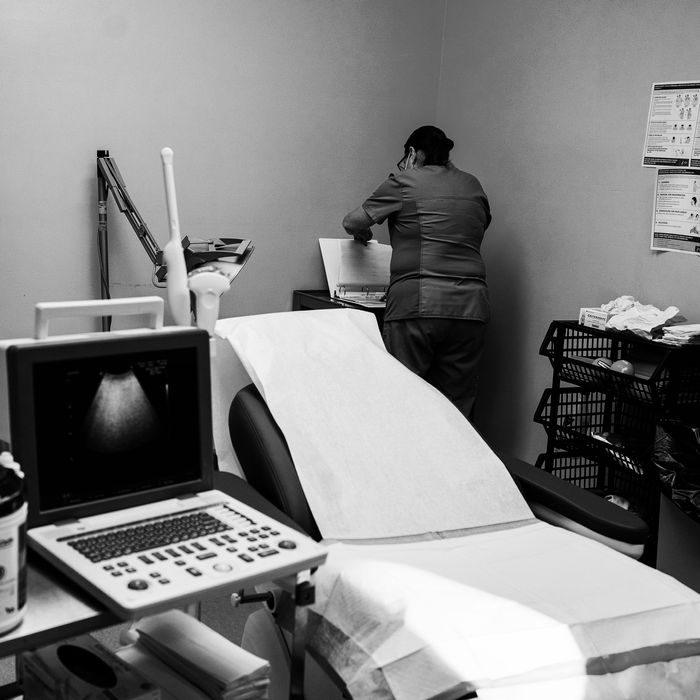 Photo: Gabriela Bhaskar/The New York Times
By mid-June, all the abortion appointments at CHOICES, one of two clinics offering abortions in Memphis, Tennessee, were booked for the rest of the month. That in itself isn't unusual, but for the first time in the clinic's nearly 50-year history, there were no more appointments forthcoming. In anticipation of the Supreme Court's ruling on Dobbs v. Jackson Women's Health Organization, which is expected to overturn abortion rights, CHOICES planned to suspend services after June 27. "We were telling patients we didn't have any more appointments, that the overruling could be this month, and they were shocked," says Giselle Quintanilla, a front-desk scheduler. "Some of them had heard about it, but they didn't think it was serious. They would tell me, 'What do I do now? I can't get an abortion?'"
Quintanilla explained to each caller that there were clinics they could be referred to in Illinois, which has state-level protections. "But when I tell them that it's four hours away, they're like, 'Well, I can't drive four hours.' In our community, there's many people that don't have cars." Some of the callers wept.
Since a leaked draft decision made clear that the fall of Roe v. Wade was more of a when than an if, clinics operating in states with trigger laws and pre-Roe abortion bans have existed in a state of terrible suspense. Few administrators were caught off guard — the team at CHOICES has been planning for this since Amy Coney Barrett's rushed confirmation hearing just before the 2020 election — but now, the legal status of abortion in these states could change on a dime.
Cruelly, the Supreme Court shares what days it will release opinions (usually Monday and Wednesday, and occasionally on Tuesday and Thursday), but doesn't give notice as to which decisions it'll release on which day. Abortion-rights supporters have spent the mornings of decision days refreshing the Court's website in a haze of dread. Clinic staffers, by and large, have been too busy to do the same. But they are constantly reevaluating how much longer they have to legally provide abortions: By the third week of June, the CHOICES team revised its estimation of Decision Day to July 11 and added more appointments to the schedule in a temporary reprieve. "We don't know what's going to happen until it actually happens," Quintanilla says, "but we're going to be doing abortions up until we can't."
Many clinics, already strained by decades of declining access, are trying to squeeze in more appointments in a day. Colt Wasserman, a doctor with Planned Parenthood Arizona and a fellow with Physicians for Reproductive Health, has been seeing as many as 40 patients a day for a mix of abortions and counseling sessions — an increase of more than a third. "We're definitely making a concerted effort to see all walk-ins," Wasserman says. "The medical assistants, the ultrasonographers and nurses are all working at maximum capacity."
The abortion ban on the books in Arizona dates from when it was a territory, not a state, but abortion-rights groups anticipate an interruption in care once the Supreme Court rules on Dobbs. For weeks now, Wasserman has been giving patients additional information in each state-mandated counseling session, which has to take place at least 24 hours before an abortion. After telling patients the required information on a fetus's physical characteristics, which NARAL has described as biased, Wasserman directs them to resources about clinics in protected states, just in case abortion becomes illegal in Arizona before their next appointment. (Some people, they note, come into the appointment thinking abortion might already be illegal, "but they still show up.") More and more patients who had thought to get a medication abortion are choosing the in-clinic procedure instead, Wasserman says, for the simple reason that medication abortions occasionally (though rarely) fail to terminate a pregnancy, and the risk of staying pregnant in a post-Roe world is too great.
Clinics like Planned Parenthood Wisconsin have announced they're planning to suspend abortion care in advance of the decision, so as not to have to cancel appointments (Wisconsin has a pre-Roe abortion ban that could be enforced after the likely Dobbs ruling). Others will work down to the wire, which has its own complications. Joey Banks, a doctor at the independent Blue Mountain Clinic in Montana, spent the last year and a half traveling to Oklahoma to provide abortions at the Tulsa Women's Clinic. Her last day there, in May, was spent waiting for the governor to sign Oklahoma's total abortion ban into law. "We knew it could happen at any moment, any of the days I was working," Banks says.
At one point, just after starting a procedure, Banks's walkie-talkie crackled. She recalls the staff member on the other side saying, "'Wait a second, Joey. Wait a second.' I'm like, 'Wait, do I need to stop this procedure?'" There was a pause, and then the staff member confirmed that no, it was a false alarm and abortion was still legal. "I'm always going to do whatever is safe and right for the patient in that moment," Banks says, "but it was this weird feeling." The ban went into effect six days later.
It is not unlikely that in some clinic, somewhere in the country, a doctor will be performing an abortion at the moment that the Court overturns Roe. "We often use medications in surgical practice — what if you've already given those?" Banks says. "Are you then saying to a patient, 'I know I've already given you these medications, but I will need you to fly to New Mexico?'" Though the majority of abortion procedures take no more than ten minutes, Wasserman, the doctor in Arizona, points out that "at a certain point, you're not in a position to stop because the patient would bleed."
If the miasma of uncertainty around scheduling and legality wasn't enough, many clinic staff are also staring down unemployment. Wasserman knows doctors in trigger-ban states who are already interviewing for positions at other clinics. CHOICES has avoided layoffs by preparing to open a new clinic three hours away in Carbondale, Illinois, where abortion has strong protections. Jennifer Pepper, the president of the clinic, started looking for a space last winter, as the Court heard oral arguments for Dobbs. CHOICES doctors who are licensed to practice in Illinois will travel to work, while many of the support staff are being retrained for other departments of the Memphis clinic — like the birth center, which opened in 2020 and made CHOICES one of the only places in the nation, outside of hospitals, where births and abortions took place under the same roof. It was a vision of full-spectrum reproductive health care, where all pregnancy outcomes were treated with respect. "When this thing rights itself, whenever that is, our clinic in Memphis will begin to provide abortion again," Pepper says. It's hard to imagine when that will be.