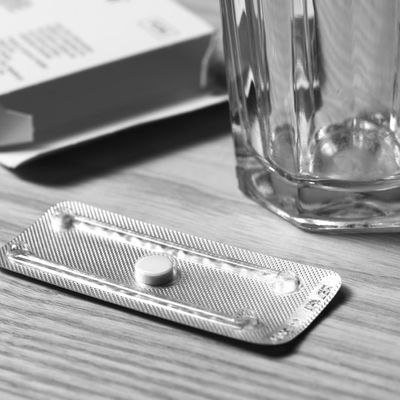 Photo: Peter Dazeley/Getty Images
In the days since the Supreme Court overturned Roe v. Wade and conservative justice Clarence Thomas suggested the court "reconsider" contraception access, people who can become pregnant have been stockpiling morning-after pills, prompting major retailers to ration their supplies. Now a major health system in Kansas City, Missouri — a state where abortion is illegal, without exceptions for rape or incest — has confirmed it has stopped providing emergency contraception until state and federal laws around the ban are "better defined," the Kansas City Star reports.
"The Missouri law is ambiguous but may be interpreted as criminalizing emergency contraception," said Laurel Gifford, a spokesperson for St. Luke's Health System, which operates 16 hospitals and campuses across Missouri and Kansas. Although emergency-contraception pills are not the same as medication abortion, and Missouri's trigger ban — which went into effect Friday, after Roe fell — doesn't prohibit the use or provision of birth control including Plan B, Gifford advised patients seeking emergency contraception to do so "legally" at St. Luke's Kansas facilities, defending the health system's hard-line decision as a legal precaution. "We simply cannot put our clinicians in a position that might result in criminal prosecution," Gifford told the Star. Birth control remains legal in Missouri (per the Star, emergency contraception remains available at other state hospitals and pharmacies), but the consequences of providing abortions are severe, with doctors who perform the procedure at risk of losing their medical licenses and getting charged with a class-B felony, which carries a prison sentence of five to 15 years.
St. Luke's decision has been met with widespread scrutiny, with a local Planned Parenthood telling the Star it's "dangerous" to have a health-care system "that's now participating in the shame and stigma and fear of accessing something that's still readily available to people in Missouri." The Metropolitan Organization to Counter Sexual Assault advised survivors not to go to St. Luke's if they need emergency-contraception pills after a rape, while Missouri state representative Mary Elizabeth Coleman — a Republican anti-abortion legislator — called the health system's interpretation of the ban "clearly wrong." Still, the ordeal portends a bleak future for contraception access: Even before Roe fell, a number of conservative states had enacted laws permitting health-care providers to refuse contraceptive services, including emergency contraception, to patients without legal ramifications. Post-Roe, many experts worry contraception access is next on the chopping block. "The time to ring alarm bells is now," Andréa Becker, a medical sociologist at UCSF, told Insider this week. "Presently, no one with the capacity to get pregnant has full reproductive autonomy."