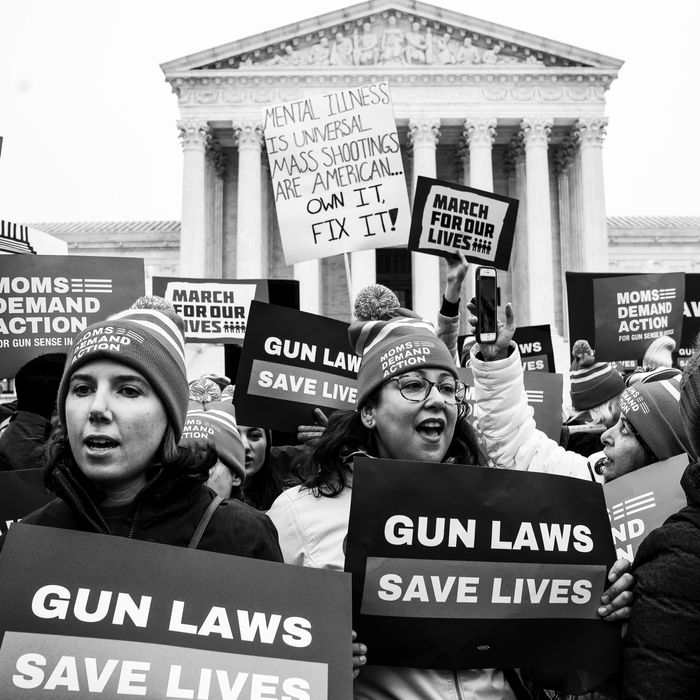 Photo: Drew Angerer/Getty Images
The Supreme Court's conservative supermajority further validated America's gun fetish on Thursday, delivering a "holy grail" victory to gun-rights advocates. The court's 6-3 decision in New York State Rifle & Pistol Association v. Bruen, the first major gun-rights case in more than a decade, struck down New York's strict limits on carrying concealed firearms in public, deeming they violated the Second Amendment.
The decision will have devastating implications for gun-safety measures going forward, as the majority opinion written by Justice Clarence Thomas dramatically broadens the scope of the Second Amendment, determining that the concealed carrying of firearms outside the home is a constitutionally protected right. Courts will now be required to use "the historical tradition" as the standard to evaluate whether gun regulations are unconstitutional. Thomas even pushed against judges considering "modern empirical evidence" to determine whether a regulation should stand, even though firearms today function vastly different from the ones that existed when the Constitution was written.
The ruling is not exactly shocking. The conservative justices hinted during oral arguments that they were ready to do away with a New York law that required anyone seeking a "carry concealed" pistol license to demonstrate "proper cause," meaning a "special need for self-protection." The NRA took a victory lap following the ruling, calling it a "watershed moment," especially for "law-abiding Americans who have lived under unconstitutional regimes all across our country."
The decision came hours before the Senate was set to take a procedural vote on a critical gun-safety bill, which could pass with bipartisan support as soon as this week. The legislation was negotiated just weeks after two suspected teenage gunmen killed 31 people in two separate mass shootings in Buffalo, New York, and Uvalde, Texas. The victims included ten Black people who were out grocery shopping as well as two teachers and 19 children in an elementary school. In a concurring opinion, Justice Samuel Alito felt it necessary to scornfully rebuff the dissent's mention of recent mass shootings, including the one in Buffalo. "The New York law at issue in this case obviously did not stop that perpetrator," he wrote. Indeed, the now-struck-down regulation did not prevent an 18-year-old white supremacist from legally purchasing weapons of war, despite having been evaluated for mental-health concerns in the past. That the court's reaction to the nation's epidemic of gun violence was to make it easier for people to carry concealed firearms is as nonsensical as it is cruel.