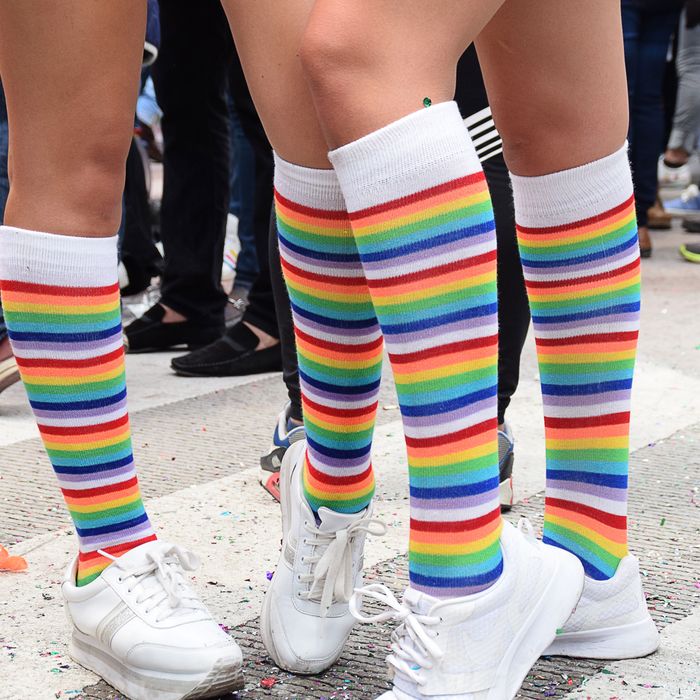 Photo: Sarabel González / EyeEm/Getty Images/EyeEm
Who could forget this attack on our community: a rainbow-print two-piece suit … with shorts … and a matching rainbow-print tie? I shudder at the mere memory.
"Ugly as sin," wrote Chris Stedman, the creator of the podcast Unread, in a viral tweet.
Sometimes the biggest attacks on the LGBTQ+ community come not from our oppressors, but from those with the best of intentions — or seemingly so. Of course, I'm talking about Pride merchandise created often by well-meaning companies attempting to capitalize on queer liberation. Each year, starting in late May, brands begin to roll out Pride collections. They're often maximalist, usually some derivative of the rainbow, and just about always an eyesore.
You'd think they would have learned from years past, but this year alone there was: Adidas's Pride collection, which feels like Dipsy from Teletubbies meets Machine Gun Kelly; a sweatshirt from Calvin Klein that looks like a Rorschach test; and Balenciaga's extremely long tees. (It goes beyond wearables, too — who could forget the LGBT sandwich of 2019, the bisexual couch of 2021, or 2022's "Gay Is OK" soap?)
There is this rainbow-zebra-printed Peloton hoodie, which, to quote Michael Kors on Project Runway: "If you want guys to leave you alone at the gym, wear that look." Guess's #MomentOfPride capsule? Borrowing a turn of phrase from Annie in The Parent Trap: "You gave me a fright." Converse's Pride collection? As Erin Brockovich once proclaimed: "That's all you got, lady: two wrong feet and fucking ugly shoes." Edie Parker's Slim Flavia clutch emblazoned with the words "Say Gay," retailing for a hefty $995? As Emily says to Nigel when he asks who Andy is at the beginning of The Devil Wears Prada: "I can't even talk about it." Hervé Léger's Pride 2022 rainbow minidress? Actually, this one can stay!
"I want to say the design here was lacking," said TikToker Connor Clary in his viral review of Walmart's 2022 Pride collection, which includes a gray T-shirt with a rainbow and the not-real term "LESBOW" beneath it. "But honestly, it would probably feel worse if they actually put effort into this."
What Walmart is doing is "rainbow-washing": when a business shows public support for the LGBTQ+ community without any tangible benefit to queer people, or while privately engaging in efforts to dismantle our rights. (Mind you, that same company has given tens of thousands to Arkansas lawmakers who helped pass a bill that bans gender-affirming health care for minors.) That's an insidious act for all of the obvious reasons, but also concerning is what these brands pass off as merchandise worthy of consumption by anyone.
"It's corporate capitalism's 'Hi Gay' to our community," says Kingsley Gbadegesin, whose label K.NGSLEY offers beautifully made cut-out unisex designs and culturally relevant jewelry such as PrEP earrings. "Pride Merch is exactly what it is … merch. It's sad." Does slapping a rainbow on something automatically makes it Pride merch? Where's the creativity? Where's the intention?
Making them impervious to criticism, these collections are often rolled out with very specific messaging about a percentage of the proceeds going to an LGBTQ+ charity. H&M, for instance, will be matching donations to the Trevor Project — up to $150,000. It also provides "ongoing support" (the specifics of what that means are unclear) to groups such as the Ali Forney Center and the Marsha P. Johnson Institute. Dockers "continues its long-standing partnership with the Stonewall Community Foundation." J.Crew is making a donation to PFLAG (amount unspecified). Hollister is donating $250,000 to GLSEN. It's all well and good (though these tend to be the best-known and, as a result, the most well-funded organizations out there), but one fact remains: The clothing lines themselves tend to be tasteless.
So what is the problem? "I think it starts at the flag. Let's be honest, it's tacky … therefore anything created from it ends up being tacky as well," wrote celebrity stylist Ian Bradley over email. "But tacky can be fun, and essentially a rebellion of good taste/fitting in, which Pride is all about. We can be tasteful all year round but think it's fun embracing hideous Pride merch."
Personally, I've never bought any Pride merchandise. I've never looked at a single item with the thought bubble, I need to own that. For me, it begs the question: Do we really need Pride merch? Sure, some people might love to wear their sexuality on their sleeve. But I would rather advocate bringing awareness and sales to queer-owned and queer-operated designers and retailers. After all, "brands that cater to their community don't need to call something Pride merch," says Gbadegesin, noting his own brand, as well as contemporaries like Patrick Church and LEAK NYC. There is also Luar, Telfar, Willie Norris, and more.
"It's unabashedly queer and something you'll actually be seeing The Girls in this Pride and beyond," says Gbadegesin. Bloop!