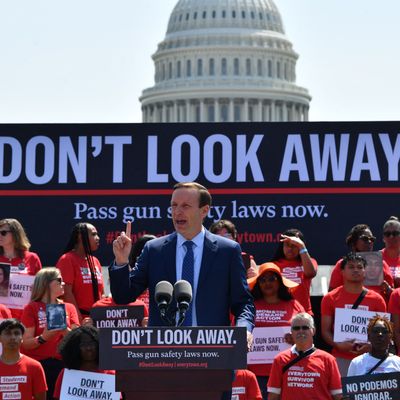 Photo: Nicholas Kamm / AFP/Getty Images
That's one small step for common-sense gun reform — assuming, of course, that a new bipartisan compromise on gun safety makes it through the Senate in one piece. On Sunday, a bipartisan Senate committee of ten Republicans and ten Democrats announced a deal on gun reform, but there's still a long way to go.
In the weeks since the massacre of 19 children and two teachers at Robb Elementary School in Uvalde, Texas, the call for federal gun reform has increased. On Wednesday, the House of Representatives passed gun control package called the "Protecting Our Kids Act," which included measures to raise the minimum age to buy specific semiautomatic weapons from 18 to 21 years old and regulating safety measures for keeping firearms in homes. Only five Republicans voted for the bill, which passed with a 223-204 vote, which made the package pretty much doomed in the Senate where the Democrats have a much slimmer margin. But, as the House was hammering out this package, members of the Senate were working on their own proposal.
The Senate's gun control framework deal is much more narrow than the Protecting Our Kids Act, but it has something the House package didn't have: Republican support. The framework includes a call for increased mental health resources and school safety measures — both major Republican talking points in the wake of the mass shootings in Buffalo and Uvalde. But, it also incorporates red flag laws, something gun safety advocates have been calling for for years. Now all it has to do is be written into law and actually pass through Congress. Here's what you need to know.
Who participated in the bipartisan committee?
The group of 20 senators was led by Democrat Chris Murphy, a long time gun safety advocate from Connecticut, and Texas Republican John Cornyn. They were joined by Democrats Cory Booker, Richard Blumenthal, Kyrsten Sinema, Mark Kelly, Chris Coons, Martin Heinrich, Debbie Stabenow, and Joe Manchin; Republicans Roy Blunt, Bill Cassidy, Thom Tillis, Richard Burr, Susan Collins, Lindsey Graham, Rob Portman, Mitt Romney, and Pat Toomey; and Independent Senator Angus King. The group said in a joint statement, "Our plan increases needed mental health resources, improves school safety and support for students, and helps ensure dangerous criminals and those who are adjudicated as mentally ill can't purchase weapons."
What's actually in the Senate gun safety framework?
One of the biggest wins for gun reform activists is the support for red flag laws. According to the press release outlining the agreement, one main pillar of the legislation would provide states with resources needed to ensure that individuals who have been found — in court — to be a danger to themselves or others cannot buy "deadly weapons." The proposal would also attempt to close the "boyfriend loophole" by requiring that domestic violence convictions be recorded in the National Instant Criminal Background Check System (NICS).
The compromise also includes several efforts to fund mental health, specifically providing resources for "community behavioral health center model," as well as increased funding for programs providing meantal health services in schools, and investments in telehealth programs. There are also efforts to increase school safety, including investments in "school violence prevention efforts" that "provide training to school personnel and students."
Finally, the deal includes a crack down on licensing requirements and "straw purchases" (buying a gun from someone off the record/someone who doesn't legally have the right to own a gun), and a proposal to strengthen background checks on buyers under the age of 21 to "require an investigative period to review juvenile and mental health records."
Will this bipartisan agreement pass?
The Senators still have to actually write the legislation before the Senate can vote, and whatever passes (assuming something does pass), will then have to go to the House of Representatives for a vote — no easy feat. "Drafting this law and passing it through both chambers will not be easy. We have a long way before this gets to the President's desk," Chris Murphy tweeted Sunday morning. "But with your help and activism, we can get this done."
Reacting to the news on Sunday, Representative Alexandria Ocasio-Cortez expressed some hopeful skepticism. "I'm disappointed to hear a focus on increased criminalization and juvenile criminalization instead of really having the focus on guns," she said during an appearance on CNN's State of the Union. "But the background checks provision is encouraging, so I think we really need to look at the text." Meanwhile, Senator Mitch McConnell issued a more neutral statement, per ABC News, saying that the announcement showed "the value of dialogue and cooperation." He stressed that he hoped the bipartisan legislation would focus on "key issues like mental health and school safety."
President Joe Biden also released a statement Sunday, saying that, while he was disappointed by the limited scope of the proposed compromise, he would support it. "It does not do everything that I think is needed, but it reflects important steps in the right direction, and would be th emost significant gun safety legislation to pass Congress in decades," he said. "There are no excuses for delay, and no reason why it should not quickly move through the Senate and the House." The Guardian reported that members of Congress hoped to get something done before they break for July 4.
Psst! The Cut and New York Magazine are conducting a survey about dating. We want to know all about your swipes, IRL hookups, bad dates, and everything in between. Interested? Click here.