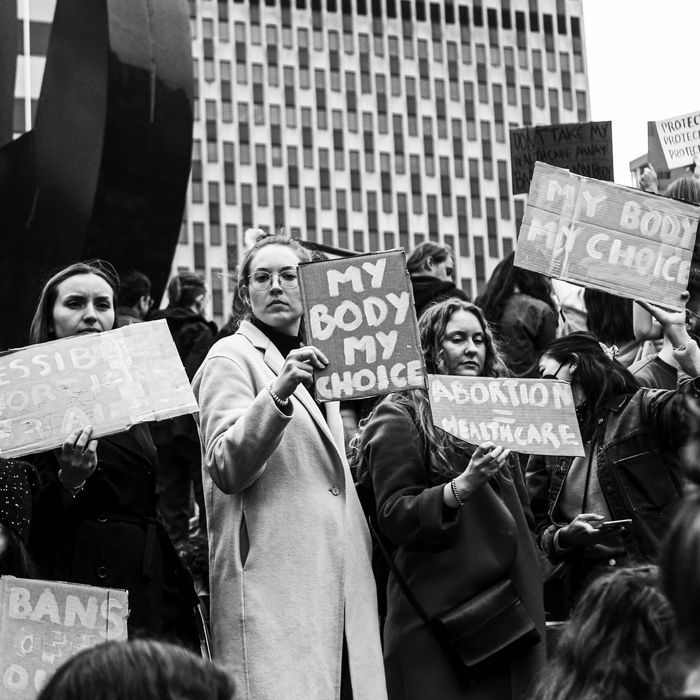 Photo: Pablo Monsalve/VIEW press/Corbis via Getty Images
Now that the Supreme Court has overturned Roe v. Wade, abortion is expected to be outlawed across more than half of the country within weeks to months. In many of the 13 states with "trigger laws" — intended to ban the procedure automatically once Roe fell — near-total bans took effect immediately. But even before the Court delivered its decision, anti-abortion lawmakers were already seeking new ways to make restrictions more punitive for patients, providers, and anyone who helps people get access to care. If Republicans regain control of the federal government, they are likely to pursue a federal ban on abortion. After the majority opinion leaked in May, Senate Minority Leader Mitch McConnell warned that, without Roe, "legislative bodies — not only at the state level but at the federal level — certainly could legislate in that area."
The urgency of this moment has led to increasing calls on Congress to codify Roe v. Wade by passing a law that protects the right to an abortion nationwide. Doing so would guarantee that people in every U.S. state and territory can legally and safely terminate their pregnancies if they choose, reinstating a right the Court took away.
How can Congress codify Roe?
Congressional Democrats introduced the Women's Health Protection Act with the aim to (as the name suggests) protect the right to abortion. The measure would allow termination up until the point of viability, or at around 23 or 24 weeks of pregnancy. It would also do away with most anti-abortion restrictions that the Court's Planned Parenthood v. Casey decision allowed because they supposedly failed to meet the "undue burden" standard: biased counseling, ultrasound requirements, and waiting periods of 24 to 72 hours. Notably, the measure wouldn't touch current restrictions on insurance coverage for abortions, such as the Hyde Amendment, which bans the use of federal funds for abortion care.
The legislation passed in the Democrat-controlled House earlier in the year. However, in late February, it failed to clear the 60-vote threshold needed in the Senate to pass the filibuster and be brought to the floor for consideration. Senate Majority Leader Chuck Schumer brought the bill to a vote in early May anyway.
Did it succeed?
No. As expected, the measure failed because Schumer didn't have the votes. The entire Republican caucus and Democratic Senator Joe Manchin voted against advancing the bill.
Self-described pro-choice senators Susan Collins and Lisa Murkowski backed a narrower version. Collins, who has previously claimed she supports codifying Roe, said the Women's Health Protection Act "doesn't protect the right of a Catholic hospital to not perform abortions." This is not true, though: There is nothing in the measure that supersedes existing protections for health-care providers who have conscience- or religious-based objections to performing an abortion.
Even if Democratic leaders had wanted to eliminate the filibuster to pass the legislation with a simple majority, they wouldn't have been able to because Manchin and Senator Kyrsten Sinema oppose doing so. But on June 30, President Joe Biden called on Congress to make an exception to the filibuster rule "to deal with the Supreme Court decision."
In the end, Democratic leaders didn't succeed in securing a simple majority: Manchin joined Republicans to vote down the measure, 51 to 49. On June 30, Biden called on Congress to make an exception to the filibuster rule, though both Manchin and Sinema are unwilling to do that. Nonetheless, Biden said during a news conference that "we have to codify Roe v. Wade in the law, and the way to do that is to make sure the Congress votes to do that."
"And if the filibuster gets in the way," he continued, "it's like voting rights: We provide an exception for this or an exception to the filibuster for this action." He made a similar endorsement in January in a bid to pass voting-rights legislation that Republicans ultimately blocked. Once again, Biden also encouraged people upset with the Court's decision to "vote, show up and vote. Vote in the off-year and vote, vote, vote. That's how we'll change it."
What can state lawmakers do?
State legislatures could in theory preserve the foundation of Roe in the coming months. Sixteen states and the District of Columbia have already codified the right to obtain an abortion. Twelve of them — California, Connecticut, Delaware, Hawaii, Illinois, Maine, Maryland, Massachusetts, Nevada, New York, Rhode Island, and Washington — explicitly allow the termination of a pregnancy prior to viability or when the pregnant person's health is at risk. Five of these places — Colorado, D.C., New Jersey, Oregon, and Vermont — go even further by protecting access without state interference throughout pregnancy.
Some of the legislation is fairly recent, as Colorado, New Jersey, and Washington enshrined the right to an abortion just this year. Other states may have a harder time pursuing this line of defense, however. Legislators in New Hampshire, for example, are currently holding up two bills and a proposed constitutional amendment that would codify Roe. This comes just a few months after the state went from having no gestational limits on abortion care to implementing a 24-week ban.
Abortion will also be on the ballot this year.
In some states, conservatives are trying to codify their own anti-abortion measures by putting them to the public for a vote. In August, Kansas voters will decide on a referendum that would amend the state constitution to specify that it does not protect any right to an abortion. Then, in November, Kentuckians will vote on a similar referendum, and Montanans will decide whether to classify a fetus as a "legal person."
Meanwhile, the coalition Reproductive Freedom for All launched a ballot effort earlier this year in Michigan to codify abortion rights in the state's constitution. The coalition has until July to collect the necessary signatures for the measure to appear on the ballot during the midterm election. In November, Vermonters will also vote on an initiative to protect "reproductive liberty." The constitutional amendment would make it extremely tough for the state to restrict access to reproductive health care, including abortion care and contraception.
This article has been updated.