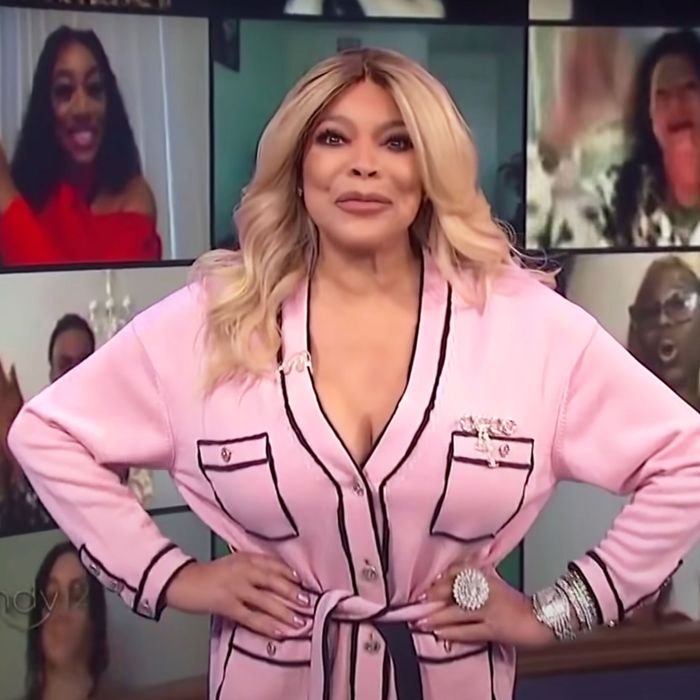 Photo: The Wendy Williams Show/YouTube
After 13 years on daytime television, The Wendy Williams Show is officially ending this week. And Wendy Williams herself won't even be there to say good-bye.
According to a spokesperson for the show, the final episode of The Wendy Williams show will air Friday, June 17. And though details were few, the spokesperson did specify that it would end "with a video tribute to the iconic host." That's "tribute to," not "with." Based on this statement, it seems that Williams will never get to return to the show she built.
Williams hasn't hosted The Wendy Williams Show since July of last year. After a series of health problems — including complications from Graves' disease and lymphedema, her dramatic fainting on live television in 2017, and her stay in a sober house in 2019 — Williams took a step back at the beginning of the 2021–22 season. Guest hosts, including Sherri Shepherd, who will host the final episode Friday, have taken the reins ever since. In February, it was announced that the season would be the show's last. Shepherd will be taking over the time slot with her own talk show, Sherri.
Even with the end in sight, Williams was optimistic about a possible return, telling fans she was almost "ready" to return to work during a March interview on Good Morning America. "Give me about three months," she told the outlet. "There are private things that I have to deal with and then I'll be ready to come back and be free and ready to do my thing." At the time, Williams was not only dealing with health issues, but also fighting Wells Fargo for access to her accounts. According to reports, Wells Fargo froze Williams's accounts with the bank because it believed "she is the victim of undue influence and financial exploitation." The bank then petitioned a court to have Williams declared an "incapacitated person" and have a financial guardian be appointed to take over the accounts.
Williams has repeatedly denied these claims and accused Wells Fargo of "improprieties" and identity theft after a New York judge granted the bank's request for a guardianship. "Wendy has been very clear that she does not want a financial guardian to tell her what she can and cannot do with her money," her attorney La'Shawn Thomas told The Wrap. The guardianship was ordered through June, and the future of the case remains unclear.
Psst! The Cut and New York Magazine are conducting a survey about dating. We want to know all about your swipes, IRL hookups, bad dates, and everything in between. Interested? Click here.