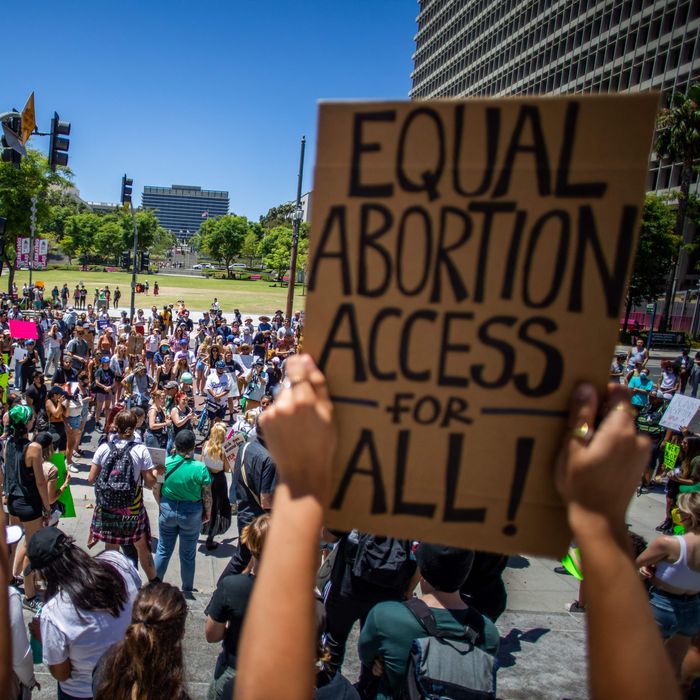 Photo: APU GOMES/AFP via Getty Images
A handful of pro-choice protesters in Cedar Rapids, Iowa, were injured on Friday after a truck driver ran straight into them even as people raised their hands to beg the driver to stop. The driver reportedly ran over a woman's ankle, sending her to the hospital, while other women were injured from falling on the ground.
The entire incident was caught on tape, showing how the truck kept driving even as it collided with two protesters. Others quickly ran after the car in an attempt to get it to stop, but they were unsuccessful. Eventually, the truck drove off. According to multiple reports and eyewitness accounts, the protesters were crossing the street at a legal crosswalk when the truck driver, who was waiting behind a red light, decided to swerve ahead of the cars in front of him and went straight for the protesters. "He tried to murder them," local journalist Lyz Lenz told HuffPost. "These women see him coming and a bunch of people put their hands out to stop him. And he just keeps going." Cedar Rapids City Councilmember Ashley Vanorny was also present during the attack, and said that she was not aware of any evidence that the truck driver was politically motivated. "They just seemed to be impatient and had, in my opinion, blatant disregard for human life," she told local news KWWL.
The Cedar Rapids Police Department investigated the incident and reportedly interviewed the driver that very night. The driver has not been charged. Last year, Iowa governor Kim Reynolds signed a bill that gave certain drivers immunity from civil lawsuits if they injured people who were "participating in a protest, demonstration, riot, or unlawful assembly or who is engaging in disorderly conduct and is blocking traffic in a public street." The bill does not protect drivers acting with "reckless or willful misconduct," but critics have worried about what that means in practice.
This was not the only incident of reported violence at pro-abortion protests across the country. In Rhode Island, Democratic state senate candidate Jennifer Rourke claimed she was punched in the face by her GOP opponent, police officer Jeann Lugo, at an abortion-rights rally on Friday night. Rourke shared video of the incident on Twitter, writing, "This is what it is to be a Black woman running for office. I won't give up." Rhode Island State Police confirmed the altercation in a statement, as reported by CNN, and announced that Lugo had been arrested for "simple assault and disorderly conduct." On Twitter, the Providence Police Department announced that Lugo had been placed on administrative leave with pay pending an investigation. Lugo has reportedly pulled out of the race.
In the weekend following the Supreme Court's decision to overturn Roe v. Wade, there have been many reports of police using excessive force on protesters and members of the press. On Sunday, a video of a police officer pushing actor Jodie Sweetin to the ground during a protest went viral. The Full House star released a statement to Entertainment Tonight on the incident, saying in part, "This will not deter us, we will continue fighting for our rights. We are not free until ALL of us are free."