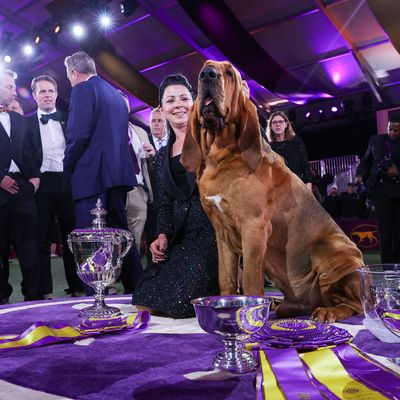 Behold: Trumpet.
Photo: Tayfun Coskun/Anadolu Agency via Getty Images
Every year, animal lovers and sports fans alike gather to watch the nation's most well-groomed dogs prance through hoops, trot in circles, and generally be their perfect selves. The Westminster Dog Show kicked off on June 18 in Tarrytown, New York, and on Wednesday night, one very good boy emerged victorious. Trumpet, a four-year-old bloodhound who made his Westminster debut this year, won Best in Show. He beat out two-time finalist Striker and a bulldog named Winston. I couldn't be happier for him.
Trumpet is the first of his breed to ever win Westminster in the competition's 146-year history. I suppose that means bloodhounds are an underappreciated breed in the world of dog competitions, which is a shame. They're a great breed, largely because they constantly look like their face skin is on the verge of subsuming their eyes, but somehow it all stays intact.
Nonetheless Trumpet's win should not come as a surprise — he is of royal lineage. According to the New York Times, Trumpet's great-grandfather Trigger once held the Guinness World Record for the longest dog ears. Trumpet appears to have inherited these glorious lobe genes:
In a post-competition interview where Trumpet sat on the reporter's foot, Buehner shared that he "has a lot of attitude, and he's a little crazy," revealing that he ate a microphone earlier that day. Powerful.
Buehner told the Times she was "shocked" Trumpet won, generously complimenting the "seven beautiful dogs in that ring." True, but Trumpet's astounding jowls put him a notch above the rest. She called the bloodhound breed "an underdog," which is fine as a pun though it doesn't quite capture Trumpet's substantial heft. He looks like he could accidentally trample last year's winner, a cotton ball-shaped Pekinese named Wasabi. Luckily, Wasabi is safely lounging in retirement, so Trumpet can revel in his victory without a care in the world.
Congratulations to this enormous, wrinkly boy!