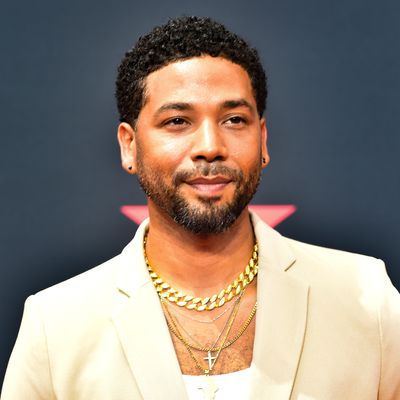 Photo: Getty Images for BET
The 2022 BET Awards took place Sunday in Los Angeles, a star-studded ceremony in which many celebrities voiced anger over the recent overturning of Roe v. Wade. Taraji P. Henson noted that "guns have more rights than a woman" in this country, while Janelle Monáe flipped off the Supreme Court. In a night of catharsis and excellence — including a flute solo by Lizzo, who dressed as a glittering, golden disco ball — you'd be forgiven for missing a certain disgraced actor staging his comeback on the red carpet: Jussie Smollett.
Earlier this year, Smollett was sentenced to 150 days in jail after he was found guilty of falsely reporting to police that he'd been a victim of a racist and homophobic attack in 2019, an incident investigators eventually discovered to be a hoax Smollett had self-engineered ostensibly for publicity. In March, Smollett — who has been widely criticized for undermining actual hate-crime victims — served six days of his jail sentence before he was released pending appeal. But it appears jail time and legal troubles haven't dampened Smollett's career aspirations. During Sunday's red carpet, Smollet promoted his directorial debut, B-Boy Blues, which was released on BET+ earlier this month, telling reporters it was "wonderful" to get back on set and promising to release "very, very good music" soon. "This was always the plan, to expand my empire," Smollett told reporters. His casual reappearance prompted discomfort and shock from critics, with one tweeting, "We just out here pretending his situation didn't happen????"
Despite his conviction, Smollett has staunchly maintained his innocence, denying he staged the 2019 attack during a recent interview on the radio show Sway in the Morning, on which he said he'd be a "piece of shit" if he had orchestrated the alleged hoax. "If I had done something like this, it would mean that I stuck my fist in the pain of Black Americans in this country for over 400 years … It would mean that I stuck my fist in the fears of the LGBTQ community all over the world." Smollett added, "I'm not that motherfucker."
For what it's worth, even Smollett seems surprised by his attempted comeback, telling ET he "never thought of myself as working my way back." That said, he's certainly not the first man to keep advancing his career no matter the allegations.