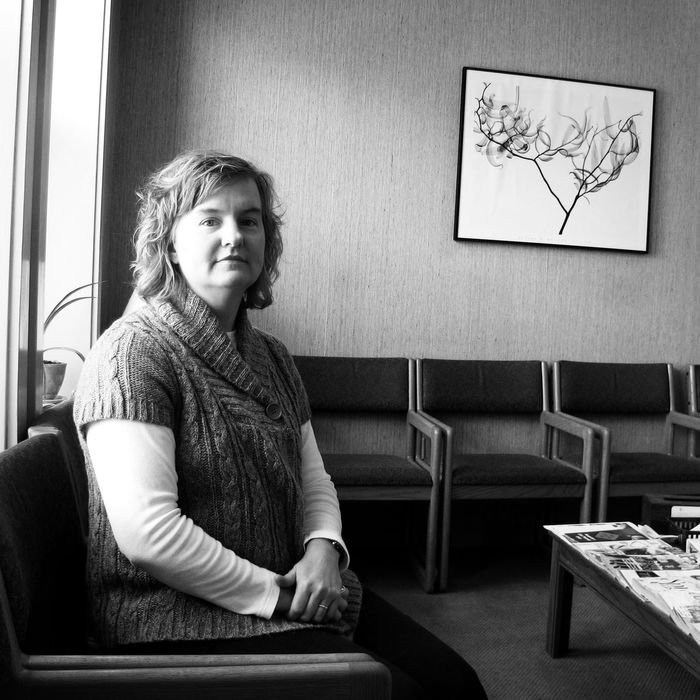 Tammi Kromenaker, director of the Red River Women's Clinic, in the waiting area of the facility.
Photo: Dave Kolpack/AP/Shutterstock
For the past 21 years, Red River Women's Clinic has been the only abortion provider in the state of North Dakota. But in the wake of the Supreme Court overturning Roe v. Wade, the clinic's days are numbered. North Dakota is one of more than a dozen states across the nation with a "trigger law" on the books; abortion will become illegal within 30 days of the state attorney general certifying the Court's decision in Dobbs v. Jackson Women's Health Organization.
While some clinics in states with similar measures have preemptively shut down, Red River's owner and director Tammi Kromenaker and her staff are keeping the doors open. Even without Roe, they plan to offer care until the last possible moment. The contingency plan is to eventually open a new clinic across the river in Moorhead, Minnesota, to continue serving their clients, who typically hail from North Dakota, South Dakota, and northwestern Minnesota.
"We've been in pretty much near-constant litigation with the state of North Dakota for the last decade. We've had everything possible thrown at us in an attempt to end abortion in our state, and we're still here," Kromenaker, who has been working in the field for nearly three decades, told me in a call a few days before the court issued its ruling. "There's definitely some resiliency there on the part of our staff that we're in one of the worst places ever, and we still see patients every week. We're going to get through this."
Shortly after the Dobbs decision came out on Friday, I called Kromenaker to talk about what's next. She had just scheduled patients to come to the clinic in the following weeks.
How are you feeling? What's the mood in the clinic right now?
It still was a shock to actually see it. Everybody's predicting, "Oh, the decision is going to be next week." Then, all of a sudden, the site SCOTUSblog says, "And we have Dobbs." There are only three of us here in the office, and it just said they overturned Roe v. Wade. We were all just crying and angry. Then the phone rang and I had to make an appointment with a patient. I'm thinking about and dealing with this unbelievable decision, and a woman calls and says, "Hi, I need to make an appointment for an abortion." And so I did that.
Wow.
It was really hard. Especially reading the things that we have to tell them that the state requires us to. When I said, "The state of North Dakota," I just got angry. Because the state has made this trigger ban so that, at some point — in 30 days or so — abortion is going to be illegal here. It was really hard.
So it's just the three of you in the clinic. What have you been doing so far? Have more patients reached out?
Not really. We are just doing all the usual things that you have to do. The nurses here are following up on labs, contacting patients, and things like that. We put on our website right away that abortion is still legal in our state, and that if you have an appointment with Red River Women's Clinic, it's safe for now. But I'm sure when we do our pre-appointment phone calls next week, there'll be a lot of questions. We've already had people saying after the leak, "I heard it's already illegal." We're doing the best we can with putting it out on social media and on our website that if you have an appointment with us, it's okay.
Providers, clinic workers, advocates — people who've been doing this type of work for a really long time, especially in really hostile places — have all been saying the same thing: "We got a plan. It doesn't matter how devastating this feels right now, we do have a plan and we're going to continue to support access to care for as long as it's possible."
Abortion providers, especially those indies of us who've been in these most hostile states — something gets thrown at us all the time! We're used to operating under duress, we're used to having to try to work through what seems like insurmountable obstacles. That's abortion care right there. Unless you're on a coast where it's been codified into state law, this has been what it's been. We've been in near-continuous litigation with the state for a decade. We are used to pushing back and fighting back and we have to continue to push forward. And that's what we're used to, that's our norm. It's not like there haven't been extreme challenges before.
How can people support Red River and other clinics? 
I'm really curious what's going to happen in the next 24 to 48 hours, what kind of response there's going to be. I hope that this is going to be a sea change. There are long-term goals, like voting in midterm elections. And then, I can't even believe the timing, but someone set up a GoFundMe for us opening the new facility in Moorehead. It is going to cost a lot. There's an enormous amount of resources that are going to have to go into it. It's not like, "Oh, okay, we'll just transplant ourselves over there." People can also give to their local abortion fund, including ours — the North Dakota Women in Need Abortion Access Fund. Patients from North Dakota are going to have to leave their state soon, and they're going to need that assistance. I hate to turn this into a fundraising thing, but that's really what we need.
Earlier you said that you were planning to take a little break this weekend, thinking the decision wouldn't come until next week. What now? What's the plan for you in the next 24 to 48 hours?
I think I'm still in shock. What I can tell you is, right away, I'm going to be responding to the media, trying to reassure my staff, and just forge ahead with those plans. We have no choice. We have got to just forge ahead, get the work done, and be able to see patients. The idea of me sitting in my garden and weeding, which was the plan, seems ridiculous now. As much as that's good for you and everything, I feel I should be doing something else. So I will also lean on my husband to make me do some of that. "Okay, go spread some dirt!" There's the old "Put your own oxygen mask on before helping others." I know I have to do something for myself that feels normal because the next month is not going to be normal at all.
This interview has been condensed and edited for clarity.