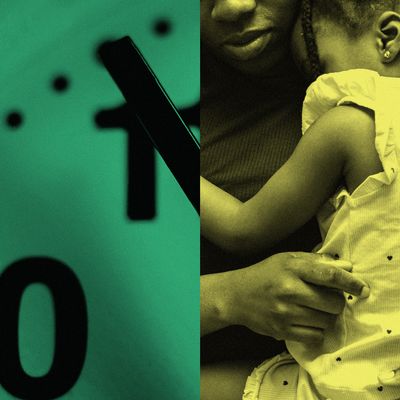 Photo-Illustration: Th Cut; Photos: Getty
For years now, we have been bombarded with hand-wringing headlines proclaiming that the pandemic would set working mothers back a generation or drive them out of the labor market in droves, as the infamous second shift metastasized into a third, fourth, and fifth, requiring them to homeschool, cook, clean, and look after their children nonstop. But as New York Times columnist Paul Krugman admitted last month, "The Great Resignation now looks like a Great Misunderstanding." More than three out of four women were part of the labor force in November 2021 — precisely the same percentage as in November 2018. Despite the viral QuitTok videos and lengthy meditations on "anti-ambition" or why work sucks, quitting is not financially feasible for most mothers. In reality, most women — especially those with college degrees who could afford child care —hung on, often by their fingernails, "and persevered," according to Harvard economist Claudia Goldin. These women emerged from the COVID-19 hellscape with hard-won proof that, despite the crushing domestic burdens brought on by quarantine, they could be as efficient with flexibility as with fixed office hours. Some could even be more productive because of the time saved by forgoing commutes or having to show up simply to show their faces.
Jennifer Glass, a professor of sociology at the University of Texas at Austin who has studied female participation in the labor market for decades, believes that we are at an inflection point. Working mothers, including those whose jobs do not allow for remote work, now have an unparalleled opportunity to redefine the terms of their working lives. Flexibility, she noted, is not only about where we work but also how much and on whose schedule. "For 40 years, employers have thought they could set the working conditions and people would just have to put up with it, but that era is coming to a close," she says. "Now they have to fight to keep these workers."
Kenzie O'Keefe, 32, is now one of many working mothers who finds herself in a surprising position of strength. When the CEO of her nonprofit social-services organization in Minneapolis announced in 2021 that all employees would be required to be in the office full time, O'Keefe "freaked out." Her transition back from maternity leave earlier that year had been relatively smooth because she had been working remotely. The arrangement allowed O'Keefe and her infant son Dash to spend their days at her mother's house, with O'Keefe working out of an office her father had built above the garage. She came inside every few hours to breastfeed or have lunch with her mother, who cared for Dash the rest of the time. Returning to the pre-pandemic routine of eight to ten hours a day in an office would mean an end to this carefully calibrated blending of work and life.
O'Keefe viewed it as a deal-breaker. In a meeting with her boss, she suggested returning to the office part time instead, pointing to her productivity over the past year. "I could tell a better story about what I am able to do under more flexible conditions and even say that it could empower me in future roles." She also looked at the booming job market and saw other opportunities. "If this wasn't going to work out," O'Keefe told me, "I could leave."
To her surprise, O'Keefe's boss quickly agreed. "I very much feel like I can stay on an ascendant path in my job," she said. Speaking of other working mothers in her situation, she said, "Right now, we are in this messy moment of seeing the power in having flexibility while the old norms still cling to us. I still think there is going to be a ton of reckoning to come." What that reckoning will look like depends on whether working mothers can capitalize on the way the pandemic transformed the workplace to bargain for the flexibility, compensation, and accommodations that are crucial to living healthier, happier, and saner lives.
To be sure, the picture is not entirely rosy.  A significant number of women did leave the workforce, particularly single mothers without college degrees, even if the overall statistics did not crater as predicted. By January 2022, women accounted for nearly two-thirds of the jobs lost since the pandemic hit, and experts predict it will take months to bring them back in full force. The pandemic was ruthlessly and disproportionately cruel to women, particularly to working mothers — disproportionately women of color and without means — who couldn't work from home or demand more flexibility.
But there's reason to think that women who can't work remotely may benefit from some of these changes, too. Brie Weiler Reynolds, who until recently was the career-services manager for FlexJobs, which focuses on remote-work placements, told me that "working mothers are in a stronger position than they realize. People who are staying put are highly valuable because it is so difficult to hire right now — there is such a fight for talent, including in hospitality, nursing, and teaching. We have counseled clients to bargain for extra vacation, flexible work hours, and offsetting the costs of their child care and commuting."
For generations of ambitious women, professional success came with a hefty price tag, as women reflexively subordinated their personal needs to their careers. My own mother, who worked full time as a physician while raising four children, told me, "I had almost no close friends when you were growing up. I never had time." The only nights she spent away from her husband and children were in the hospital giving birth or taking her medical boards. The term self-care did not exist. One military mother of three whom I interviewed recently told me that it was only after she was deployed overseas that she could make time for herself. "I've gotten amazing at yoga; I've started painting; there are things I can do here that I can't do stateside without feeling guilty." But if women are able to push employers toward a broader view of success, one that accommodates their need to be fully realized human beings who have hobbies, grab drinks with friends, or spend a few hours lost in a good book, those trade-offs could one day be a relic of the before times.
Elea Soler, 34, resigned from her job teaching middle school after finishing out the 2020 school year. Together with her 1-year-old daughter and her husband, whose marketing job had gone entirely online, she moved from Brooklyn to rural Georgia. The family's financial situation improved dramatically. The mortgage on the home they purchased was less than the rent they had paid for their 700-square-foot apartment. Elea's mental health also improved. Six years of poorly paid, high-stress teaching jobs had worn her down. Once she had a baby, "everything felt a little bit impossible," she told me, particularly because her salary barely covered the cost of child care.
"I used to work so hard my arms would go numb. It is such a relief to be in a place where I do not have so much pressure to perform or so much financial pressure," she said. For the first year of their new life, Elea stayed home with her daughter and collected unemployment under the CARES Act. As she contemplates her next moves, she's prioritizing companies with a flexible remote culture that can work for her family. "I see the companies that are making changes and those that are not," Soler said.
Taking time off to care for children or older family members, to grieve, or simply to reset, decisions made overwhelmingly by women, have historically been met with "the motherhood penalty" — a second-class status upon return, assuming the door was still open. But the pandemic, too, seems to be changing how employers and women see those decisions. When I interviewed Anousheh Khalili, 38, in January 2021, she was debating whether to have a second child. Her real-estate business was booming, but her husband's job had been negatively affected by the pandemic. She became the primary breadwinner while he took charge of caring for their 1-year-old son. "I am worried that if I step back my trajectory will fizzle," she told me. A few months ago, Khalili gave birth to her second child. Her husband's business is booming again, so they can afford to trade places, and Khalili now feels confident that, when she is ready to come back, the work will be there. The pandemic, she said, laid bare the reality "that we can't do it all and there is more grace being extended to working mothers, at least with my clients." Khalili braced for the task of referring them elsewhere but has rarely had to. "They say, 'I know you just had a baby and we can talk later' or 'You can bring the baby to our meeting or to a showing.' My clients are waiting for me. They are not abandoning me because I had another baby." In a sign of how that between-job flexibility is being normalized, LinkedIn recently tweaked its résumé-building platform to add "career break" as an option.
According to a report co-authored by sociologist Sarah Jane Glynn and child-care-policy expert Katie Hamm, the paid labor of working mothers is responsible for "virtually all of the economic gains experienced by the typical middle-class family since 1970." Our labor supports our families and fuels the economy. Nor is any of this about mere survival. The paid work women do shapes our days and our vision of ourselves. It gives us financial stability, an overarching purpose, and allows us to model the important traits of hard work, independence, and resilience to our children. Across socioeconomic levels, race, age, ethnicity, geography, and profession, work should be made more remunerative and humane for mothers. Otherwise they will continue to opt out, or be forced out, to the detriment of their families and the U.S. economy.
In 2019, when I set out to write a book about motherhood, work, and ambition in the 21st century, I could never have fathomed that a once-in-a-lifetime public-health catastrophe would shape what I wrote and thought about these intertwined issues. The pandemic has fundamentally altered the way we conceive of our day-to-day lives. It has led to mass death and suffering — social, educational, economic. But it also helped to dismantle workplace structures that were long overdue for an overhaul, particularly for working mothers. We have been having the same debates about the so-called work-life balance for generations only to end up in the same cul-de-sac. It's time for a new story.
Lara Bazelon is a law professor and the author of Ambitious Like a Mother: Why Prioritizing Your Career Is Good for Your Kids, which was published in April.
Psst! The Cut and New York Magazine are conducting a survey about dating. We want to know all about your swipes, IRL hookups, bad dates, and everything in between. Interested? Click here.