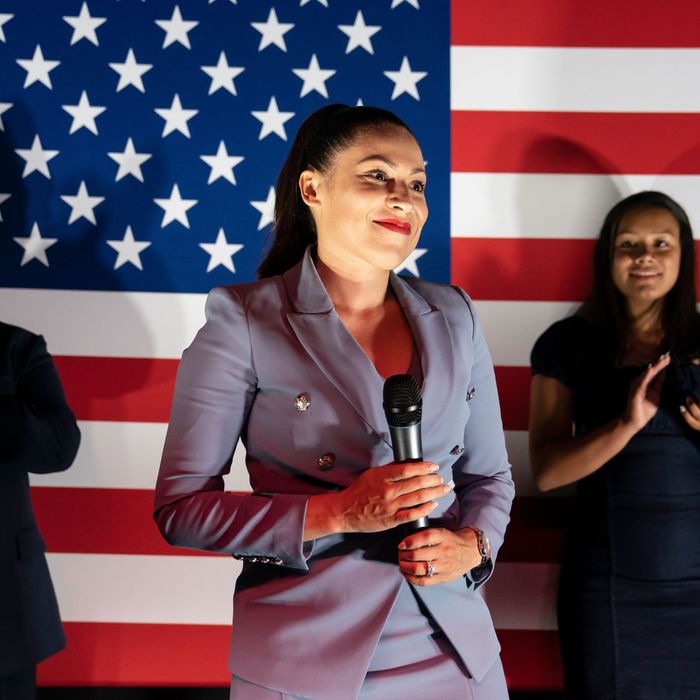 Yesli Vega
Photo: Nathan Howard/Getty Images
A sentence I would like to stop writing: Another GOP candidate appears willfully confused about what rape is and how rape works. The latest Republican to fall into the party's anti-sex-ed trap is Yesli Vega, a contender to represent Virginia's Seventh District in Congress who apparently believes a person may not actually be able to get pregnant from rape "because it's not something that's happening organically" and "the male is doing it quickly." This sentiment sounds eerily similar to the late Missouri representative Todd Akin's 2012 "legitimate rape" remark — "If it's a legitimate rape, the female body has ways to try to shut that whole thing down," he said, a gaffe that followed him to his grave — and/or that Michigan candidate's suggestion that "if a rape is inevitable, you should just lie back and enjoy it." Unfortunately, though, the comment at issue today did not come from some guy but from a woman who has given birth on two occasions, so you'd think she would enjoy passing familiarity with the process of conception.
Vega, a Prince William County supervisor, sheriff's deputy, and winner of the recent Republican primary for her district, invoked exactly that defense to the Washington Post. "For all the left-wing bloggers and media, as a mother of two children, yes, I'm fully aware of how women get pregnant," she said, though after consulting two audio clips Axios published on Monday, I am not convinced. Both came from an event in Stafford County, where attendees asked Vega about abortion and the fall of Roe v. Wade. Speaking in support of new state-level restrictions, Vega seemed to suggest that exceptions for rape and incest were mostly unnecessary: "I'm a law-enforcement officer," she said. "I became a police officer in 2011. I've worked one case where as a result of a rape, the young woman became pregnant." Only a small percentage of abortions are explicitly attributed to rape, but an estimated two in three rapes go unreported to the police. According to the CDC, about 3 million U.S. women have experienced rape-related pregnancy. Based on the above, I would say Vega may not be well positioned to comment.
Vega then answered a question from the crowd. "I've actually heard that it's harder for a woman to get pregnant if she's been raped. Have you heard that?" someone asked her. Vega's response, with my emphasis:
Well, maybe because there's so much going on in the body. I don't know. I haven't, you know, seen any studies. But if I'm processing what you're saying, it wouldn't surprise me. Because it's not something that's happening organically. You're forcing it. The individual, the male, is doing it as quickly — it's not like, you know — and so I can see why there is truth to that. It's unfortunate.
No part of this comes close to being correct, though it arguably underscores the desperate need for fact-based sex education as a national standard. Anyway, Vega did not refute the clips' authenticity but did say in her statement that her political opponents "would rather lie and twist the truth" than talk about abortion. Her Democratic opponent, incumbent representative Abigail Spanberger, supports abortion rights and has openly criticized the Supreme Court's recent ruling. On Twitter, she called Vega's remarks "extreme," "ignorant," "devoid of truth," "shamefully disrespectful toward victims of rape," and disqualifying when it comes to "making serious policy decisions on behalf of our fellow Virginians." And maybe it is worth noting that Akin's "legitimate rape" blunder cost him a Senate race. A decade on, though, Vega's views seem emblematic of the direction in which her party is headed: willful ignorance of reality in favor of extremism.