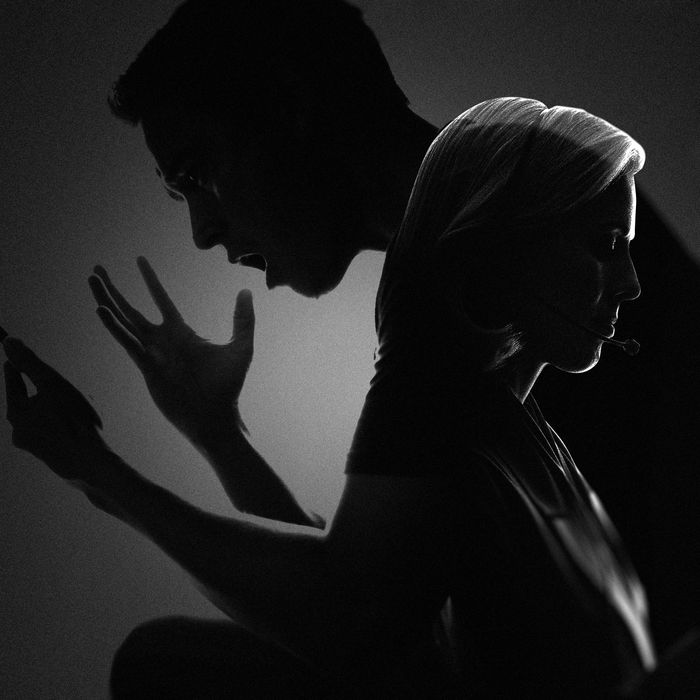 Photo-Illustration: The Cut; Photos: Getty
This article was featured in One Great Story, New York's reading recommendation newsletter. Sign up here to get it nightly.
On a recent spring afternoon, Michelle Harris was sitting in her home office in Western Massachusetts when the phone rang. She took a deep breath and looked at the Post-it notes stuck to her work computer, little reminders to stay calm during difficult conversations. The anonymous man on the other side of the line said he was struggling in his marriage.
It's an euphemism that Harris has come to know well over the past year as a responder for the 10 to 10 Helpline, the nation's first helpline for people who harm their intimate partners. Like other callers before him, the man proceeded to describe a struggle that sounded a lot like abuse. He told Harris he routinely gets upset if his wife, with whom he shares small children, doesn't prepare him a meal. And when he is angry, he sometimes uses physical violence and verbally berates her. Harris is the type of person who speaks deliberately, never blurting out a thought without weighing it first. She thanked the man for contacting the helpline and sharing his story. She then asked him what he wanted to get out of the call.
The helpline launched in April 2021. "My first call was, 'I'm abusing my wife.' It wasn't a question. It was a statement," said Harris, who is a survivor of domestic violence herself. "It was really validating to hear that somebody would willingly call, knowing that they were going to tell something really hard that they might have never talked to anybody about before." Helpline staffers aim to respond with compassion, she said, but also to get callers to recognize and begin to change abusive behaviors.
About one in four women and one in ten men in the United States experience domestic violence, and 55 percent of female homicide victims are killed by their current or former intimate partner. And yet for decades, the bulk of efforts to end intimate-partner violence have focused on criminalization rather than prevention. This is due in part to widespread beliefs that perpetrators will not seek help and that victims' only option is to walk away, even when doing so puts their safety gravely at risk. This approach also largely ignores how many survivors want the abuse to end and to remain with their partner, for reasons including children, finances, cultural values, and, yes, even love. As a result, there has historically been a lack of resources for people who want to stop hurting their loved ones. Those that do exist are difficult for an abusive person to access unless they are convicted of a crime or pay to get help.
Experts agree there's no perfect formula for preventing intimate partner violence, but some initiatives focused on getting perpetrators to confront their behavior have had positive outcomes. A six-year-long study of 11 intervention programs in the U.K. found significant decreases in physical violence (from 61 percent to 2 percent) and some controlling behaviors (from 65 percent to 15 percent) among participants. In Iowa, perpetrators who went through a pilot, 24-week behavioral program were up to 50 percent less likely to be re-charged for domestic violence.
The 10 to 10 Helpline itself follows a model already established in other countries, including Australia, Colombia, Nova Scotia, Sweden, and the U.K. Respect Phoneline has been operating in the U.K. since 2004, and each month, it refers between 300 and 400 callers seeking help to stop abusing their partners to local support resources. "We work in a way that separates the person from the behaviors and highlights the choice element: You can choose to behave abusively, therefore, you can choose to behave in a non-abusive way," Ippo Panteloudakis, Respect's head of services, explained.
The helpline is one attempt to respond holistically to intimate partner violence in the U.S., built on the assumption that perpetrators will reach out for help if the resources are there. But what happens after an abuser hangs up the phone? Can they really change?
Experts believe that intimate-partner violence surged during COVID-19 stay-at-home orders. According to JAC Patrissi, the 10 to 10 Helpline's co-founder, removing victims from an unsafe situation had already been a challenge in the rural areas the helpline serves. "This whole idea of moving the survivor as the main intervention was never going to work before the pandemic, and especially not during," she said. A group of local domestic-violence experts and community organizers got to discussing the lack of resources in Western Massachusetts: Why not offer de-escalation assistance and referral services to perpetrators instead of putting the onus on victims?
The helpline, manned by a team of six responders, operates daily from 10 a.m. to 10 p.m. Calls are free, confidential, and anonymous. The helpline doesn't track all callers' demographic information, but anecdotally, the majority of those who say they've used violence in their relationships are men. While perpetrators make up about 51 percent of callers, the helpline also offers support to survivors, family and friends, and professionals who work with abusive partners.
The responders' goal is to make perpetrators who call in understand the system of abusive values — such as believing that one is inherently superior to their partner, or that violence is an appropriate response — at the root of their behavior. They've worked in the field for years, and some of them, like Harris, are survivors themselves. Prior to answering the phones, responders take a 40-hour training where they learn strategies for how to reduce the potential for harm and avoid potential manipulation by tailoring their responses specifically to each caller. Responders also continue to train for two hours a week and debrief their calls with volunteer supervisor Jason Patrissi (JAC Patrissi's husband), who has years of experience working in batterer-intervention programs.
The man who told Michelle Harris he was struggling in his marriage was not ready to hold himself accountable. In a debrief call I attended, Harris said the caller's stated goal was for his wife to understand that her cooking meals is important to him and their home routine. So Harris asked him some follow-ups: Does he work? He said yes. Does she? She does. How does she respond to his violence? His wife usually gets up and walks away without saying anything. What about the children? They don't see anything, but the caller is certain they can sometimes hear what's happening.
Harris listened and nudged him to see that hurting his partner is a choice. She asked, "How do you work with employees when you're not getting what you want from them or they're not doing their job correctly? Do you use violence?" The man responded that, while he doesn't get physical, he has yelled at his reports. Once, he even made someone cry, which made him feel bad. And to add stress to the situation, he said, he had a recent encounter with law enforcement in which he acted aggressively, and he was unsure how to tell his wife about it.
After a year manning the phones, Harris has heard a bit of everything. There have been people who try to understand why their wife calls them emotionally abusive; who confess to sexually assaulting their partners; who feel guilty for hurting their loved one and are thinking of harming themselves. But this call was the first time the person on the other side of the line was "not discriminatory" with his aggression, she said. "He's not hiding it out in the community, he's not hiding it at work, and he's not hiding it at home," Patrissi offered. "It's breaking rules and bonds in all of those areas."
That the man called the helpline at all showed that at least some part of him wanted to do better. Harris expressed empathy for the people he hurt; he responded with exasperation. She felt he wanted her to validate his anger, especially in relation to the incident involving the police. "It was frustrating, because the physical violence piece was the most impactful in my mind as the responder," she said, "but he wanted to focus on the officer."
His focus offered Harris an opportunity, however. The caller said he knew his wife would be frustrated when she learned about the law-enforcement encounter, and Harris told him he sounded somewhat remorseful about it. "He was like, 'Yeah, I feel bad because this is going to interrupt our home life, it's going to throw off our whole schedule. I kind of feel bad because this is not the first time it's happened,'" she recalled. "I just gave him a moment. And then I said, 'Can I ask you a question?' He said yes and I said, 'So what about remorse when you get physical with her? How do you think she responds? What do you think she feels about that? Like inside?' He got really quiet and said, 'I don't know. I'll have to think about it.'" He ended the call soon after, and Harris said she was hopeful he would call again.
At the end of the debrief, Patrissi and Harris discussed a few ways in which they could nudge similar callers toward being a safe partner. "He's still minimizing, denying, blaming, and using violence. In terms of the process of change, he's at the infancy stages," Patrissi said. "What you want to do is paint a picture for him to look at himself a little bit differently, naming this pattern of behavior, naming what the impact is." He suggested Harris pivot in the future to help the caller identify an incentive to make different choices. "You're just helping him name that so that he can have an identifiable goal — an objective to do it differently — because I'm assuming he wants to stay married," he said.
The man hasn't called back since.
Leigh Goodmark, a law professor at the University of Maryland and the author of Decriminalizing Domestic Violence, has spent a lot of time thinking about how the nation's approach to domestic violence can evolve. "We provide very little for people who recognize that they have a problem and want to do something about it," she said. "To be providing a service like this, from a transformative-justice orientation, saying we recognize that as a community we have a responsibility to try to help people — that to me is the most exciting thing that, policywise, we could be talking about."
The helpline is a radical departure from how the United States has approached intimate-partner and family violence. Starting around 45 years ago, policy-makers and law enforcement in the U.S. began slowly shifting their understanding of this issue as a private problem to a matter that requires a criminal-justice solution. It was a change feminist organizers spent years pushing for, arguing that criminalization would dissuade perpetrators from abusing their partners.
In the 1980s, mandatory arrest policies, the criminalization of marital rape, and shelters for battered women spread across the country. By 1994, Congress passed the first iteration of the Violence Against Women Act. The legislation cemented criminalization — and by extension, intervention instead of prevention — as the premier federal policy. But there were limitations to this approach from the onset. A year after VAWA became law, a report by the National Institute of Justice found "little conclusive evidence of either deterrent or protective effects of legal sanctions or treatment interventions for domestic violence."
Reliance on the criminal-justice system has been detrimental to survivors. Many communities, particularly marginalized ones, are unlikely to contact the authorities for help. When they do, abusers sometimes get prison time — which disrupts the family and may not be what the victim wants — or face no consequences whatsoever, leaving survivors in a worse predicament than before getting law enforcement involved. And when a perpetrator is convicted, it is not necessarily conducive to rehabilitation, Goodmark said; incarceration can worsen some of the factors that correlate with intimate-partner violence, such as economic strain and trauma.
The system as it is puts the burden of ending the cycle of abuse on survivors. Harris, who previously worked in shelters, said some of the women she'd worked with would say that the labor-intensive aftermath of abuse — having to live in transitional housing, go to court and figure out how to co-parent with their abuser — was as traumatic as staying in their relationships. If their partner was the main breadwinner, the women knew they would be financially insecure on their own. In many cases, they still loved the person who abused them, and so they'd return to living with them. "Many people don't want to leave their partners," Goodmark said. "They want the violence to end."
But most of the tools that address intimate-partner violence today are premised on taking a survivor out of their abuser's orbit. "Protective orders on the civil side are all about separation. Divorce is about separation. Arrest is about separation. Shelter is about separation," Goodmark adds. "And so for people who don't want to separate from their partners, we have offered them almost nothing." Harris's clients at the shelter often asked whether there were any free resources for their abusive partners. Every time, her heart sank because she'd have to say that there were no options in her area. "They would get frustrated, and then I would get sad and I'd be like, "I'm really sorry. How can I support you through this?'" she said. "There has to be a different way to go about navigating support for all of the people that are in the dynamics of an abusive relationship, because each party needs different help."
That's not a sentiment everyone shares. JAC Patrissi said some in the field who believe most abusers can't, and won't, change are skeptical of the helpline. The project has been compared to a confessional, she said, where abusers could "be absolved and then they will abuse again." The skeptics also believe responders will just listen to callers ramble without offering any feedback, or that their empathy will translate into an endorsement of perpetrators' actions. Responders are trained to redirect the conversation if a caller attempts to minimize their actions or shift the blame, however ("She didn't clean the kitchen and snapped at me when I asked her what was taking so long. It made me angry and that's why I hit her."). Harris said responders know to stay firm and tell callers that the conversation is about their own behavior. "We're not really here to hear about what your partner is doing or did," she said. "We're just focusing on the harm that you've done."
There's always a risk that perpetrators will attempt to exploit those helping them, said Dr. Carla Stover, an associate professor at the Yale University School of Medicine Child Study Center, who founded an intervention program for fathers with histories of intimate-partner violence and substance misuse. "Sometimes people will contact my program and it's clear that they're doing it only to try to use it in court, to get something, right? But for all of those clients that are doing that, I'll have five to ten who are there and actually doing something good," Stover said. "You want to have the service available, and you have to be mindful that in this population, there are going to be those individuals that will try to use or manipulate these services."
Stover thinks the helpline is a great access point for perpetrators who want help, particularly because conversations around domestic violence are often cloaked in denial and shame. "I don't want to make it sound like I don't think there should be domestic-violence laws or criminal charges. I think there needs to be, because some people really harm their partners and really need legal intervention as well," she said. "But when that's the only way we think about it, it has just set up this dynamic that doesn't allow people to ask for help because they feel the consequences will be too great."
"We didn't know how it would go and it's working," Patrissi said. The helpline measures success by the statements of accountability — such as "I think it is me," "I hadn't seen it that way," or "I can see it from my partner's perspective" — that responders are trained to identify in their conversations with abusers. Perpetrators often will call again, according to Patrissi, saying either they put the lessons of the last conversation into practice and it worked, or that they ignored the responder's feedback and it backfired. "We're moving them on the road to be becoming reliably safe — even if that means now you're a jerk, but you're safe," Patrissi said, adding, "I wonder what other people think 'It's working' means. Do you think after one call, somebody's going to be an amazingly transformed, responsive, enlightened being? No, but we don't think that either."
What happens, though, if an abuser calls the helpline immediately before, during, or after physically assaulting their partner? The coalition that created the program discussed these possibilities for months. "Many of us on the advisory board have been on the survivor side for a long time, and we have had calls where the survivor is on the phone and the person is harming them, and we couldn't help," Patrissi said. If a caller says they want to hurt their partner or is  in the middle of doing so, responders are trained to keep them on the line and de-escalate the situation. Where a caller discloses they have committed a crime and shares their personal information, they're reported to the authorities.
But the responders haven't run into any of those scenarios so far. One caller opened his first conversation with "I just strangled my wife," and Harris went straight to safety planning, asking where the woman was and what exactly happened. It turned out the incident had occurred weeks before; as a result, the caller's wife had separated from him. He's contacted the helpline multiple times since.
In late March, I attended the helpline's "Compassionate Accountable Conversations" training. The 12-hour seminar was held on Zoom over three days, with nearly 20 attendees, most of whom were clinicians, social workers, and advocates who work both with survivors and perpetrators. After discussing at length what intimate-partner violence is in all its complexities, we went over what trainers called "skills, interrupters, and strategies" to navigate conversations with people who hurt their partners without enabling them, putting the survivor at risk, or allowing perpetrators to walk away without trying to get them to recognize the harm they've caused.
The material was dense. Using scripts and real-life examples, we learned how to de-escalate a caller and establish the facts (It sounds like you're upset because a lot has happened. Do you want to tell me about it?), to redirect the conversation when they attempt to shift the blame to their loved one (We're here to talk about your behavior, not hers), and try to create empathy when a caller attempts to minimize their behavior (How would your partner describe what you did if they were on the phone with me right now?). We role-played scenarios and the facilitators and attendees offered feedback on what worked and what could be improved.
On the second day, JAC Patrissi told us it was time to remind ourselves what it's at stake every time we interact with an abuser. She said she would recreate an incident with her husband, Jason, off-camera, calmly reading the script beforehand and emphasizing the scene wouldn't last more than 35 seconds. Before stepping aside, she left a stuffed white lamb on camera.
The incident they roleplayed could happen anywhere: We heard a man show up on his former partner's doorstep, demanding to see their daughter. The former partner refused, asking whether he was high. They argued before she started screaming in terror as he violently forced his way into the house. Her screaming got louder and louder and louder. "Why do you make me do this?" the man shouted, before it all went quiet. The silence made my mind race through a catalog of terrifyingly mundane scenarios. Did he punch her? Did he push her? Did he drag her by the hair? Did he strangle her? Did he stab her? Did he shoot her? People across the screen were wiping away tears, looking away, frozen in place.
In a follow-up call a few days later, Patrissi and I spoke about that scene and the impact it had on the training. "I wanted people to feel in their body that experience that most people don't see, except survivors and their kids. That experience comes down to being written in a police report as a 'noise disturbance.' The nothing. The 30 seconds of nothing," she said. "That wouldn't even make it to court, right? It would be like, 'No, I never touched you. There's nothing to prove.'" Her voice grew more urgent: "I want those who have never heard this to know there are people who hear it every day." She paused. "I don't feel it's safe if we forget it." Patrissi grew up experiencing violence at home, and later, as an adult, found herself in an abusive relationship. Those parts of her life are why she is deeply committed to the helpline. "We have wisdom now to be able to say, 'Compassion without accountability is collusion. Accountability without compassion is domination,'" she said. "Whatever this initiative is, whatever is working, it's already been paid for emotionally."