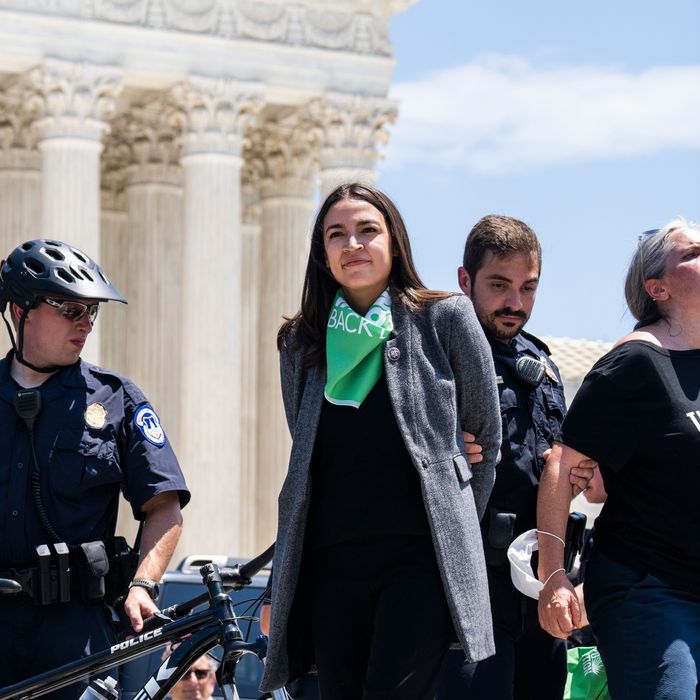 AOC was among the lawmakers arrested outside the Supreme Court
Photo: Tom Williams/CQ-Roll Call, Inc via Getty Images
Assorted House Democrats were arrested outside the Supreme Court on Tuesday after joining a protest in support of the right to abortion that our nation's highest court tanked last month. The group of lawmakers arrested includes Alexandria Ocasio-Cortez, Cori Bush, Ilhan Omar, Ayanna Pressley, and Rashida Tlaib, whom Capitol police reportedly took into custody for blocking traffic. AOC managed to retweet an Axios reporter's footage of the incident:
Omar — whose office issued a statement ahead of the event acknowledging the possibility of arrest — also tweeted confirmation, as did Bush, who introduced legislation to protect access to medication abortion on Monday. "Today my colleagues and I put our bodies on the line," she tweeted, "because we will leave no stone unturned in our fight for justice."
On the whole, Congress has been slow to act on the Supreme Court's recent decision to overturn Roe v. Wade, which returned the question of abortion's legality to individual states and created a sprawling health-care mess in the process. In the weeks since the conservative majority issued its opinion in Dobbs v. Jackson Women's Health Organization, eight states have banned abortion in almost every scenario, with similar legislation temporarily blocked in five other states. Many others are expected to follow suit soon, creating formidable barriers not only for patients looking to terminate unwanted pregnancies but also for those who encounter prenatal complications.
One Texas woman, for example, says she was forced to carry her dead fetus for two weeks because her doctor — citing the state's trigger law — declined to remove it. A doctor in Louisiana says that her hospital's attorneys stopped her from intervening when a patient's water broke at 16 weeks, obligating that patient "to go through a painful, hours-long labor to deliver a nonviable fetus." Some doctors now allege they have to wait to deal with health-and-life-threatening situations until patients become "sick enough" to satisfy the terms of vaguely worded laws that aren't rooted in medical advice. The Biden administration has clarified that federal law requires physicians to provide critical care, including abortion, when faced with a medical emergency. But the president has also stated (repeatedly) that the power to restore abortion rights lies with Congress, where efforts to codify Roe have so far failed in the Senate.
According to CNN, 16 Democrats participated in Tuesday's march from the Capitol building to the Supreme Court, where officers gave them a "cease-and-desist" order more or less on arrival. In addition to the representatives named above, Katherine Clark, Barbara Lee, Jackie Speier, Sara Jacobs, Bonnie Watson Coleman, Andy Levin, Jan Schakowsky, Madeline Dean, Carolyn Maloney, Nydia Velazquez, and Alma Adams also showed up. CNN reports that all of them were arrested.