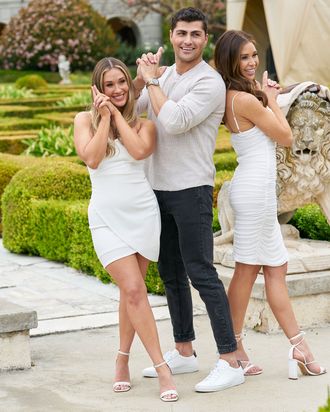 We knew this was coming. Ever since the premiere episode of The Bachelorette(s), when host Jesse Palmer (yes, him) announced that there were "no rules" in this new experiment of having two Bachelorettes, and that stars Rachel Recchia and Gabby Windey would be figuring it out themselves, it was obvious that this season was going to end in disaster. Surprisingly, it only took until episode three for the women to be completely humiliated and broken down by a chaotic system that has served only to make them question and compare themselves to each other.
Last night, there were not only tears but long, brutal sobs, as both Gabby and Rachel wondered aloud if they were failing at the task of being "the Bachelorette." How did this happen? The episode started innocently enough, with Gabby and Rachel chatting at their Bachelorette pad about how they needed to start divvying up the men before one of them gets hurt. "At what point do you think we need to figure out where everyone stands?" asked Rachel. Both decided the time had come. "I feel like, now, the guys that are lingering in the middle, it's kind of sketch," Gabby declared.
So they embarked on a week of dates with the intention of splitting up the contestants. It should have been easy enough: Both of them seemed to have favorites already, and I would have liked to watch them talk it out, perhaps writing their choices on a large whiteboard while drinking Champagne. Unfortunately, this is not what the producers had in mind. Instead, they separated Gabby and Rachel and set them up to get rejected by the men as many times as possible.
First, they each got a one-on-one date designed to make them cry. Rachel headed to the SLS Hotel in Beverly Hills with Zach, a 25-year-old "tech executive" from Anaheim, for a "VIP movie premiere" organized by Karamo Brown from Queer Eye, for some reason. They got pedicures while talking to Karamo about true love, then walked a red carpet populated by fake paparazzi to screen a mysterious film called Me & You. It turns out this was just a montage of videos from each of their childhoods that made them both weep. Thanks to this grade-A emotional manipulation, I'd say Zach is now a front-runner for Rachel. She gave him a rose.
Gabby's one-on-one date started out fine: She brought Erich, a 29-year-old real-estate analyst from New Jersey, to a sound bath and a bowling alley with her grandpa John, who became a much-beloved character on the last season of The Bachelor. (He called her a "dingbat" on-camera and everyone loved it.) The tears came later, however, when Gabby and Erich retreated to a private outdoor dinner. Here, Erich told her that he idolizes his parents, "soul mates" who are still married and very much in love. Gabby then explained that she is estranged from her mother, who never loved her. "I'll maybe never know what it's like to have a mother's love," she said, before excusing herself to sob to the producers. It was breathtakingly sad.
Though she ended up coming back and giving Erich a rose, revealing this part of her personal history sent her into a tailspin. She questioned whether she was the "right" kind of Bachelorette and compared herself unfavorably to Rachel. "People wanna see the Rachels because she's easier," she cried to the camera. "I'm too complicated. I'm messy."
Sadly, things only got more complicated for Gabby from there. On the franchise's largest group date in history — two women, 19 men — Gabby was rejected no fewer than three times. During cocktail-party conversations that producers no doubt engineered, Jacob, Tyler, and Hayden all told her they were actually more interested in Rachel. Hayden, a "leisure executive" from Tampa (so many ways to be an executive these days) twisted the knife by remarking that Rachel was a nice girl and Gabby was more "rough around the edges." Naturally, this upset Gabby and seemingly confirmed her worst fears that she was not cut out for this role. She left the date without giving out a rose.
Going into the rose ceremony, host Jesse finally laid down some ground rules for the men. He said that their current journey, where everyone was sort of dating one another, was over and that Gabby and Rachel would be embarking on their own journeys, wherein they would offer roses to the men they were interested in dating exclusively. Rachel went into the ceremony feeling confident, knowing that plenty of guys had expressed interest in dating only her. But the producers did not let her off without experiencing rejection. Through a complicated rose-tallying system — which the indispensable @bachelordata explains better than I can — Rachel was denied exactly three times, ensuring that she, too, felt the same humiliation Gabby did on the group date. "I just feel so bad and so rejected," Rachel told Gabby on a break from the ceremony. "This was supposed to be us taking the power back. We literally handed it right back to all of them by doing this. Now I look stupid to everyone who has my rose."
In the end, both women ended up with nine guys, but not before producers had found a way to make them cry multiple times. And it seems like the humiliation is not over: During the trailer for next week's episode, Logan, a 26-year-old videographer from San Diego who accepted a rose from Rachel, intimates to his fellow contestants that he can't stop thinking about Gabby. Good grief. My hope is that these two gals band together and push their handlers off the Parisian cruise they're about to take.