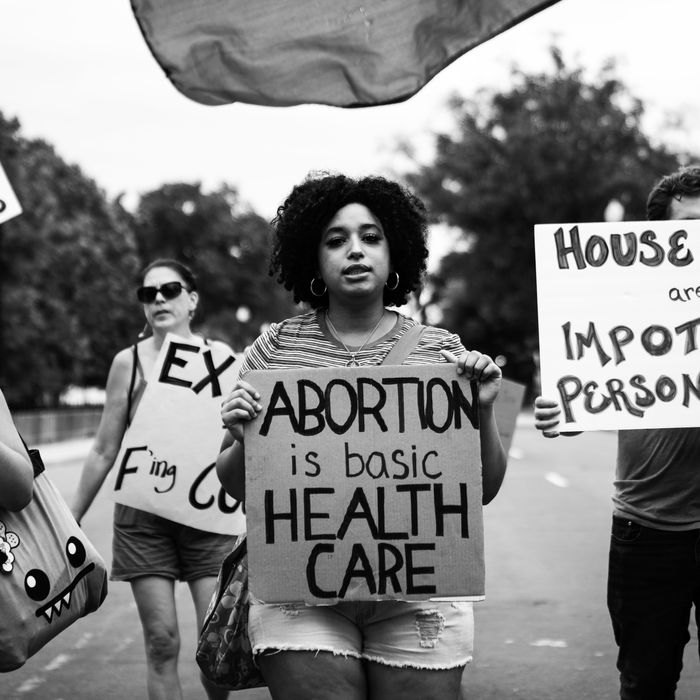 Photo: Drew Angerer/Getty Images
In the week following the Supreme Court's overturn of Roe v. Wade, the abortion fund Florida Access Network was flooded with over $150,000 in donations and more than 400 volunteer applications. As the support poured in, the fund was figuring out how to help a client who presented a complicated logistical challenge, according to executive director Stephanie Loraine Piñeiro. The woman was around 15 weeks pregnant and should have been able to have an abortion in her home state, but Florida's 15-week ban was set to take effect July 1, and she was unlikely to make the cutoff. While the state-court judge overseeing the case said on June 30 that he intended to grant a temporary hold, the law went into effect as intended because he didn't sign an order until July 5. It was a moot gesture; the state immediately appealed the order, and the ban was reinstated.
The closest state where the client can now get an abortion is Georgia, where a mandatory 24-hour waiting period requires her to make two appointments. "She's going to have to have lodging support. We have to get her child care," Loraine Piñeiro said, adding that the fund is working with other organizations to ensure the woman's transportation is covered. "She needs food while she's there, any medication she may need to take — all these things are logistical things she has to face and we support her with." But getting abortion care in Georgia is also a race against time, as the Peach State's six-week abortion ban could take effect soon. If it does, the next closest clinic for Floridians needing a second-trimester abortion will be at least 600 miles away in North Carolina.
At the same time that they're navigating this rapidly changing legal landscape, abortion funds across the nation are dealing with a tsunami of donations and volunteer offers from outraged pro-choice supporters, fielding an uptick in calls from people who don't know whether abortion is still legal in their state, and continuing to help desperate clients who need support to make it to their appointments. The words overwhelmed and inundated don't fully cover how the funds' staffs and volunteers have felt in the two weeks since the SCOTUS decision. 
Abortion funds received millions of dollars after the leak of the Supreme Court majority opinion in Dobbs v. Jackson Women's Health Organization in May and again two weeks ago when the justices issued their decision. In the hours after Roe was struck down, the National Network of Abortion Funds received more than $3 million from 33,000 donors, 4,500 of whom signed on to be recurring donors, according to the New York Times. Justine — a member of the Carolina Abortion Fund, which serves patients in North and South Carolina, who requested that her last name be withheld to protect her privacy — said her group raised about $100,000 in the week following the May leak. She said it "was fantastic" to receive that kind of support, but the donations covered the costs of supporting clients for only about a month. What local funds need for their efforts to be sustainable in the long run, she said, is recurring donations.
Carolina Abortion Fund has received over 5,000 calls this year and expects that number to increase significantly. The organization typically funds about 60 percent of the cost of an abortion for its clients. Its average pledge is around $300; an abortion in the Carolinas costs between $400 and $800 on average. By the time the court ruled on Dobbs on June 24, the fund had run through its allocated budget for the month. The team expects to make difficult choices in the coming months about who gets financial support and how much they get. The organization has estimated a 4,000 percent increase in call volume as North Carolina becomes the only place in the South with protected access to abortion. About 11 million women ages 15 to 49 will find their nearest clinic in the Tar Heel State, according to projections by the Guttmacher Institute. And it's unclear how long abortion will be allowed in the state, Justine pointed out, since GOP state legislators could gain enough power in the November election to pass additional restrictions.
The situation is more dire for abortion funds in hostile states. Not only are they experiencing whiplash as trigger bans take effect, then get put on pause by the courts, and are then enforced again, but the funds are keenly aware of the threats of prosecution they could face. Abortion funds and other reproductive-justice organizations have been extremely careful in working within the confines of the law to avoid legal conflicts. While legal experts have said states will have a hard time legally barring abortion seekers from traveling out of state, they can once again criminalize anyone who helps them. "We're more likely to be criminalized for doing this work because we're already marginalized folks," said Loraine Piñeiro, from Florida Access Network. "Me, as a queer Latina, I'm going to have a different level of scrutiny than a white woman who's saying, 'I'm going to aid and abet an abortion.'"
As a result, some groups — such as the Women's Medical Fund in Wisconsin, one of the oldest abortion funds in the nation — have stopped offering funding to clients. Its hand was forced by an 1849 law that bans almost all abortions in the state and can now be enforced, according to Women's Medical Fund president Lucy Marshall. For now, the fund is directing its financial resources to the Chicago Abortion Fund in Illinois and Our Justice in Minnesota, organizations located in states where abortion remains accessible and Wisconsinites can seek care. The fund also partnered with the POWERS collective to provide up-to-date information about access to abortion and other reproductive health care. "We've been preparing for this moment for … weeks? Months? Years? This was unfortunately very predictable," Marshall said. "But all of us in the fund were united around wanting to ensure that we put in place the new infrastructures of care, resources, and support for Wisconsin residents in this."
It's not just anti-abortion foes throwing up roadblocks. Well-intentioned allies are floating solutions that are not realistic or can carry legal risks, such as people posting on social media that their homes are open to patients crossing state lines. "It's so dangerous," said Camille, another volunteer with the Carolina Abortion Fund. Announcing intent to help an abortion seeker online can attract attention from anti-abortion organizations and police, she pointed out, and hosting can have legal consequences for both the resident and the person having an abortion. Abortion funds and organizations such as the Brigid Alliance already offer patients support for housing and transportation and have legal resources backing them up in case they get in trouble with the law.
Camille said those who want to help abortion seekers should instead "join something and get vetted to become someone who is a trusted resource." She suggested working with a local abortion fund, becoming a clinic escort, or setting up recurring monthly donations for reproductive-justice organizations. As the fallout from Dobbs continues, abortion funds will need all the help they can get.