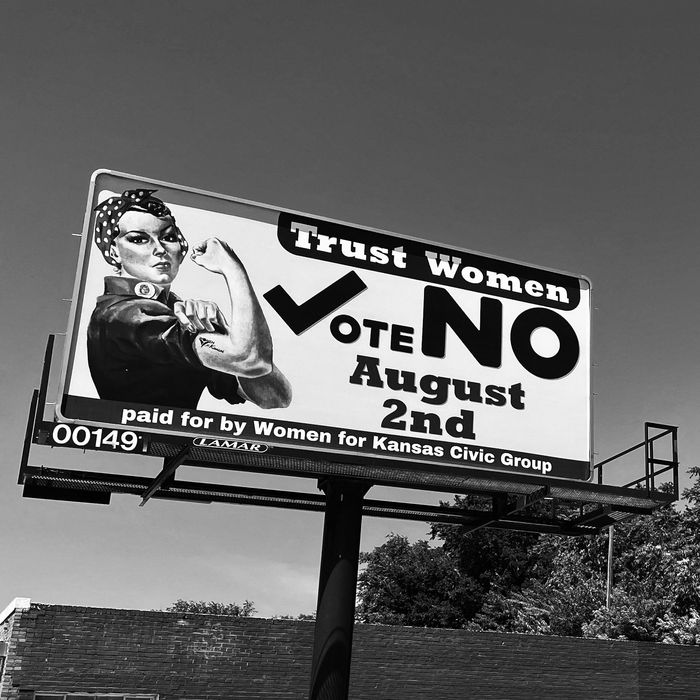 Photo: GABRIELLA BORTER/REUTERS
Getting an abortion in Kansas isn't easy. The state, which permits the procedure up to 22 weeks of pregnancy, enforces a 24-hour waiting period, a parental-notification requirement, and a prohibition on using public health insurance. And things have taken a turn for the worse following the reversal of Roe v. Wade: Providers are seeing an influx of patients coming from surrounding states that have banned abortion, adding another hurdle for residents seeking care. "There's a scarcity of abortion providers," said Sandy Brown, president of the Kansas Abortion Fund, which offers block grants to the state's four clinics. "Since SB8 in Texas passed last fall, we started to see a surge of patients coming from Texas to Kansas. Now we're seeing them come from Missouri, Oklahoma, and Arkansas. Post-Roe, we're the only state providing abortion care in this immediate area, unless you go west to Colorado."
Another threat looms on the horizon. Next week, Kansas voters will be the first in the nation to cast a ballot on an abortion measure post-Roe; the amendment, confusingly named "Value Them Both," would revise the state Constitution to declare there is no right to abortion, allowing lawmakers to regulate the procedure. The ballot initiative is a response to the Kansas Supreme Court's 2019 ruling that found the state's bill of rights "protects a woman's right to decide whether to continue a pregnancy."
If the "Yes" vote prevails at the August 2 primary election, the GOP-controlled legislature could ban abortion as early as next spring. This can happen even if Governor Laura Kelly, a pro-choice Democrat, is reelected in November, since Republicans are likely to hold onto a veto-proof majority in the state legislature. A victory for "No," on the other hand, would keep lawmakers from passing further restrictions on abortion care and allow providers to continue serving patients from neighboring states.
Since 2014, Tennessee, Alabama, West Virginia, and Louisiana have added language to their state constitutions clarifying that they don't grant the right to abortion. In the aftermath of the Supreme Court's decision, all of them have banned abortion with very limited exceptions. While the dust is still settling after Dobbs v. Jackson Women's Health Organization, the Kansas referendum will likely dictate how much of the abortion war will be fought on the ballot going forward.
Five other states are voting on abortion-related measures later this year. In November, Kentuckians will vote on a similar amendment declaring there is no right to abortion in the state Constitution, while a Montana ballot measure would grant personhood to infants born at any stage of development. Michigan will vote on whether to override a 90-year-old law that makes abortion a felony, while Vermont and California residents will decide whether to codify abortion rights in their respective Constitutions. If a measure to classify abortion as murder gets enough signatures by August 8 to make it into the November ballot, Colorado will join this list.
Members of the Value Them Both Coalition insist that their goal is not to outlaw abortion in Kansas. But in leaked audio recording of a meeting with voters last month, one of the coalition's regional directors said its plan is to bring back a bill banning and criminalizing all abortions that failed to pass last year. The legislation makes no exceptions for instances of rape, incest, or to save the pregnant person's life, and would allow for prosecution of both abortion seekers and health providers. Republican state senator Mark Steffen added during the meeting: "We'll be able to make further laws, further refinement, with my goal of life starting at conception."
While proponents of the amendment falsely claim abortion is entirely unregulated in the state, choosing to terminate a pregnancy in Kansas is challenging already, said Zack Gingrich-Gaylord, communications director at Trust Women Wichita Clinic. The cost of the procedure starts at $750 at Trust Women, an amount that can be difficult to pay out of pocket for many patients. The clinic offers financial support and doesn't turn people away if they can't pay, but financial difficulties are just one of the obstacles patients face. "Some of these abortion restrictions have impacted people and now we're seeing more people later in pregnancy, around the second trimester, and we're also seeing more medically complex patients," Gingrich-Gaylord said. "In this region we're really seeing more people for whom there are fewer choices about what kind of care they can access."
Eliminating legal abortion has long been the goal of Republican lawmakers, who've become more hard-line with each passing election. That's due to the anti-abortion movement's outsize role in state politics, according to Alesha Doan, a University of Kansas professor who's studied the intersection of reproductive health care and public policy for more than two decades. Kansas for Life, the most influential anti-abortion group in the state and a major backer of the amendment, has played a key part in targeting moderate GOP lawmakers in primary elections. "They were an obstacle to more restrictive anti-abortion legislation," Doan explained. "Moderate Republicans were pushed out, and more and more extreme politicians were elected. That took a few cycles, and it got us to where we are right now."
The state's anti-abortion movement has a long and dark history. In 1991, nearly 3,000 activists were arrested while protesting and harassing patients outside of Dr. George Tiller's Wichita clinic in an operation they dubbed the "Summer of Mercy." Tiller was one of a handful of providers in the entire country who offered abortions later in pregnancy, and in 2009, he was murdered by an activist who shot him while he was serving as an usher at his church. But despite this history and the state's entrenched conservatism — registered Republicans make up about 44 percent of the electorate, while Democrats barely crack 26 percent — Kansans hold nuanced views on abortion. In a 2021 survey conducted by Fort Hays State University, about 50.5 percent of respondents believed that "the Kansas government should not place any regulations on the circumstances under which women can get abortions."
By putting the amendment vote on the primary instead of the general-election ballot, Republican lawmakers all but guaranteed the electorate will skew in their favor. Since 2010, turnout for Kansas primary elections has been around 25.6 percent, compared to 60.3 percent in general elections; around 3.5 times as many registered Republicans cast primary ballots compared to Democrats. Unaffiliated voters, who make up about a third of the electorate, need to register with a party before voting for candidates in a primary election. They can still vote on the amendment, but it's unclear whether the general public is aware.
The only public poll of the ballot initiative found that 47 percent of likely primary voters plan to support it and 43 percent plan to vote against it. Abortion-rights groups will need a broad coalition that goes beyond partisan lines to defeat the measure. Ashley All, a spokesperson for Kansas for Constitutional Freedom, is hopeful they can get there. The group has spent the last few weeks on a "get out the vote" campaign, encouraging people to participate in early voting or make a plan for getting to the polls on Election Day. "It's been really alarming for a lot of folks to watch what's happened around us," she said, pointing to the impact abortion bans elsewhere have had on child rape victims, women who've miscarried, and nonpregnant patients trying to access regular medications. "The energy feels different. There's a big group of Kansans in the middle who are more pragmatic about things like this, and they don't think the government or politicians should have all the control to make these decisions."
Gingrich-Gaylord, too, said he's seen an encouraging groundswell of support. "Just because we're in the middle of the country doesn't mean the vote is destined to be yes," he said.