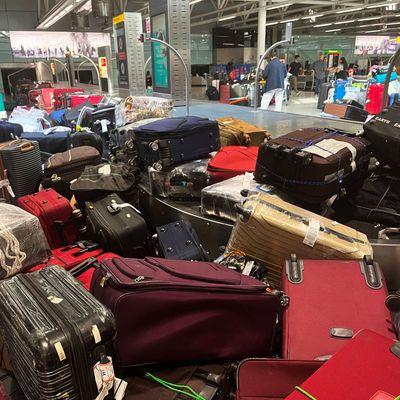 Photo: PAUL ELLIS/AFP via Getty Images
Between flight cancellations, staffing shortages, pilot strikes, and increased gas prices, it's not a great time to fly right now, even though you might not know it from the vacation pics filling up your feeds. To make traveling even more hellish this summer, airlines have been misplacing luggage at unprecedented rates.
According to the most recent Air Travel Consumer Report, in April, almost 220,000 bags were mishandled in the United States, increasing 135 percent from the near-94,000 bags misplaced the previous year. Additionally, hundreds of wheelchairs and scooters were mishandled, while essential belongings like medication, car seats, and strollers have gone missing for weeks with little response from the airlines responsible as a result of staffing shortages.
The internet is full of lost-baggage horror stories, from a TikTok user who filmed abandoned luggage on the tarmac as her airplane flew away to the Air Canada Lost My Luggage Twitter account. Absolutely panic-inducing images from the Heathrow Airport in London show hundreds of misplaced and unclaimed bags (the airport announced today that it will limit passengers to 100,000 per day in an attempt to mitigate these problems). Insider reports one man bought a plane ticket just so he could get into the Dublin airport baggage-claim area to search for his missing bags himself.
Just one more reason to consider a road trip this summer.