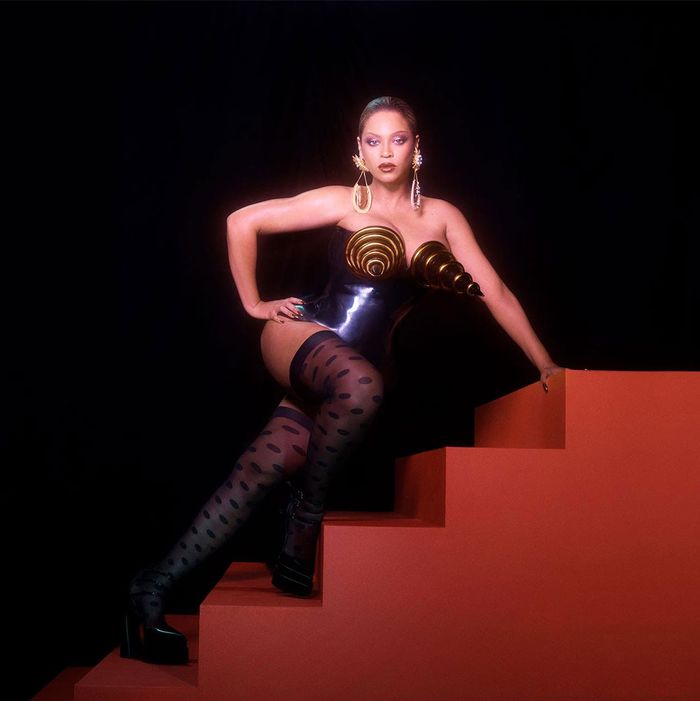 Happy Beyoncé day to all who celebrate.
If you're like me, you've already listened to her seventh studio album — one hour and two minutes of pure club escapism — a couple of times since it dropped last night at midnight. "Alien Superstar" and "Summer Renaissance" are currently duking it out for my favorite song at the moment.
Thankfully, this is only part one of a three-part drop (and we are hoping that the other parts include a visual album.) All the while, Beyoncé has been quietly teasing us with visuals — decked out in the likes of GCDS and Harris Reed — on her Instagram for a while now. It's clear that Beyoncé is in her capital-F fashion era. On the album, she name-drops Chanel, Versace, Balenciaga, and even Telfar; and in her album art, her fashion choices reflect edgy and experimental brands like Schiaparelli, Mugler, and Gucci.
We broke down some of the new looks so far.
On her website, there's an image of Beyoncé holding what appears to be some stiff dark liquor, sitting cross-legged in a custom Mugler gathered dress structured with a metal bustier. Her tiny sunglasses sit low on the bridge of her nose and a microphone docked in a pistol-shaped holder lays just beside her on the crushed red velvet of the seat. She looks apathetic at best.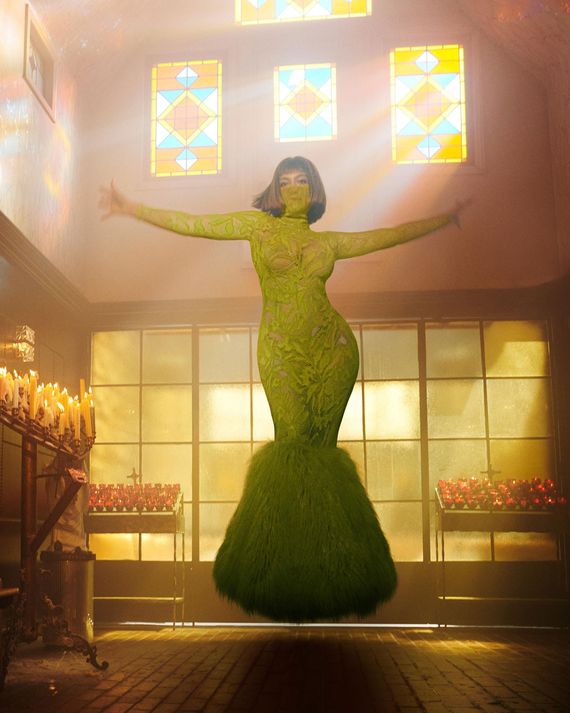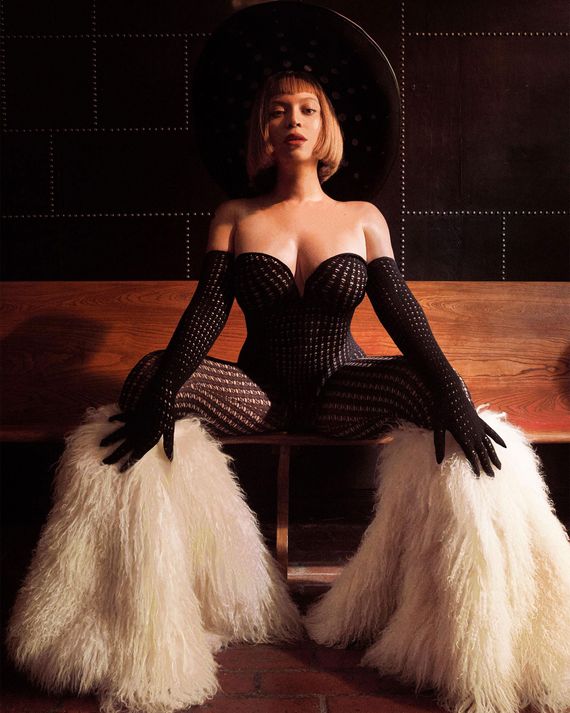 Then, wearing a custom Alaïa dress, Beyoncé seems to levitate in one of the photos, like the goddess she is. In a different Alaïa set, she sits perched in a black lace bodysuit, legs wide open. Hot.
In another image, Beyoncé climbs a set of red stairs in black patent platforms (comfortable!) and a black molded-leather bustier with conical breasts from Schiaparelli. It's impractical and fantastical (imagine turning around in a crowded bar with those puppies on), but perhaps all breasts should go back to being pointy like our 1950s predecessors and their beloved bullet bras.
Speaking of breasts, elsewhere, a silver flowing Gucci dress drapes Beyoncé and one singular side of her chest as she sits beneath a disco ball. Her hand covers just enough of her exposed chest for Instagram to not censor the image. In glimmering silver lipstick and jewelry, she finds herself the center of attention, somehow outshining the mirrorball dangling just above. It is Leo season after all.
If you, too, feel like freeing the boob as Beyoncé does throughout her album art, she's selling "Alien Superstar" nipple pasties on her site at this very moment. While the average person might not be able to adorn their bodies in Mugler, Schiaparelli, and Gucci, we can slap some bedazzled pasties on our chests, call it a fashion statement, and, for one night, be transported elsewhere as we dance our way into a new renaissance.