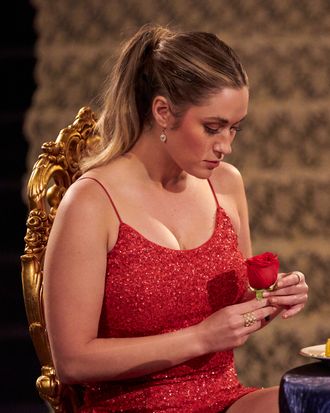 On last night's episode of The Bachelorette(s), we learned precious little more about how this season, which famously features TWO Bachelorettes, is going to work. At the top of the episode, our stars Gabby Windey, 31, and Rachel Recchia, 26, did not talk about how they planned to divvy up the 29 remaining contestants or what would happen if both of them happened to like the same guy. Instead, they zeroed in on an important element in their journey to find love: seeing all 29 men in their Speedos.
This made for a marginally entertaining first date, in which the men paraded around the Bachelor mansion in a "beauty pageant, Bachelor-style," per Rachel. Sadly, the at-home audience did not get quite the same view as Gabby and Rachel: The editors covered up most of the guys' butts and packages with big black censor boxes. While Rachel seemed optimistic about the meathead buffet before her, Gabby quickly identified a potential pain point in an on-camera interview. "I think Rachel and I find a lot of the same guys attractive, and there's some overlap, but we're allowing ourselves space to kind of figure it out together," she said.
It appears as though Rachel did not consider this possibility. As the week's dates unfolded, she became more and more upset that some guys were more interested in Gabby than her, as well as concerned that she might not be able to find her husband on national TV after all. During the after-party portion of the Speedo pageant date, Rachel lamented that Gabby seemed to be clicking with the contestants more easily. Meanwhile, producers showed Rachel suffering through a long conversation with one of the contestants about his love for the Harry Potter audiobooks. Finally, she got a kiss from Logan, a 26-year-old videographer from San Diego. He paid her a compliment first, of course: He said she was "brave" to take on the challenge of starring in a two-Bachelorette program. But then — oh shit — he turned around and kissed Gabby in another room, after telling her that she had a lot of depth behind her smile, which is arguably a better compliment.
When Rachel revealed to Gabby that she made out with Logan, Gabby declined to inform her that she did the same, perhaps sensing that Rachel was on the verge of an emotional breakdown. Gabby, having five years of life experience on her compatriot, has already proven to be the more mature and grounded star here, and personally, I love her for it.
Rachel, God bless her, is not doing so well. The rest of the episode focused mostly on her flailing journey to find someone — anyone — to like who likes her back. If you watched and thought, Wow, the editors are giving Rachel a lot of airtime, you were right: The truly indispensable resource @bachelordata, which tracks almost everything numerical about the show, clocked that Rachel got over seven more minutes of solo screen time than Gabby did.
They were sad minutes. On Rachel's first one-on-one date with Jordan V., a 27-year-old drag racer from Georgia (not as cool as he sounds), she realized the spark was missing and ended up crying to a producer in a hall of mirrors before sending him home. (There's one format question answered: Apparently, Gabby and Rachel can send contestants packing without consulting each other.) Cutting loose her first big date sent Rachel into a tailspin about how the entire process would play out for her. "I feel really bad," she said. "If the first one-on-one isn't working, then I'm failing in the role, and it's hard because I really want to be the best Bachelorette for these guys."
She ended the night by watching an exclusive concert by country stars Ashley Cooke and Brett Young — which was supposed to be the romantic cherry on top of her first date night — alone.
Things didn't improve much for her from there. While Gabby had a successful one-on-one date with Nate, a sweet 33-year-old father and electrical engineer from Chicago, Rachel stewed. By the time they all got to the Rose Ceremony, Rachel seemed hell-bent on finding someone to like her, going so far as to flirt with Mario, the 31-year-old personal trainer to whom Gabby gave her first-impression rose last week. Uh-oh.
There was a brief interlude in which Gabby and Rachel teamed up to dispense with Chris, a 30-year-old "mentality coach" and stone-cold weirdo who spent the episode telling the other men his generally upsetting plans for the Fantasy Suite dates, which won't happen for several weeks. Gab and Rach sent him packing and proceeded with the Rose Ceremony, which, like last week, did not appear to be particularly well planned.
Host Jesse Palmer (there he is) explained to the remaining contestants that Gabby and Rachel would each hand out roses, but spiritually, they would be coming from both of them, which means no one had to choose which Bachelorette to pursue exclusively. Again, there is no way this is going to work in the long term. Especially given that in the trailer for upcoming episodes, we heard Rachel threaten to give up on this idea altogether. "I'm leaving," she said, during an undated but obviously tense moment. "I'm literally quitting."
Will Rachel, with no obvious help from the producers or Host Jesse, be able to figure this out? I just don't know. For the next week, I will be praying that she finds her inner strength and Gabby finds a way to get more screen time.