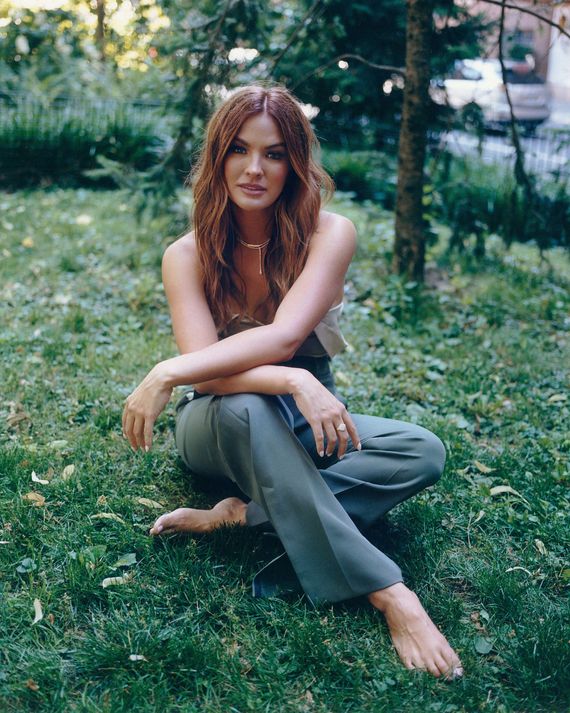 On the Friday of New York City's Pride weekend, Becca Tilley stands on a small stage in the event room at the Standard Hotel, the celebrity host of a brand-sponsored fundraising event for the Trevor Project. The room is full of beauty-industry professionals, influencers, and content creators; after Tilley speaks, the audience will be treated to a performance by a one-time America's Got Talent act I'm told has a huge following on TikTok. But first, Becca. Dressed in a silky green halter top and skirt with a matching feathered robe, Becca Tilley introduces herself as someone who was "on The Bachelor a few years ago." Then she smiles and adds, "Things have changed since then."
A month earlier, Tilley had appeared in singer Hayley Kiyoko's Bachelor-themed video for "For the Girls," the first single from Kiyoko's forthcoming second album. It was the prologue to what was, for some, a long-awaited relationship reveal: At the video-release party that night in Los Angeles, Kiyoko invited Tilley onstage, presented her with a rose, and kissed her. The moment went viral on TikTok, and Tilley posted confirmation of their four-year relationship on Instagram the next day. (Kiyoko has been out as a lesbian since 2015.) Acknowledging the perhaps not-so-shocking nature of the reveal, Tilley captioned her post, "Hard to say if this is a hard or soft launch, but it is a launch." Celebrity sites and tabloids picked up the news, and by the end of the weekend, Tilley was out-out — but she wants to be clear: Her relationship with Kiyoko was never a secret. It was private, and there's a difference.
Though many queer women have known about (or at least strongly suspected) this relationship for years, the news might have come as more of a shock to the wider public, who know Tilley best for her time on the prominent heterosexual propaganda machine The Bachelor. Tilley's era began in 2015, in season 19, on which she came in second — though she probably would have "won" had she been more into Iowa-born farmer Chris Soules. (Soules ultimately proposed to contestant Whitney Bischoff, but they later called off the engagement.) Tilley returned in season 20, featuring Ben Higgins (whom she liked a lot more), but was eliminated in week seven. With her Louisiana-by-way-of-Southern-California drawl and beachy-blond highlights, Tilley evoked a Southern sorority girl, a conservative image cemented by her stance on sex before marriage (in deference to her Baptist upbringing, she was against it).
After her time on the show, Tilley joined the many grand traditions of Bachelor Nation: doing spon-con for Flat Tummy Tea (which she later rebuked), dating a cast member from another season (Robert Graham, from season nine of The Bachelorette), and starting a podcast (Scrubbing In, so named for Tilley's Grey's Anatomy fandom, launched in 2017). Tilley has 1.1 million Instagram followers, most of them adherents to Bachelor gospel. They continue to follow Tilley because she's funny (she often polls followers to gauge their agreement with her esoteric junk-food opinions), she's pretty, and shares affiliate links to cute stuff, but they first followed her because they wanted her to find love with someone like Soules or Higgins or Graham. When Tilley instead found love with Kiyoko — the pair met at a party in 2018 — she wasn't sure how her fans would react.
Tilley had previous experience with the public disdain of strangers; when she started dating Graham, celebrity gossip sites were quick to follow up on the status of her virginity. Tilley was candid as ever: "My story line on The Bachelor was that I was a virgin, so when I was in my relationship before Hayley, and all of a sudden I wasn't a virgin anymore, I felt like, Did I let people down who looked up to me for that reason?"
When we meet for coffee and cookies at Fabrique, a bakery in New York's Meatpacking District, a few hours before her event, Tilley tells me she almost chose the other venue I suggested, mainly because the menu offered mozzarella sticks. But because her team had moved our interview up an hour, they didn't want to make another last-minute change. "I'm very much a people pleaser, and I want everyone to be happy," she says. "I'm working on it." Now 33, Tilley is currently a redhead and wears softer eye makeup than seen in her Bachelor days (RIP the ringed-black eyes of the 2010s).
While it's impossible to separate that people-pleasing instinct from her former guardedness surrounding her relationship, Tilley didn't exactly keep Kiyoko hidden away; both women often appeared in each other's Instagram stories. "It might be a fine line, but I don't want anyone to think I was ashamed or embarrassed," she says. "That was really important to me." While Tilley avoided pronouns while discussing her relationship on her podcast (nicknaming Kiyoko "95p," as in the person she was 95 percent sure she'd marry), she introduced Kiyoko as her girlfriend to family, friends, and fans they ran into in real life. "When we're walking around, we're holding hands," Tilley explains. "If I meet someone who's a podcast listener, I'm like, 'This is my girlfriend, Hayley.' It's never been, 'This is my friend.'"
That doesn't mean everyone she told got it; the extent to which lesbian relationships are ignored and desexualized is an oft-cited joke among queer women, and certain straight women still call platonic friends "girlfriends," confusing us all. "I'd go visit her on tour, and I posted about it on Instagram," Tilley says. "People just thought I was great friends with Hayley. Huge fan."
Earlier this year, Tilley ran into Chrishell Stause at the singer Fletcher's show in L.A., at which Kiyoko also performed. "Chrishell didn't know that Hayley and I were together," says Tilley. "I had said, 'My girlfriend's coming out,' and then later in the night, she was like, 'So are you dating anybody?' I was like, 'Oh, yeah …' That happens all the time." (Meanwhile, at the same show, Stause told Tilley about her new friend, G Flip. A few weeks later, Stause sent Tilley a message relaying her own relationship update; the foursome got dinner together soon afterward.)
Over the past few years, Tilley says she often received Instagram messages (many from queer people) that asked why she wouldn't share her relationship, why she was ashamed or afraid. She wasn't ashamed, she says, but these questions speak to a troublingly pervasive assumption (among many straight self-proclaimed allies and some queer people too) that to come out in 2022 is easy, straightforward, and even obligatory. In June, the actor Lukas Gage responded to a tweet that accused Hollywood of repeatedly and inappropriately hiring him to play queer roles, implying that he was straight. ("u don't know my alphabet," Gage replied.) In attempting to course-correct for the not-uncommon Hollywood practice of hiring straight actors for queer roles, we've taken a perhaps inadvertently anti-queer detour: Surely the solution is not bullying public figures to come out, as an Australian newspaper recently did to Rebel Wilson.
"I'm happy she can live in freedom," Tilley says of Wilson. "But I hate that there was fear and threats associated with it because that's not fair."
Because if Wilson was afraid to come out, or if Tilley was afraid to come out, would that have been so unreasonable? We're living through a surge of anti-LGBTQ+ sentiment, harassment, and legislation; in his written decision to strike down Roe v. Wade, Supreme Court Justice Clarence Thomas wrote that the court should reconsider Obergefell v. Hodges, the 2015 decision that legalized same-sex marriage. In much more immediate crisis are countless trans kids and the parents who would seek to provide them with health care. If there was ever a brief window in which queerness was not fundamentally threatened in this country (and I'm not sure there was), it has closed.
Before coming out, Tilley had both a worst-case scenario and a best-scenario in mind. The former was influenced, in part, by comments she read on other people's coming-out posts on Instagram: "I'd go through comments and they would be so horrible that I was like, I'll never do this. Why would I ever subject myself to this criticism?" she says. Then, too, people in her life urged caution, reminding her that her following was conservative. In Tilley's mind, that meant they might not "root for" her anymore.
What happened instead, Tilley says, was better than her imagined best-case scenario: Her followers were almost universally thrilled for her, and the few that weren't couldn't hurt her. "I've realized I have to give people a chance to prove me wrong," she tells me. "I didn't even give people a chance to be more open-minded than I thought. People were just rooting for me to find love. They just were rooting for my happiness."
Then, as if catching herself sounding just a little too much like a starry-eyed reality-show cast member, Tilley pauses and laughs. "These people were also rooting for me to get engaged in eight weeks," she adds. "They may not have the best perspective in all cases."
Coming out just before Pride month was no accident; Tilley was aware that even if certain brand deals dried up, others would materialize — especially in June. Her time as an ambassador for Bachelor Nation has taught her what kinds of partnerships she can (and can't) stomach, and she wants to apply similar scrutiny to companies that might approach her now. "Are these brands supporting the LGBTQ+ community outside of this month and not just being a spokesperson in June?" she says. "I have something that's 'unique' about me now. I have this platform, and for a long time it's been like, 'What am I doing with it?'" Now she knows.
Though the brand deals are great, more important to Tilley is her growing connection to her LGBTQ+ followers, dozens of whom have reached out directly. "Someone sent me the most beautiful message the other day," she tells me. "I read it at a stop light, and I couldn't respond right away because I was driving." When Tilley went back to reread the message and respond later that day, the sender had unsent it. Recalling this missed connection — and, maybe, like me, considering every feeling that might have gone into writing and then deleting that kind of message — her eyes fill with tears.
Tilley's rawness will be familiar to anyone whose coming out went better than expected; at the brand event, she sails through her talking points but breaks down when she gets personal. "I'm so grateful to be part of this community," she says, basically weeping. "I didn't want to cry. I almost made it." Later, after the TikTok dancers perform and a DJ takes over, Tilley stands just outside the event room, hugging anyone and everyone who wants to say hi, including a silver-haired gay man in a baseball cap who knows her publicist. He holds her so tight even I can feel it. "Welcome to the family," he tells her, and then she's crying again. How could she not?