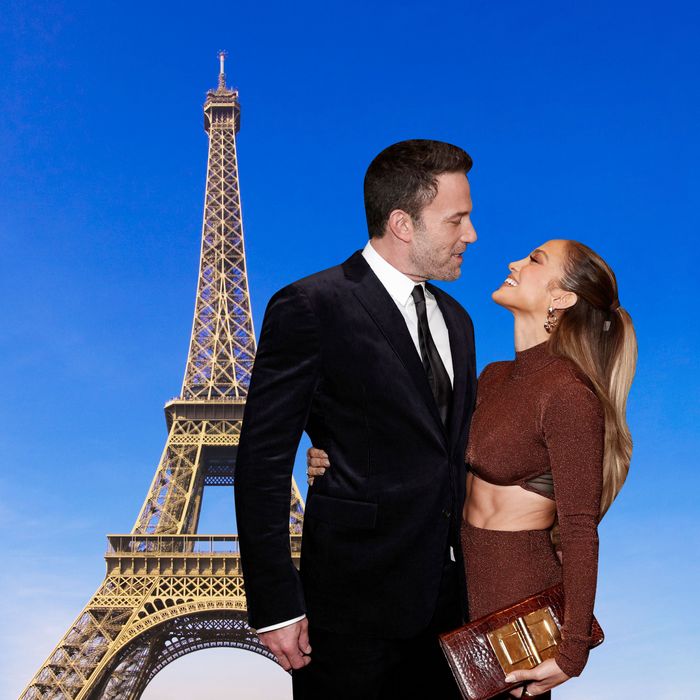 Photo-Illustration: by The Cut; Photos: Getty Images
Bonjour to Ben and Jennifer Affleck, who are most likely sharing a croissant on the banks of the Seine as we speak. The couple, who had a Vegas chapel wedding last weekend, now appear to be enjoying a classic honeymoon in Paris.
On Thursday night, hours after J.Lo was spotted in a fedora and huge pants, they reportedly showed up at a restaurant near the Champs-Élysées called Le Matignon and ate on the terrace. Romantic! One very Parisian-sounding witness from the restaurant told People that Affleck looked like a "typical American except he had on a jacket and tie in all this heat." I guess even in the face of Europe's current 109-degree heat wave, Affleck wanted to look spiffy for his new wife, which is sweet in a tortured, sweaty way. J.Lo looked a little more comfortable in a plunging red gown, but I cannot believe both of them made it through two hours of eating outside. Maybe someone could let me know where they buy their deodorant?
In another impressive display of stamina, they were pictured cuddling and making out in a Parisian park for two hours on Friday morning, with one observer describing them as "teens on a park bench." In one photo, Affleck seems to be snapping an artistic and cheesy pic of J.Lo laughing while holding his hand. Ah, to be in love and have an expensive camera.
Like their Vegas wedding, the Bennifer honeymoon is apparently a family affair. Later in the day, they reportedly took their kids to two museums and a vintage store. Maybe they will reenact this scene at dinner?
Clearly J.Lo is busy enjoying her new life and last name, but if she has a spare hour or two to make a cameo on Emily in Paris (perhaps as the glamorous American frenemy of Emily's boss?), I don't think Darren Star would mind.