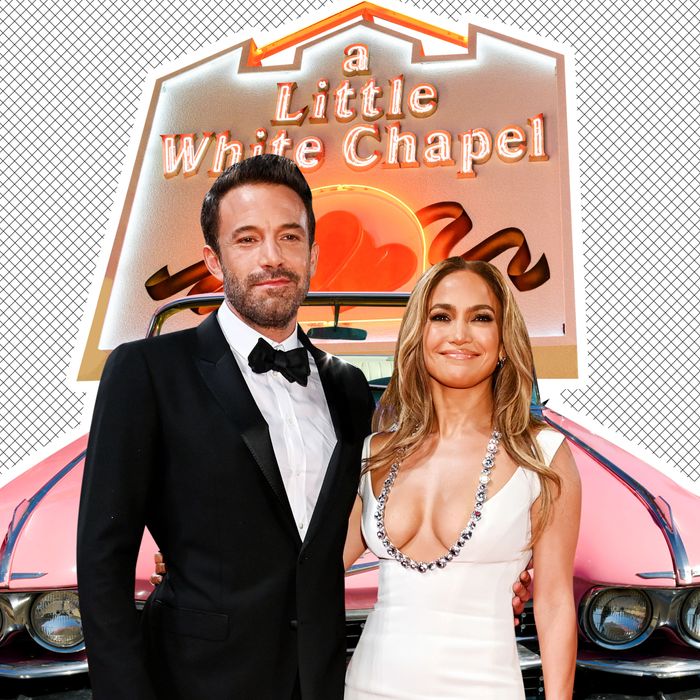 Photo-Illustration: by The Cut; Photos: Getty Images, Shutterstock
In the throes of an especially exhausting wedding season full of lavish, multiple-dress-code affairs, it is always pleasant to see someone get married without a big fuss. This weekend, Ben Affleck and Jennifer Lopez, previously known as the most extra couple in Hollywood, tied the knot in Vegas, and I for one am thoroughly charmed by their surprisingly low-key ceremony.
Unlike Kourtney Kardashian and Travis Barker, whose Vegas "wedding" was actually just a stunt, not to mention the prelude to a continent-spanning D&G-sponsored affair, Bennifer appears to have genuinely leaned into the slapdash nature of the Vegas wedding. According to J.Lo's email newsletter ( the perfect place to announce the news of your 20-years-in-the-making nuptials), she and Affleck took a late-night flight to Vegas and chatted up a few of the other couples standing in line for a wedding license before heading to a chapel. "We barely made it to the little white wedding chapel by midnight," she wrote, saying that they "graciously stayed open late a few minutes" and let them "take pictures in a pink Cadillac convertible evidently once used by the king himself." Bennifer opted not to summon the in-house Elvis impersonator, who was apparently "in bed" and "cost extra." For a couple with 17 bathrooms, this sounds both respectful and fiscally responsible.
In the photos J.Lo included in her newsletter, she and Affleck look both blurry and happy — a nice change of pace from the elaborately staged wedding shots currently filling my Instagram feed. JLo graciously thanked the chapel staff for "letting me use the break room to change while Ben changed in the men's room." Sure enough, there was also a video Affleck seems to have recorded in the chapel's bathroom's mirror, which he referred to as his "wedding changing area." They wore, respectively, a "dress from an old movie" and a "jacket from Ben's closet." As of Monday, there are no actual wedding photos on J.Lo's Instagram, just a post showing her in bed, casually displaying an elegant but understated wedding band. "Sadie! #iykyk. Go to OnTheJlo for all the deets," she wrote in the caption.
Both Affleck and J.Lo have been married before, so it's not totally shocking they'd keep this one casual. Back when they were supposed to get married in 2003, they had to postpone the ceremony due to "excessive media attention," and we all know how that worked out. Weddings with "I just threw this thing together" energy aren't uncommon these days, in part as a reaction to the aforementioned wedding exhaustion. Still, it's one thing for Sarah Snook to throw on some Blundstones and marry her best friend in their backyard. It's another for J.Lo, a woman who commissions rhinestone Starbucks cups, to change into an upcycled wedding dress in the break room of a Las Vegas wedding chapel. Somehow, that scenario sounds more fun than any multi-day wedding event I can think of.
To be fair, at least some planning went into the evening. In addition to the dress "from an old movie," which J.Lo said she had been saving for the appropriate occasion for years, she also changed into second, more dramatic gown from Zuhair Murad later in the night, and her hairstylist Chris Appleton was present for wedding glam. If sources are to be believed, there may still be a blowout wedding bash to come. But for now, the awkward angles of Bennifer's wedding selfies are celebration enough.