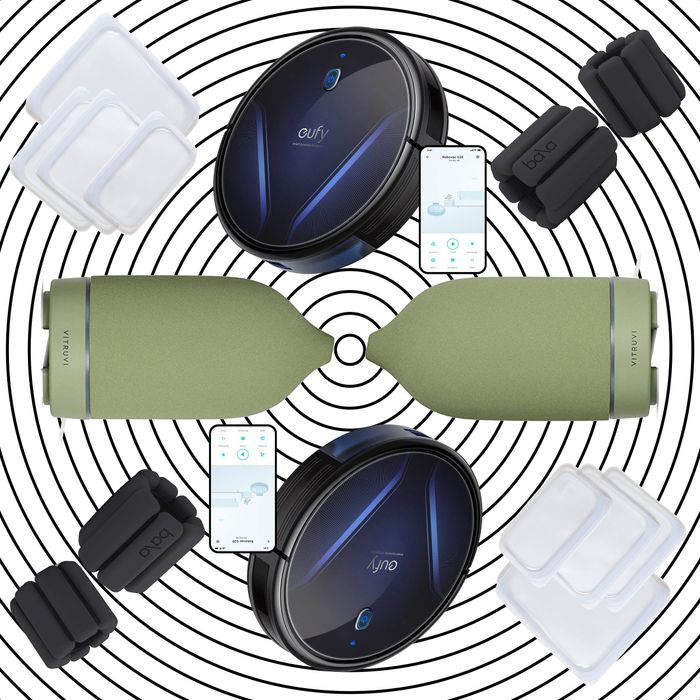 Photo-Illustration: by The Cut; Photos: Retailers
Whether you're in the market for fancy ice cubes courtesy of the ice-maker you've seen on TikTok, vacuums that are basically robots, or you want to splurge on Apple AirPods Max to channel your inner Bella Hadid, the tech and lifestyle deals on Amazon Prime Day have what you need on offer — and on sale. Until today July 13, you can still expect hundreds of markdowns on the gadgets across tech, home kitchen, and even beauty tools that you've been itching to add to cart.
And for your convenience — you're welcome — we sorted through all the deals to find the best of the best on sale. Keep scrolling for our picks.
Best Amazon Prime Day Home and Décor Deals
We love this duvet-cover set from Dapu, which is on sale for the second year in a row. If you missed it last time, set a reminder right now. It's a reader favorite from last year.
Sleep well after going hard shopping (or, uh, looking at your credit-card statement) with one of the many Casper deals Amazon is offering, including its Essential Pillow.
Treat yourself this Prime Day to a vacuum that does all the work. This robot cleaner is on sale for almost half off its original price. The Eufy by Anker RoboVac G30 (say that three times fast) boasts a Z-shaped path compared to a random one, an app that allows you to track its activity, and stronger suction than its predecessor. All hail technology!
This product from Vitruvi doubles as a diffuser and as décor thanks to its lovely design. Plus, it's 30 percent off.
If you never stoped doing your at-home workouts and you want your workout corner to look a bit more elevated, Bala's weighted products are on sale during Prime Day. We love to use the Bangles, but the Power Ring and the dumbbell sets are discounted too.
A dollar off isn't much to rave about, but the practicality of this outlet extender is. I'd lost way too many chargers and cables that were squished by my furniture until I bought this. Now all of my wiring is more organized, and I haven't had to tape any wires in the hopes they still work.
For under $70, you can keep the air in your apartment clean and fresh.
If you splurged way too much on the Prime Day fashion deals, that means you need new hangers to maintain everything organized so consider these velvet ones that are 30 percent off.
Give Amazon a shot when it comes to home décor — you'll be surprised to find cute vases like these for 20 percent off.
We all want a Dyson vacuum, but if you don't have Dyson space in your apartment, consider this handheld one from Black + Decker. Your back won't be as happy, but your apartment will remain clean.
You bought paper lanterns to decorate your space. Now what? Make sure you buy these ambiance bulbs from Philips because they pair well and set the mood.
Yes, we love a weighted blanket that isn't — as one internet user named it — "depression gray." This vibrant colorway will brighten up any living space while providing much-needed comfort.
Best Amazon Prime Day Kitchen Deals
Once I switched to Stasher's reusable food bags, I've never looked back. They are incredibly easy to clean in between uses, and I've saved so much money on not having to buy single-use bags.
If you want to leave your paper-towel ways behind, consider these dishcloths. Our friends over at the Strategist have tested them out and note that they are as "superabsorbent" as the product claims to be.
Get 25 percent off on the prettiest blender we've ever seen.
Get your coffee buzz with select Nespresso products this Amazon Prime Day. This game-changing coffee-maker is 35 percent off.
From the makers who bring us a rice cooker that plays a little jingle when your rice is done, we present a stainless steel mug that keeps beverages hot (or cold) for hours.
If all this shopping made you hungry and you need to spice up you go-to meals, add this chili crisp from Fly by Jing to your cart.
Best Amazon Prime Day Tech Deals
Large wireless headphones are having a moment right now thanks to the Apple AirPods Max.
Join the cult by scoring these coveted over-ear, noise-canceling headphones for $100 less(!) than the usual price tag.
If you still don't want to switch your AirPods for over-the-ear headphones but still need a new pair, these are 32 percent off.
Behold a Cut reader favorite when it comes to gifting. Fujifilm Instax Mini Link Smartphone Printer is easy to use and great to convert your favorite memories into physical treasures.
Amazon is offering discounts on its e-readers, including the intriguingly named Kindle Oasis.
The Kindle Oasis allows you to customize your screen and adjust the light setting just right for your eyes and has a huge selection of books, magazines, and more. Finally make good on that "read more" New Year's resolution.
Alexa, is it worth buying an Echo Dot? Well, if you want to save $10 on Amazon's most popular smart speaker and have a clock, a planner, and a new BFF if you're lonely, then yes.
There is nothing more fun than a projector, and this Prime Day, you can get this Elephas portable, mini projector on sale.
Don't miss out on the best Amazon Prime Day deals, and follow @theCut on Twitter for the latest updates!