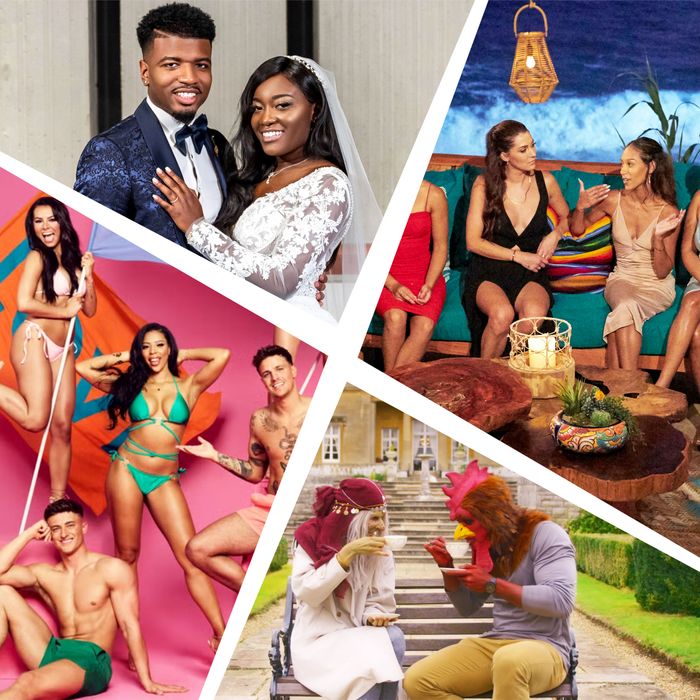 Photo-Illustration: by The Cut; Photos: Lifetime, ABC, Netflix, ITV
Since The Bachelor premiered in 2002, just about every network, cable outlet, and streaming service has attempted to capture the same chaotic ratings magic with a reality dating show (or three) of its own. For some reason, many of the series are set on islands, both real and imagined. All of them feature somewhat desperate singles looking for love and (in recent years) Instagram and TikTok followers.
Some of them have succeeded (the U.K.'s Love Island became a runaway hit when it premiered in 2015), and some have failed spectacularly (Fox canceled I Wanna Marry 'Harry,' a 2014 reality show on which women competed to marry a fake Prince Harry they thought was the real guy, after just four episodes). Some haven't even gotten the chance to get started: TBS announced last month that it was pulling The Big D, a reality show hosted by Bachelor Nation couple JoJo Fletcher and Jordan Rodgers, on which divorced couples date one another in Costa Rica. The series, um, hadn't actually premiered yet — it was slated to this month. While I'm sorry to miss that one (the trailer looked wild), there are so, so many more available for viewing right at this moment.
Bachelor in Paradise
ABC launched this Bachelor spinoff in 2014 in order to capitalize on the fact that former Bachelor and Bachelorette contestants were already dating one another off-camera (and uniformly desperate for more screen time). The series follows these castoffs as they attempt to form "real" relationships with one another lest they be kicked out of the Mexican resort where they all stay together. In recent seasons, the drama has mostly stemmed from contestants accusing one another of appearing on the show only to further their social-media-influencer careers.
Breakout star: Ashley Iaconetti Haibon, better known as Ashley I., who cried throughout the entirety of her appearances on seasons two and three and ended up marrying her crush, Jared Haibon, anyway. The Haibons now have a baby son, a combined 2 million followers on Instagram, and their own Audrey Hepburn–themed coffee shop in Rhode Island.
How to watch: Season eight is set to premiere on ABC on September 27.
Love Island
This series originated in the U.K. and premiered in 2015, just one year after BIP. The premise is similar, except there is more audience involvement: Fans vote for their favorite couple to win a cash prize at the end. CBS launched an American version of the show in 2019 that has since been bought by NBC. There's also Love Island Australia and several other international versions. Start now and you'll be entertained until 2035.
Breakout star: Plenty, if you read the Daily Mail. Current Love Island U.K. contestant Ekin-Su is getting headlines after fans discovered her past career as a Turkish pop star.
How to watch: Stream season eight of Love Island U.K. with a VPN (if you're in the States) or wait for the episodes to come to Hulu. Season four of Love Island USA, hosted by Sarah Hyland, premieres on Peacock on July 19.
FBoy Island
Another island, this one created by former Bachelor producer Elan Gale. In this offering, three attractive single women attempt to determine which guys on the island are Nice Guys and which are FBoys. The titular location is somewhere in the Cayman Islands. The women can work together to sort the contestants into categories, but ultimately they each have to pick one man to take home to the real world: If he turns out to be a Nice Guy (as determined by producers, anyway), the couple get a $100,000 prize to share, but if he's an FBoy, he walks away with all the money for himself.
Breakout star: Host Nikki Glaser. She now has her own reality show on E! that is loosely based on her dating life.
How to watch: Season two premieres on HBO Max on July 14.
Too Hot to Handle
This British American spectacular was inspired by the Seinfeld episode "The Contest" and features a group of singles who try not to hook up with one another in order to win a $100,000 cash prize. It premiered on Netflix in 2020 and films in Punta Mita. The singles are observed by an Alexa-inspired AI assistant named Lana that deducts money from the prize pot every time they so much as kiss one another (which they do, of course).
Breakout star: Season-one contestant Harry Jowsey, who somehow got the tabloids to say he was dating Khloé Kardashian earlier this year. He just signed with WME.
How to watch: Seasons one, two, and three are available on Netflix.
Married at First Sight
This commitment-themed reality show premiered on Lifetime in 2014 and has been pumping out new seasons at an alarming rate ever since. The premise is terrifying: Contestants sign up to legally marry one another without ever having laid eyes on their partners. The singles are paired up by a group of "relationship experts" and have to weather being married to a stranger for several weeks before they can opt to get divorced. While the couples are supposedly matched based on common interests and beliefs, they usually argue about all the usual issues: money, sex, religion, and their weird family members.
Breakout star: Season-one contestant Jamie Otis, who is still married to her MAFS husband, Doug Hehner. She is now a van-life mommy influencer with 850,000 Instagram followers.
How to watch: Season 15 is currently airing on Lifetime.
Love Is Blind
This show took the premise of MAFS and made it slightly less intimidating (and, incidentally, more COVID-safe — it premiered in February 2020): Contestants first meet one another in "pods" and don't see what their chosen partners look like until after one of them proposes. Then they have a few weeks to get to know their partners before deciding whether or not to get married, under the tutelage of hosts Nick and Vanessa Lachey. While some couples find they are strikingly well matched (season-one contestants Lauren Speed and Cameron Hamilton got married and are still together), others find themselves at odds, wishing they had chosen someone else (poor season-one Jessica drunkenly pined over Barnett every time the couples got together for drama-filled mixers).
Breakout star: Giannina Gibelli, an outspoken season-one contestant who got left at the altar on the show but is now dating former Bachelorette and BIP star Blake Horstmann. (They met on a Paramount+ reality show called All Star Shore, which is not strictly about dating, but good for them.)
How to watch: Seasons one and two are on Netflix.
The Ultimatum
Also hosted by the Lacheys, this Netflix offering, which premiered in April, has a sadder, more desperate premise: Couples who can't agree on whether or not they should get married briefly split up and date other people until they can decide to "marry or move on forever." The twist: They have to move in with a new partner in a "trial marriage" while their original partner does the same. While this sounds like an excellent way to fully destroy a relationship, it worked for at least one couple: Season-one contestants Madlyn Ballatori and Colby Kissinger got married and just had their first baby.
Breakout stars: Nick and Vanessa Lachey, who are really making a career of this now.
How to watch: Season two, featuring an all-queer cast, just wrapped and will likely premiere on Netflix later this year.
Are You the One? 
This algorithmic reality show first premiered on MTV in 2014 and is now available to stream on multiple services. The premise: a proprietary algorithm determines contestants' "perfect match," and they have to date around to figure out who it is in order to win a shared $1 million prize. At the end of each episode, the singles get together at a matchup ceremony to try to guess if they're correctly aligned, and they're usually not. The drama typically stems from singles wanting to date people who are (in the eyes of the algorithm, anyway) not their perfect match.
Breakout star: Season-three contestant Cheyenne Floyd, who joined Teen Mom OG after welcoming a baby with fellow MTV personality Cory Wharton. (Confusingly, Floyd was not a teen mom when she had her baby — she was 24 — but she is about the same age as the other stars on the show.)
How to watch: Season nine is reportedly coming to Paramount+; past seasons are available on Netflix.
Sexy Beasts 
Another British import to Netflix, this reality dating show has perhaps the strangest premise: Singles date one another while wearing elaborate, beastly stage makeup and prosthetics. The characters are, hmm, unique: There's a panda, a beaver, and a … demon. In each episode, one lucky beast gets the chance to date three others. Their true faces (which are all model-attractive, it turns out) are revealed only when the lucky beast chooses one suitor to take on a second date.
Breakout star: No one, unfortunately; it's hard to get recognized outside one's costume.
How to watch: Seasons one and two are available on Netflix.