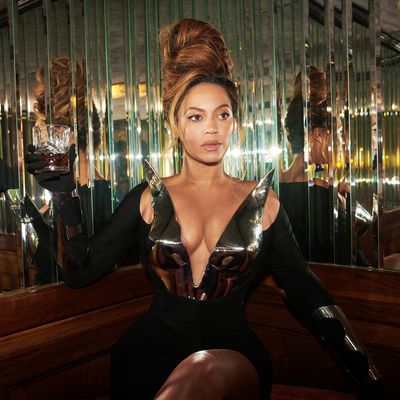 Beyoncé's seventh studio album, Renaissance, is officially out in the world, and there is much to dissect. On the album, Beyoncé shares her views on designer handbags, sings about quitting, and reminds the world that she is, unequivocally, that girl. On a more serious note, she also dedicated the album to her uncle, Jonny, who died of complications from AIDS. In the album's liner notes, Beyoncé thanked Jonny along with her kids and husband Jay-Z, writing, "He was my godmother and the first person to expose me to a lot of the music and culture that serve as inspiration for this album." Jonny also came up in the track "Heated," where she raps, "Uncle Jonny made my dress."
Beyoncé and her mother Tina Knowles have talked about Jonny a few times before. Based on what they've shared, he was Tina's nephew who she grew up with and played a major role in raising Beyoncé and Solange. Jonny was gay and HIV positive. It makes sense Beyoncé wanted him honored on this album specifically — the tracks on Renaissance draw heavily from disco and house, genres that were largely shaped by LGBTQ+ artists (many of them Black) and their listeners.
At the 2016 CFDA awards, Beyoncé shared that Jonny helped her mother make Destiny Child's costumes before high-end labels were willing to dress "four Black country curvy girls." Together, she said, Tina and Jonny "made each piece by hand, individually sewing hundreds of crystals and pearls, putting so much passion and love into every detail." (Hence the lyric, "Uncle Jonny made my dress.") Tina has also talked about Jonny's fashion expertise, saying in one 2019 Instagram post that he made dresses for herself, her friends, Beyoncé, and Solange. "He took care of our home and kept it in grand style," she wrote. In a separate post, she wrote that she and Jonny went to Diana Ross concerts together and recalled referring to him as her wife when the girls told the photographers he'd made their dresses. "When I worked 12 hours a day," she wrote, Jonny "picked up my kids, made my household go smooth … cooked dinner and helped me to be free to build my business."
Beyoncé talked about Jonny's battle with HIV while accepting the GLAAD Vanguard Award in 2019. "I want to dedicate this award to my uncle, Jonny," she said, "the most fabulous gay man I have ever met, who helped raise me and my sister." She continued:
He was brave and unapologetic during a time when this country wasn't accepting. Witnessing his battle with HIV was one of the most painful experiences I've ever lived. I'm hopeful that his struggle served to open pathways for other young people to live more freely.