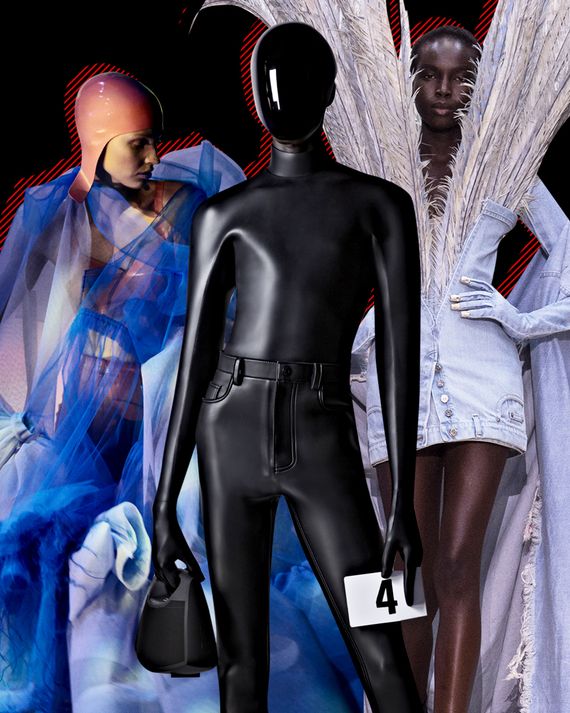 Left to right: Maison Margiela, Balenciaga, Jean Paul Gaultier
Photo-Illustration: by The Cut; Photos: Maison Margiela, Balenciaga, Jean Paul Gaultier
The curb in front of 10 Avenue George V in Paris was lined six deep with screaming gawkers. It was noon on Wednesday, and they were staking out the entrance to Balenciaga, where its creative director, Demna, was about to present his haute couture collection.
Word had already spread that Nicole Kidman, Kim Kardashian, and Dua Lipa would be walking in the show. There would be famous guests to see and scream after. Tracee Ellis Ross and the rappers Offset and Big Matthew would be there. In the past year and a half — since escorting Kardashian to the Met Gala (his head completely covered with a black mask), since making a movie with the folks at The Simpsons and making light, as well, of red-carpet mania — Demna has raised the tempo of the industry.
But nothing he has done has had more impact than his couture show last July, which is odd, in a way. Balenciaga had not produced couture — that is, made-to-measure clothes as opposed to ready-to-wear — in more than 50 years, not since Cristóbal Balenciaga retired in 1968. And how many people can afford haute couture, with prices for a suit or a coat starting in the mid–five figures? Yet Demna brought creative urgency to couture using many of the ideas he's known for, like gender-fluid tailoring, a whiff of dystopian bleakness, and a highly eccentric cast — and then refined these modern extremes according to the impeccable standards of couture dressmaking. He essentially knocked the craft into a new orbit.
The sight of Kidman's husband, the singer Keith Urban, in the stairwell confirmed that the actress was in the house. But when the show got underway, in the white salons on the second floor, no faces (famous or otherwise) were visible. They were behind glossy black face shields engineered by Mercedes-AMG F1 Applied Science, and what's more, their bodies were completely encased in black neoprene: flared dresses, double-breasted tailored jackets, and leggings, along with rubbery black accessories. Again, every garment was impeccably cut and finished, but the models were essentially a silhouette, a void, an otherworldly being against the white walls and carpet. They carried hard-shell purses that were in part speakers (engineered by Bang & Olufsen). And coming out of the handbags was a voice murmuring, Je t'aime … je t'aime. It was in fact not a human voice, as one might have supposed — the voice of Demna, maybe, or his partner, the musician and composer Loik Gomez, who goes by BFRND — but, rather, an algorithm.
By now, the audience was riveted. The question of what Demna would do to top his first couture collection last July was being answered. He was going into the future. He was pushing forward the notions, subtly, of gender identity and morphing and body augmentation, and he was appealing to conscious consumers with a whole array of clothes — jeans and jean jackets, hoodies, leather pieces, crumpled T-shirts that stood out from the body — made from upcycled garments. Again, everything was made flawlessly, transformed into something new by the abilities of expert hand-cutting and -sewing. Those T-shirts that looked like laundry frozen on a line in Alaska? They were filled with an ultrathin membrane of aluminum.
Then, at Look 39, the rhythm suddenly changed as unmasked models appeared. The first was BFRND, and the music was now his stirring orchestral composition. He told me later that he had worked for the first time with the Budapest Scoring Orchestra, which performs music for films. But all in all, the shift was to the human as Kardashian soon appeared in a black confection (she said later that it was her second runway walk, that she did a show in New York in the early aughts), followed by Kidman in an asymmetrically draped gown of silver-coated silk taffeta. Less well known was an older woman in a draped one-shoulder black dress with a train. She was Danielle Slavik, who modeled for Cristóbal Balenciaga from the early '60s until he retired. "She had not been back in the house since then," Demna said. "She's just an amazing, adorable woman." Slavik, who lives in Paris, told me at a dinner later that she found the experience "very moving."
People familiar with Demna's work will know that he asserted more of his own ideas and influences in this collection, and he said that was his aim. "It's a new fusion with the past," he said, meaning the legacy of Balenciaga. But taken together with the couture collection of July 2021 and the political and social allusions in some of his recent ready-to-wear shows, it demonstrated his extraordinary power as an artist. I was struck by his ability to give classic couture shapes a new kind of tension. Many designers over the years have played with corsetry and hourglass shapes, Jean Paul Gaultier for one. But here was Demna linking that form to the newer reality of an audience more at home with digital manipulation. At one point in Wednesday's show, a male model came out in a sleek black top and a pair of high-waisted black trousers. Demna said later that a corset had been built into the pants to make the man's waist look tinier and his hips rounder. The whole thing was so perfectly seamless, as if the man were engineered, and it was a little disturbing in its extreme Beau Brummell elegance.
Speaking of corsets, Olivier Rousteing of Balmain was the guest designer this season at Gaultier, and he deftly skipped through the conical Madonna bras, the goddess drapery, and the twisted pinstripes of the couturier's impudent career. This was probably the best of the homage collections (there have been two so far) and certainly the most feeling. Rousteing did everything in top form and, to the delight of clients, turned out in Gaultier drag. But it was Rousteing's menswear — easy printed separates, jackets and recut vintage jeans, based on Gaultier's landmark 1994 "tattoo" collection — that looked most relevant.
John Galliano was back with his first live show for Maison Margiela in more than two years, and it was a remarkable event — indeed, one that people will be watching over and over and discussing. Its story was about a couple, Count and Hen, stepsiblings and lovers, on the run after killing their cruel parents. The setting was somewhere in the American Southwest, the country not only of Cormac McCarthy's novels but also of myriad outlaw and road movies (a favorite of mine is the great Roger Corman–produced film of love on the run, Jackson County Jail) set sometime in the early '60s.
The setup — and here is where Galliano blew the lid off a fashion-show concept — was a theatrical play about Count and Hen that was being made into a film before a live audience (of editors, etc.) while being streamed simultaneously to a digital audience. Galliano created it in collaboration with the British theatrical group Imitating the Dog using real actors and, of course, models, who had apparently spent weeks in rehearsals.
So it was like watching a film being shot, with the prop handlers and tech crew in full view, while we were also seeing the action framed on giant screens. Obviously, it was a new way for fashion to deal with narrative, which Galliano loves, as well as different perceptions and historical time. In fact, much of the 25-minute story was told in flashbacks. Meanwhile, notions of time and transparency were relayed in the clothes: pieces that had been recut and composed as something else, veiled in chiffon, chopped up, and then aged by the sun (the milliner Stephen Jones's campy foam cowboy hats). There was a gorgeous bunch of A-line coats, debutante looks (very Dior, in fact) with the models wearing old-time swim caps. The colors were cinematic.
But along with the Bonnie and Clyde lovers, there were scenes of violence: guns blasting, people screaming, a model falling in a fake pool of blood. Admittedly, there was something funny about the transparent fakery — watching a stagehand throw a red plastic blob on the floor (the blood) and a model casually lie down next to it.
But it was a lot to process in addition to themes like parricide and the abuse of power. The Europeans I spoke to immediately after the show, including Renzo Rosso, whose company owns Margiela, found nothing offensive or tone-deaf in the display. "During the movie, I didn't think about it," Rosso said. "The guns were toys, and we in Europe have better laws about guns. I thought it was a fantastic movie."
But, of course, Americans have a different experience with gun violence, and some in the audience weren't willing to look past these images to appreciate Galliano's brilliance. His apparent disregard for how Americans would react, and the fact that no one around him had flagged it as a problem, really bothered some people. Kristina O'Neill, editor-in-chief of WSJ. Magazine, told me, "I will never go to another John Galliano show again." My own feelings are mixed. I liked his multilevel, artful concept. I just didn't see the point of all the guns and mayhem.
More From Paris Haute Couture
See All