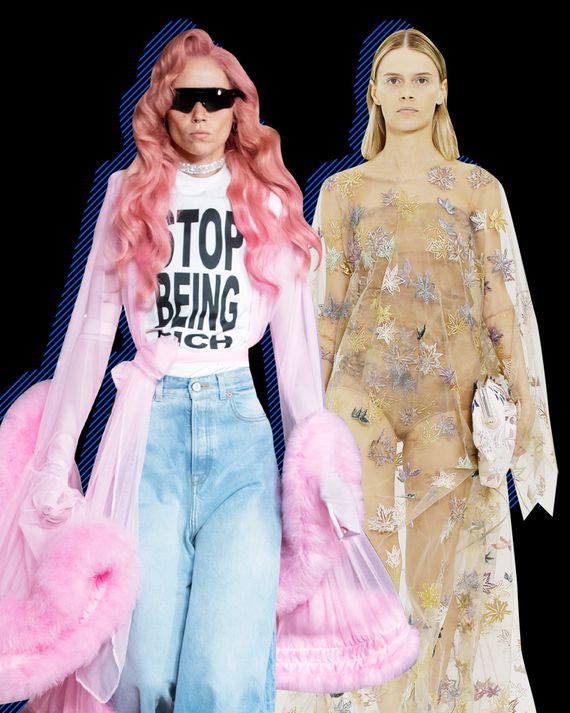 Left to right: Vetements, Fendi.
Photo-Illustration: by The Cut; Photos: Courtesy of Vetements, Fendi
The set for the Fendi show was vast and white, essentially a box dropped in the middle of Palais Brongniart, a neoclassical pile that's as dreary as your bubbe's handbag. If you're LVMH, which owns Fendi, you can snap your fingers and make anything go away. As a rambunctious Paris couture season ended Thursday, Kim Jones, the house's creative director, cleared the air in more ways than one.
He opened with a pair of pantsuits and an ankle-length dress in vicuña. That's a bit of subtle messaging for you: Vicuña is probably the softest fiber on the planet and quite possibly the rarest. It comes from the hair of a species of camelid in the Andes. But you knew that, right? Jones wisely kept the shapes simple (the cloth can be produced only in very limited quantities) and he did the same with ultrathin leather also in a shade of warm brown. No ornament or fancy cut — just a plain sleeveless top with matching full-cut trousers.
"I wanted the collection to be light but also luminous with the shimmer of embroidery," he said. Indeed, the notion of lightness penetrated every aspect of this satisfying show, one of Jones's best since succeeding Karl Lagerfeld, from its glossy white interior to the weightlessness of many of the fabrics, including kimono silks woven specially in Japan, to sheer tent dresses embroidered with seemingly windblown leaves. Some of Jones's early designs for the Roman house looked overly grand, a bit too "madame" in bearing; this collection finally feels youthful and direct.
He was on a visit to Kyoto when he got the idea to use kimono silk from one of the oldest companies still in existence. The traditional patterns inspired patchworks for plain silk columns and an exceptional coat done in silk, beaded grids, and inlaid pieces of sheered mink, but what you don't see are the silk linings finished with a rustic topstitch. Those details — surprises, really — are the mark of couture.
Jones also offered a few long dresses in silk jersey whose simple wrap design, loose at the waist, might well have been a blend of kimono and toga. Their distinct shades of mint, pale pink, and vibrant yellow were pure Lagerfeld, though. There were also chiffon dresses stitched with what looked like broken mirrors (more light reflection) and a long black jersey dress with a duplicate dress dragging behind it as a train. (Meant to suggest a shadow, that idea was a flop. But in couture you can modify anything. Get the scissors.) The last dresses, in beaded or embroidered tulle (some with underwear to match, some naked), were wonderful. They come out of the tradition of couture, but they're aimed at modern lives.
"They're giant T-shirts, basically, with added craftsmanship," Jones said.
Vetements, the label founded in 2014 by Demna Gvasalia and some design friends with his brother, Guram, overseeing the business, is now under Guram's creative direction. (Demna is no longer involved.) On Thursday, he presented his fall ready-to-wear collection in the gutted shell of the former Tati discount store. Vetements' shredded jeans, plaid ponchos, and a cute sweatshirt that read "I'm not doing shit today" obviously have nothing in common with hand-stitched, gossamer-weight dresses, but why miss an opportunity to get attention?
Gvasalia said the collection reflected "my childhood memories, war trauma, hidden desires, and twisted imagination." A soupy checked poncho, for example, referenced blankets he and his family received when they were refugees in Germany; the punk effects, including the models' spiked hair, alluded to a teen fantasy. But apart from jeans and some funky dresses, the show didn't display real creative chops.
The fall couture shows continue today in Rome with Valentino.