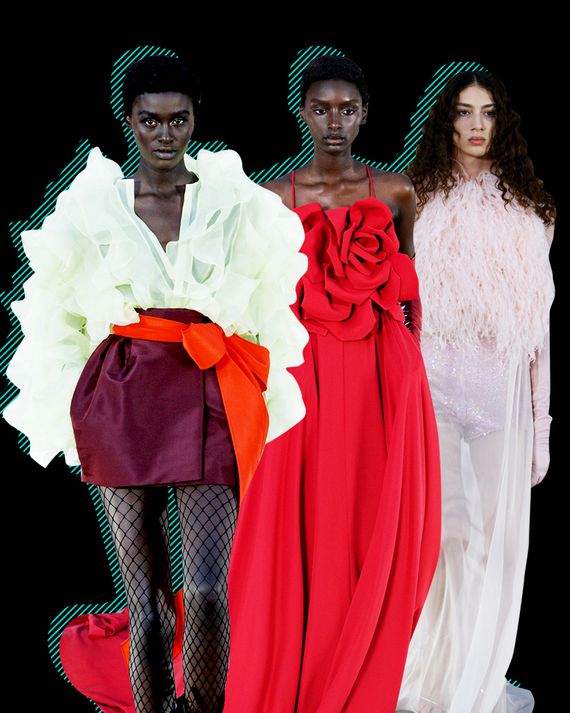 Photo-Illustration: by The Cut; Photos: Courtesy of Valentino
Valentino had chartered a plane to bring journalists from the Paris haute couture collections to Rome on Thursday. It was just after 10 p.m. by the time we reached the hotel, but the heat was sweltering, sticky. A friend and I immediately set off for Emma, a pizzeria near the Pantheon — it was still lively. Around midnight, the wind suddenly kicked up, bringing a storm that would batter much of the coast. Friday dawned bright and fresh, the perfect Italian summer day.
The last time I was in Rome for a Valentino extravaganza was July 2007, when Valentino himself and his business partner, Giancarlo Giammetti, held not only a fashion show and black-tie dinner for 1,000 guests but also, the night before, a party in the ruins of the Temple of Venus. Conceived by the Oscar-winning set designer Dante Ferretti, it had fireworks illuminating the Coliseum and was attended by, among others, Silvio Berlusconi, the widow of the Shah of Iran, and a flock of actors and big-name designers. The three-day affair reportedly cost $10 million.
Pierpaolo Piccioli, who joined Valentino 23 years ago as an accessories designer and became sole creative director of the company in 2016, was merely staging a show on the Spanish Steps, where Audrey Hepburn had her ice cream in Roman Holiday. In reality, though, it was quite an undertaking: 102 models had to descend the travertine steps from near the Trinità dei Monti, hang a left at the bottom, and continue down a raised catwalk in the piazza until they reached Valentino HQ, the stunning Palazzo Gabrielli Mignanelli. Then they had to repeat the trek for the finale. Some 750 guests, many done up in Valentino, would be watching. Afterward, everyone would be transported to the Baths of Caracalla, which last functioned as a public bath and pool some time in the sixth century. It's now mainly used for cultural events.
Piccioli called his show "The Beginning," which was simply his way of reflecting on life chez Valentino and on the extraordinary taste of Valentino Garavani, who recently turned 90. (He did not attend on Friday night, but Giammetti did.) I doubt that anyone who isn't Roman, who isn't at least steeped in that culture and its enormous gift for pleasure, can really understand what that means.
For sure, Piccioli has tried to impart a Roman sense of joy in his fashion, especially since 2017, the year he began injecting a massive dose of color into his couture, playing with floral motifs that suggested Pop Art, and including more casual styles (that is, contemporary) like trousers and tee tops, in a break from Valentino haute tradition.
On the Spanish Steps, Piccioli had the contrasting colors, the pale pinks, deep mauve, and aqua. And he had the symbolic Valentino elements, like the opening outfit, a taffeta minidress that looked like a crush of red roses and was taken from a 1959 Valentino design called Fiesta. But Piccioli had something else that saved the collection from being too much a "greatest hits." The clothes looked unusually light and airy; more spring than fall, in fact. The newest styles were ultrashort and frilled, like a silver-embroidered minidress with a cascade of soft white ruffles, or semi-transparent, like a long column in palest pink chiffon with a matching yoke of tiny feathers and a sparkling beaded bodysuit. The lightness was carried down to the feathered Roman sandals.
Unity was also a theme of the show. Not only did Piccioli assemble a diverse cast of models (diverse in genders, races, and body type), but the uninvited could see the spectacle from virtually every corner of the piazza as well. They leaned out of windows. Piccioli has lately stressed the humanity of fashion, that a show should be more than beautiful, expensive clothes and instead a "rebuttal to the ugliness of the world," as he put it the other night. It's striking how many of the couture shows this season endeavored to put across a personal feeling. Daniel Roseberry of Schiaparelli called his collection "Born Again," after his Texas roots. At Balenciaga, Demna said he wanted to put more of himself in this collection, which meant a darker vision linked to new technologies. Was the device of cinematic flashback at Maison Margiela, as well as the aimed guns, a way for John Galliano to describe what it has been like for him to constantly relive a mistake he made more than a decade ago?
At the end of the Valentino show, Piccioli came down the steps followed by tailors and seamstresses in their traditional smocks, a river of white cutting through the colors. He went directly to Giammetti in the front row and hugged the older man.
"What can I say?" Giammetti said when I saw him later at the party — a buffet dinner in the vast baths. "It was very emotional for me. I saw so many details that were in homage to Valentino — the collars, the ruffles, the roses … And it was very touching when Pierpaolo came to embrace me, just because … because he was embracing Valentino too."
I asked him how Valentino was. "Very well," he replied. "I mean, he's 90 years old. He's a bit fragile. We tried to keep him very secure in those terrible times of the pandemic. But he's okay." Giammetti smiled. "Now he goes on the boat and enjoys the summer."