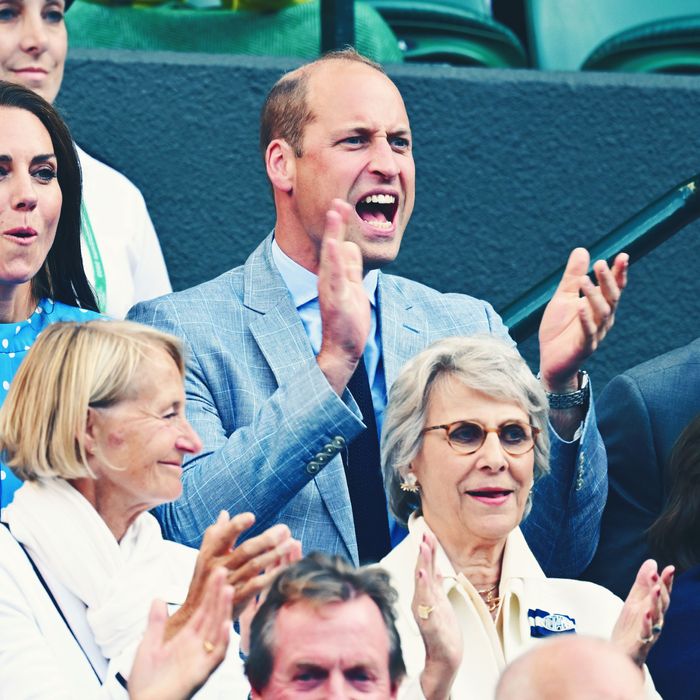 "No no no" — what was that?
Photo: Karwai Tang/WireImage
Consummate sports fan Prince William had a rough go of it at Wimbledon on Tuesday, at least if the fan cam is to be believed. Some viewers watching at home believe they caught the future king, who may not even know how to type, muttering curses to himself in the stand. The reason for his outburst, according to Cosmo, is that Britain's Cameron Norrie had just lost a point to Belgium's David Goffin in their quarterfinal match. In this pivotal moment, the tension overflowed the restraints of royal protocol, bubbling up in a fountain of … what's this? Public-facing profanity? Roll tape:
Apologies to the prince, but I do see where people are getting "No, no, no, fuck it" from this clip. Admittedly, the camera cuts away just before he fully articulates what looks like the fatal "fuck," but the pained expression and stressed loosening of the tie sort of say it all. Still, not everyone is convinced: "He would never use the f word," one commented. But as others have noted, Prince William is "human" and therefore "allowed to swear." I am not actually sure that he is allowed to swear, at least not in front of the masses, though maybe certain exceptions can be made for big, charged moments such as athletic events. Because of course, this is obviously not the first time we've seen Prince William go bonkers over a big game: This time last year, he and the Little Businessguy Prince George were photographed in the Firm's corporate box, screaming in their suits after England scored its first goal in the UEFA Euro 2020 Championship final. There's an unruly "Prince Louis at the Jubbly" energy about these two, no?
Whether or not we have just witnessed a massive breach of royal etiquette, I am sure that everyone will be relieved to know that Norrie pulled it off in the end, achieving what Sports Illustrated described as an "epic" win against Goffin. Good for him, I guess.