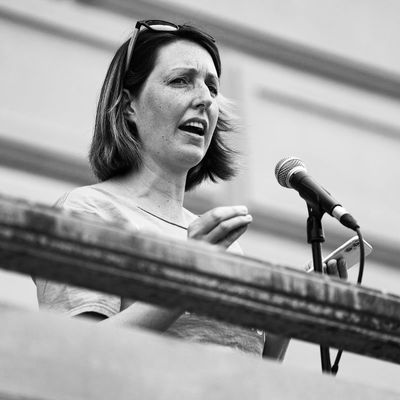 Dr. Caitlin Bernard
Photo: Jenna Watson/IndyStar/Jenna Watson/USA TODAY
A few weeks ago, a news story about a 10-year-old rape victim blew up. According to the Columbus Dispatch, the girl had to travel from her home state of Ohio — where abortion is banned after six weeks, without exceptions for rape — to Indiana in order to terminate, highlighting the grim reality of the reproductive health-care landscape now that the Supreme Court has revoked abortion protections. Overlooking the basics of doctor-patient confidentiality and best practices for reporting on a minor who is the victim of a crime, conservatives jumped all over the "totally unverified" (to quote the Daily Caller) story. Ohio attorney general Dave Yost called it a probable "fabrication" without "a damn scintilla of evidence" to back it up. But turns out, it was all true.
Not long after the report was published, an Ohio man confessed to raping the child multiple times. During the two-week period between publication and the man's arrest, the story's "one source" got dragged into the spotlight. Since Dr. Caitlin Bernard performed the girl's abortion, her face has been plastered all over right-wing media outlets. She has been targeted by anti-abortion conservatives up to and including Indiana attorney general Todd Rokita, who has been threatening an investigation into Bernard for doing her job in accordance with state law.
"It's honestly been very hard for me, for my family," Bernard told NPR. "It's hard to understand why a political figure, a prominent figure in the state, would want to come after physicians who are helping patients every single day in their state."
Since the Ohio girl's story came out, Rokita has claimed that Bernard has a history of violating Indiana's abortion-reporting laws, which — in the case of patients who are under 16 — required her to inform the state of the procedure within three days. Indiana health officials have confirmed that Bernard did so, and Rokita has supplied no evidence to back up his larger allegation. Bernard has raised the possibility of a defamation lawsuit against the attorney general, who has pledged to continue his murky inquest. But turning the spotlight on a doctor places their safety in question: According to a recent report from the National Abortion Federation, rates of violence and harassment aimed at providers rose in 2021. Reports of stalking were up 600 percent compared with 2020, while clinic invasions increased 129 percent. Last year, providers reported 123 assaults, compared to 15 in 2018. Bomb threats rose 80 percent.
"One of us is the state attorney general, and one of us is a physician — and it's very clear who is being intimidated in this situation," Bernard told NPR. "I think it's important for us as providers to feel safe working in the state of Indiana. I think it's important for physicians to know that when they follow the law and when they take care of patients in need of care, that they can do so free of persecution, free of harassment." But in the current climate, that's not necessarily the case.
Indiana, for example, is currently considering legislation that would ban almost all abortions, except in instances where the pregnancy resulted from rape or incest, and where it threatens the patient's life. If the bill becomes law, Indiana would join the growing number of states that have outlawed the procedure, creating a complex web of hurdles for doctors trying to provide routine pregnancy care. The collateral damage from the Dobbs decision has been extensive: Women who say they had to carry a dead fetus for weeks after miscarrying; who were obligated to undergo painful vaginal births to deliver nonviable pregnancies after their water broke prematurely; who have simply been denied medication because it could threaten a pregnancy, all because of the threat of government reprisal. And although Bernard's patient is probably the most high-profile pediatric pregnancy right now, it's far from an isolated example. OB/GYNs across the country see similar cases in the same age bracket. "Unfortunately," Bernard pointed out in a CBS interview, "sexual assault in children is not uncommon." Bans imperil not only patient privacy, but their doctors' ability to provide urgent treatment in the most sensitive situations.
"I think we're at a time in our country where people are starting to realize the impact of these anti-abortion laws," Bernard told CBS. She hopes it's finally becoming clear "what the real-life implications are for people who need abortion care. I think people realize that that is actually not what they intended. That is not what they want for children, for women, to be put in these situations of life-threatening conditions, of traumatic pregnancies."
Last week, Bernard published an op-ed in the Washington Post, explaining that even while Roe v. Wade stood, onerous restrictions still made it difficult for her to provide abortion care no matter how extreme the circumstances. Since inadvertently becoming a public figure, she wrote, "I've been called a liar. I've had my medical and ethical integrity questioned on national television by people who have never met me. I've been threatened." And because doctors cannot disclose their patients' personal information, she continued, "I haven't been able to talk and explain what I stand for." Speaking to CBS, she challenged the people who doubt the truthfulness of the 10-year-old's story: "Come spend a day in my clinic," she said. "Come see the care that we provide every single day. The situations that people find themselves in, [who are] in need of abortion care, are some of the most difficult that you could imagine."
"What I would say is if you don't believe that you would have an abortion, then don't have one," she added. "You cannot stop other people from accessing medical care that they need based on your personal religious beliefs. You would never want somebody to do that to you."