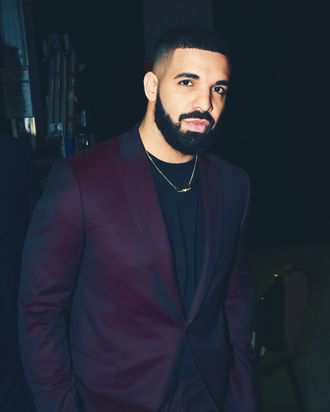 Photo: Jeff Kravitz/BBMA2019/FilmMagic for dcp
You may have heard that Drake is having a horny summer. So horny, apparently, that last week, he attempted to AirDrop a woman a picture of herself at a restaurant (it sounds like she declined). He was also seen bouncing around St. Tropez with 21-year-old YouTuber-slash-model Suede Brooks. Between swerving bees and "yacht-hopping," it seems he's been too busy to give much thought to other matters, like, say, his carbon footprint.
Ever since Kylie Jenner decided it would be a good idea to Instagram her twin private jets in the middle of a devastating heat wave, the carbon emissions of the rich and famous have come in for scrutiny. Predictably, reports of celebrities taking mind-bogglingly short private-jet flights — including multiple flights by Drake's private jet from Hamilton, Ontario, to Toronto, a trip that takes roughly an hour by car and 14 to 18 minutes by plane — did not go over well. Well, it appears Drake would like to defend himself. In an Instagram comment on a post highlighting the short flights, the rapper commented, "This is just them moving planes to whatever airport they are being stored at for anyone who was interested in the logistics … nobody takes the flight."
Ah! Drake, nor any other passengers, were even on these flights — so it sounds like they weren't wasteful at all. For reference, the average annual carbon emissions for a single person is around four tons; Air Drake reportedly emitted five tons of carbon during one 18-minute flight from Hamilton to Toronto. The Guardian reports that private aircrafts emit 33 million tons of greenhouse gases and are five to 14 times more polluting than commercial planes per person because they carry so few passengers (or, apparently, sometimes even none). Meanwhile, last week's heat wave led to dangerous temperatures and wildfires across the United States and Europe — something that is only expected to become more frequent with climate change.
Can someone please explain the term "climate criminal" to this man?