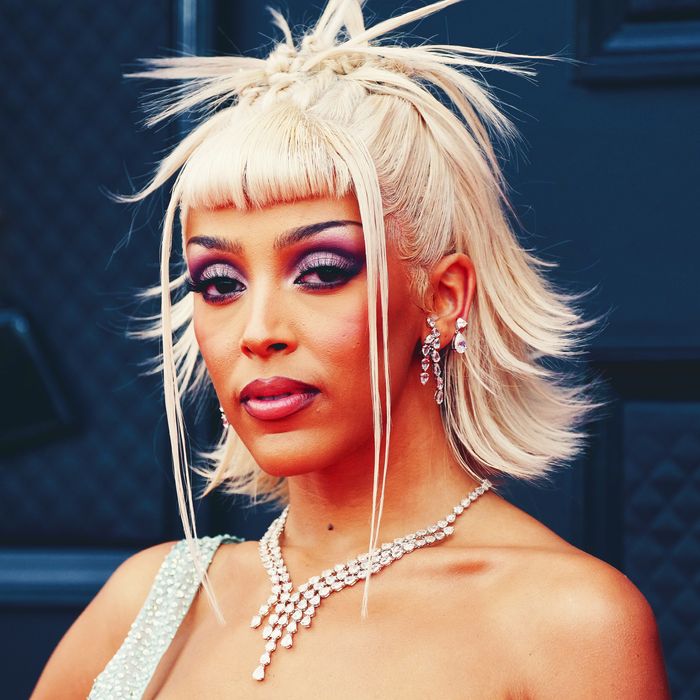 Photo: Jeff Kravitz/FilmMagic
It's been a busy week for Doja Cat. First, she made headlines when she called out Stranger Things star Noah Schnapp for leaking private DMs in which she asked to be set up with his co-star Joseph Quinn. Then Doja apparently decided it was a good time to record a TikTok mimicking Amber Heard's testimony from her defamation trial, in which Heard recounted years of violent abuse she says her ex-husband, Johnny Depp, inflicted on her.
The trial ended in June with a jury deciding Heard was guilty of defaming Depp when she identified as "a public figure representing domestic abuse" in a 2018 op-ed (despite the fact that a U.K. judge in an earlier trial found her allegations credible). One of the many clips from her testimony that was spliced out of context and memed into oblivion by Depp stans was a moment when Heard described her dog stepping on a bee, which she mentioned while recounting the day she says Depp performed a "cavity search," looking for his drugs inside her vagina.
Following her testimony, Twitter users filmed their own clips imitating the moment. Though the trial wrapped weeks ago, Doja Cat appears to have hopped onto the trend. The video, captioned "I, as a dog owner, can now finally say it with sincerity…." shows Doja talking about her own dog stepping on a bee. "It's honestly hella sad 'cause, like, she's a puppy, my dog," she said before imitating Heard, repeating "My dog stepped on a bee" multiple times while wincing and cocking her head.
A recorded Instagram Live shows Doja explaining that her dog did actually step on a bee, though it's still not clear why she chose to share the news by mocking a woman's testimony of sexual assault. She's not the first celebrity to express anti-Heard sentiment. During the trial, which was particularly harrowing for survivors of abuse to watch play out online, Courtney Love and Ireland Baldwin made public statements against Heard (they later expressed remorse). Doja appears to have deleted the video, but not before it went viral.